The 2022 Venture Scholar Program
On Monday the 29th of October, we launched the second edition of the VC Scholar program, supported by MiddleGame Ventures. Similar to the last edition, we invited a cohort of some of the best and brightest from Europe's business schools and universities to learn the fundamentals of venture capital and investing in early stage Fintech companies.
Over the course of three weeks, the participants met with leaders in the Luxembourg Fintech ecosystem, as well as representatives from MGV's investment team, for intensive sessions on a range of related subjects. Each was asked to participate in a number of exercises along the journey, leading up to the selection of the top candidates at the end.
We're delighted to announce that Clemence Jerome and Romaric Senturo were the top candidates from 2022's VC Scholar Programme.
In addition to our congratulations to the two winners, we'd like to offer our thanks to Pascal Bouvier, the MiddleGame Ventures team, and all of the speakers from our incredible ecosystem who contributed to the program.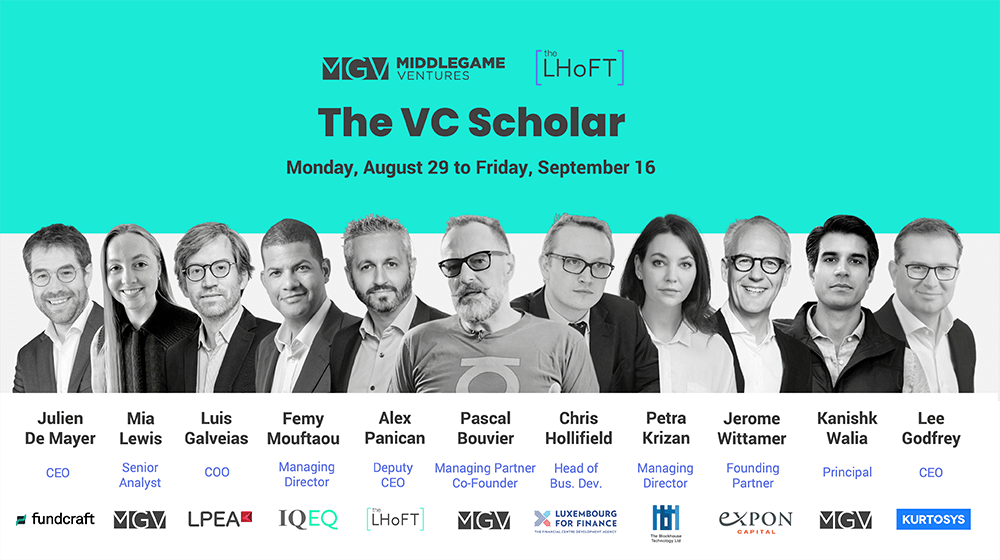 The VC Scholar Program
The VC Scholar program was conceived by Pascal Bouvier of MiddleGame Ventures, and is delivered with the support of the Luxembourg House of Financial Technology (the LHoFT). The intention of the program is to help nurture the next generation of entrepreneurially-oriented investors, in Luxembourg, at the heart of the EU's financial ecosystem.
The program is produced on an annual basis, with the continuing mission to unite startups and venture capitalists with the best thinkers from academia, traditional financial services, innovation, and technology.
Pascal Bouvier recently spoke with Delano about his motivation for launching the program. He had this to say:
"It's important to give forward and help the ecosystem. Just picture the network effects of having a group of scholars every year. So fast forward 10 years from now. Let's assume that we have 10 scholars per year. That's a fairly good network. And if even 10% or 15% of these people end up working in Luxembourg, at some point that will have pretty interesting effects for the ecosystem in Luxembourg."
The program had several hundred applications from top universities and business schools across Europe, which were narrowed down to the top ten candidates. This cohort then spent three week covering five key thematic topics, producing assignments and deliverables in line with the course content, which ultimately determined the two winners.
Special Thanks
We'd like to offer our special thanks to the many ecosystem members, Fintech and business experts, who offered their input as a part of this course – serving as mentors to the ten selected participants:
Chris Hollifield, Head of Business Development at Luxembourg for Finance
Luis Galveias, COO of LPEA
Jerome Wittamer, Founding Partner of Expon Capital
Femy Mouftaou, Managing Director of IQEQ
Lee Godfrey, CEO of Kurtosys
Julien de Mayer, CEO of Fundcraft
Petra Krizan, MD at The Blockhouse Technology
In addition to the insights provided by the expert speakers, the participants were taken through a number of deep-dive sessions on venture investing, where they engaged with key activities such as:
Screening pitch submissions
Evaluating investment opportunities
Performing due diligence
Learning how to communicate potential investments to LPs
Cap table management
Term sheet structure
The long term relationship of supporting portfolio companies
At the end of the program, each candidate had reviewed 50 startup pitches, and followed three of those pitches all the way to producing an investment memo to personally back that investment.
While the entire program was Fintech themed, there were five key sector themes which candidates followed during the program – which each assigned to a particular area. These were:
Tokenization Infrastructure and Liquidity Providers
Funds are starting to experiment with issuing LP / GP interests in a tokenized form, thereby spurring growth with new service providers specialized in bringing funds to market.
Web3 Identity
New identity services (solving for AML/KYC, onboarding) will grow for each Layer 1 protocol and create bridges across protocoles (and maybe via wallets).
DeepTech in Financial Services
Role of DeepTech in Financial Services (AI/ML/NLP/Quantum Computing). Data-driven solutions that will help organizations derive valuation insights across several domains.
Intersection of ESG and Financial Services
Emergence and evolution of environmental, social and governance factors across financial services. Solutions that are addressing the impact of climate change across all parts of the value chain.
Embedded finance and Open Banking
What is next for Open Banking? Solutions are tech enabling adn transition from Open Banking (payments) to Open Finance (broader financial instruments).
Meet the Winners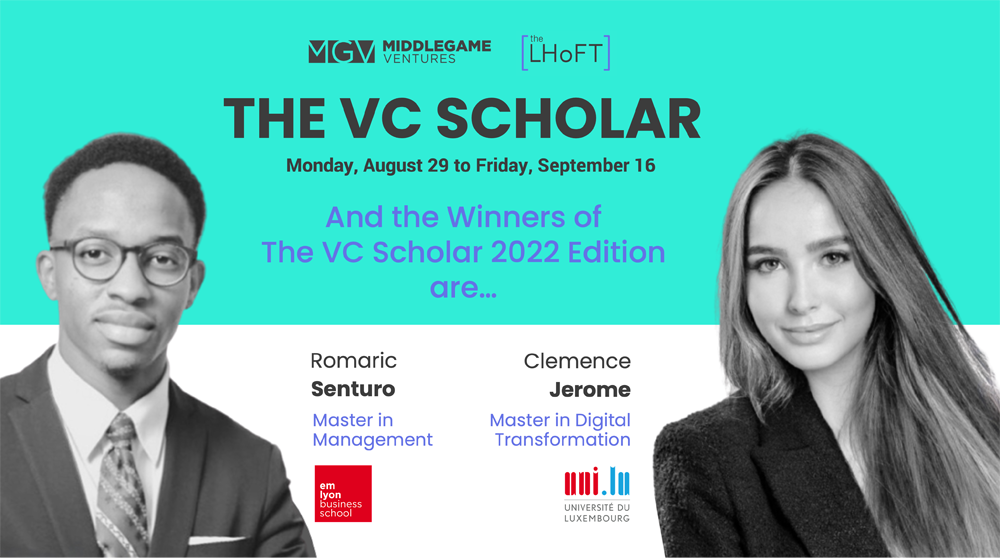 Clemence Jerome, University of Luxembourg
"The VC Scholar programme is a fast-paced challenge where we are put in the shoes of a Venture Capitalist, led to analyze the market, and determine how best to find the most exciting start-up in which to invest. Regular meetings with the MGV team over 3 weeks gave us a deeper sense of how the VC industry operates and their very own approach to innovation and the future."
Romaric Senturo, University of Luxembourg
"Participating in the VC Scholar program was a wonderful experience. In addition to the great people I met, I gained a lot of knowledge about the FinTech industry and the day-to-day running of a Venture Capital fund. I invite all students interested in this industry to apply for future editions! Many thanks to the LHoFT and MGV teams for this great edition!"
Make sure to follow MiddleGame Ventures and the LHoFT on LinkedIn for application updates or send an email to [email protected].