Growth was on top of the agenda for the first and second wave of Fintech start-ups in 2018 and 2019, and we've witnessed a significant ecosystem development in the last two years. Right during the peak, COVID undermined the years and years of development and left a visible Fintech investment gap. According to CB Insights, in Q1'20, VC-backed funding dropped to $6.1B across 404 deals, resulting in the worst Q1 since 2016 for Fintech deals and the worst Q1 for funding since 2017. Early-stage start-ups took the hardest hit due to a decrease in risk appetite and a lack of predictability. 
Following the impact of COVID19, there was initially an uptick in rounds led by existing investors, but new investors are once again regularly leading rounds – recent examples including Marqeta's (instantly issue & process card payments based on open API platform) $150 million financing led by one of the largest asset managers and AvidXchange's  (accounts payable automation industry leader for mid-market businesses in the US) $388 million round including Neuberger Berman and Lone Pine Capital as investors.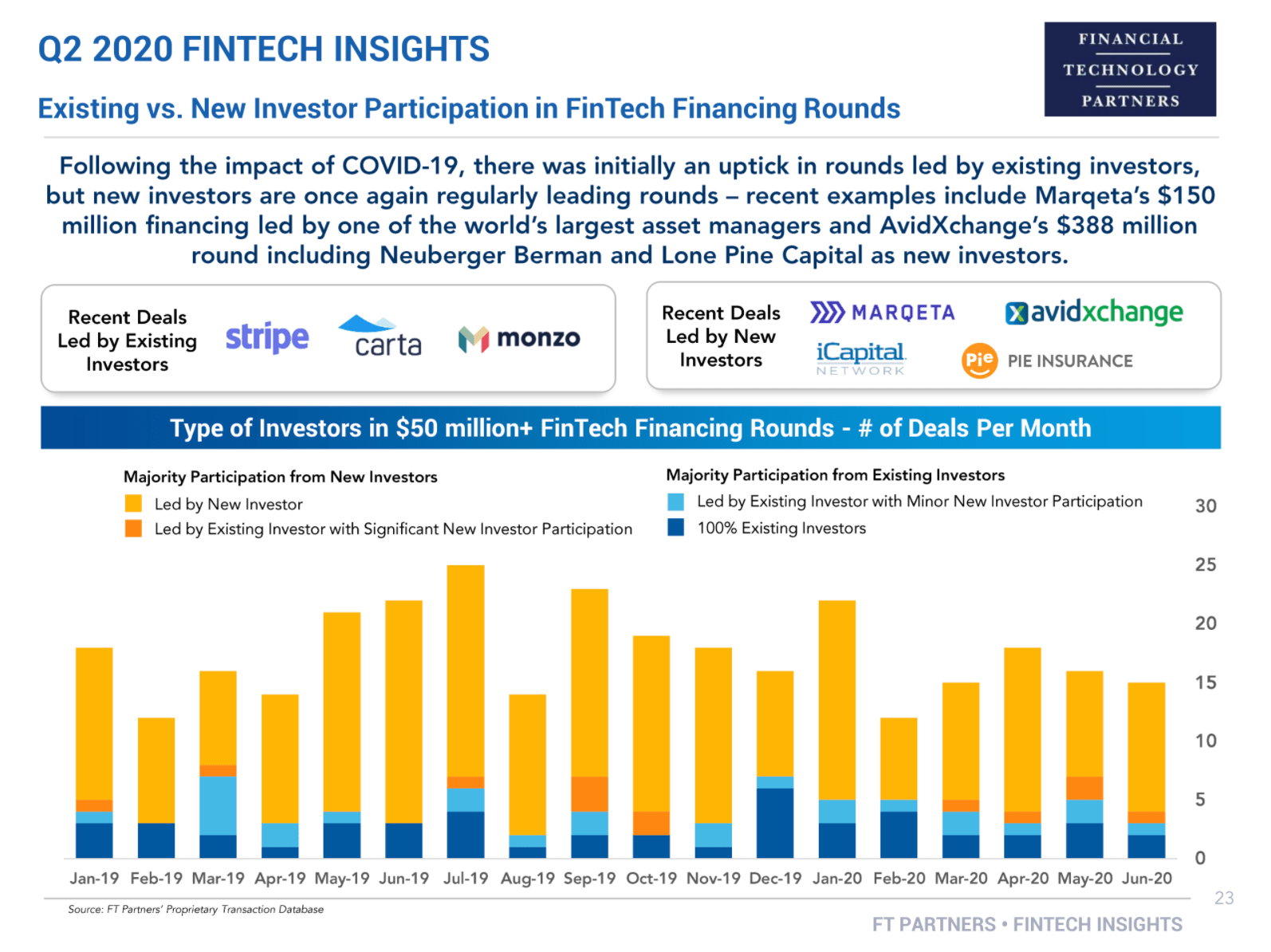 Q2 2020 quarterly Fintech insights by FT Partners Research – page 23
Despite the obvious crisis, and the tragic human cost, there is a silver lining to COVID for businesses; the pandemic and the lockdown highlighted the importance of digitalization. The crisis fueled the interest in digital banking and payment products and leapfrogged decades of development. There is a window of opportunity for products that are accessible, secure, fast, and convenient. According to Mark Whitcroft, a London-based Fintech focused Venture Capital investor with Illuminate financial, COVID impacted the amount of capital deployed in the market and slowed down the timelines. Nevertheless, the market still offers a lot of capital that needs to be put out to work, and some start-ups even managed to sign the most significant contracts up to date during the crisis, in his opinion. There are still many funds resuming their ongoing discussions and doing rounds.
For startups eyeing growth and development, the time for fundraising is as good as ever.  As Roman philosopher and statesman Seneca once said, "It is not because things are difficult that we do not dare, it is because we do not dare that they are difficult." For those who do not want to put off their fundraising dreams, we have compiled a list of fundraising options in Luxembourg.
Raising money is a milestone for a company. It requires hard work, focus, and resilience. There is a lot of competition in some popular verticals like Fintech, with or without the pandemic.  Due to Fintech being highly regulated and supervised, the fundraising process also requires careful calculations and planning. As acknowledged by experienced fundraisers like the CEO of Currencyfair (Paul Byrne), and the Lemon Way Chair (Damien Guermonprez) during their Paris Fintech Forum 2020 speech, fundraising is a full-time job, and the process takes a minimum of six months. Naturally, the timelines will stretch more than usual in times like these. What helps in this process is understanding the investors and finding investors that do not need educating and that values the processes and rules. The crucial point is and will remain the choice of the investor.
During the LHoFT Webinar about fundraising during COVID, Mark Whitcroft highlights the importance of the 5Cs – Cost, Capital, Control, Compliance, Competitive Advantage – when assessing the Fintech start-ups' value. He states that a Fintech firm has to hit at least three or four of these criteria as a standard. It turns out that in the post-COVID era, VCs started overlaying the 5Cs with a human-to-human and human-to-computer matrix, trying to determine the real opportunities.
The ecosystem in which the investor is located is as significant for fundraising and directly impacts the overall experience. The investor directly reflects the culture, the demands, and the mindset the investors possess and subsequently impose on the entrepreneurs.
U.S. and China have been the go-to investor hubs for Fintech. However, since last year the investment is expanding beyond the major markets, with 39% of deals in the industry made outside of traditional hubs like the U.S., the U.K., and China. Recent research shows that Fintech is Europe's largest venture capital investment category, and it receives a higher percentage than in Asia & the USA. In fact, CB Insight's Q1'20 Report shows that Fintech funding in Asia, North America, Australia, South America, and Africa dropped quarter-over-quarter. Accordingly, Europe was the only major region to see an increase in funding, driven by four mega-rounds ($100M+). Combining diverse ecosystems and talent, Europe is turning into a well-oiled Fintech machine. In thee first half of 2020 Europe has seen 260 fintech deals, for a total of $4,019M, representing 29% of all deals around the world. This puts Europe second, behind the US but quite a way ahead Asia.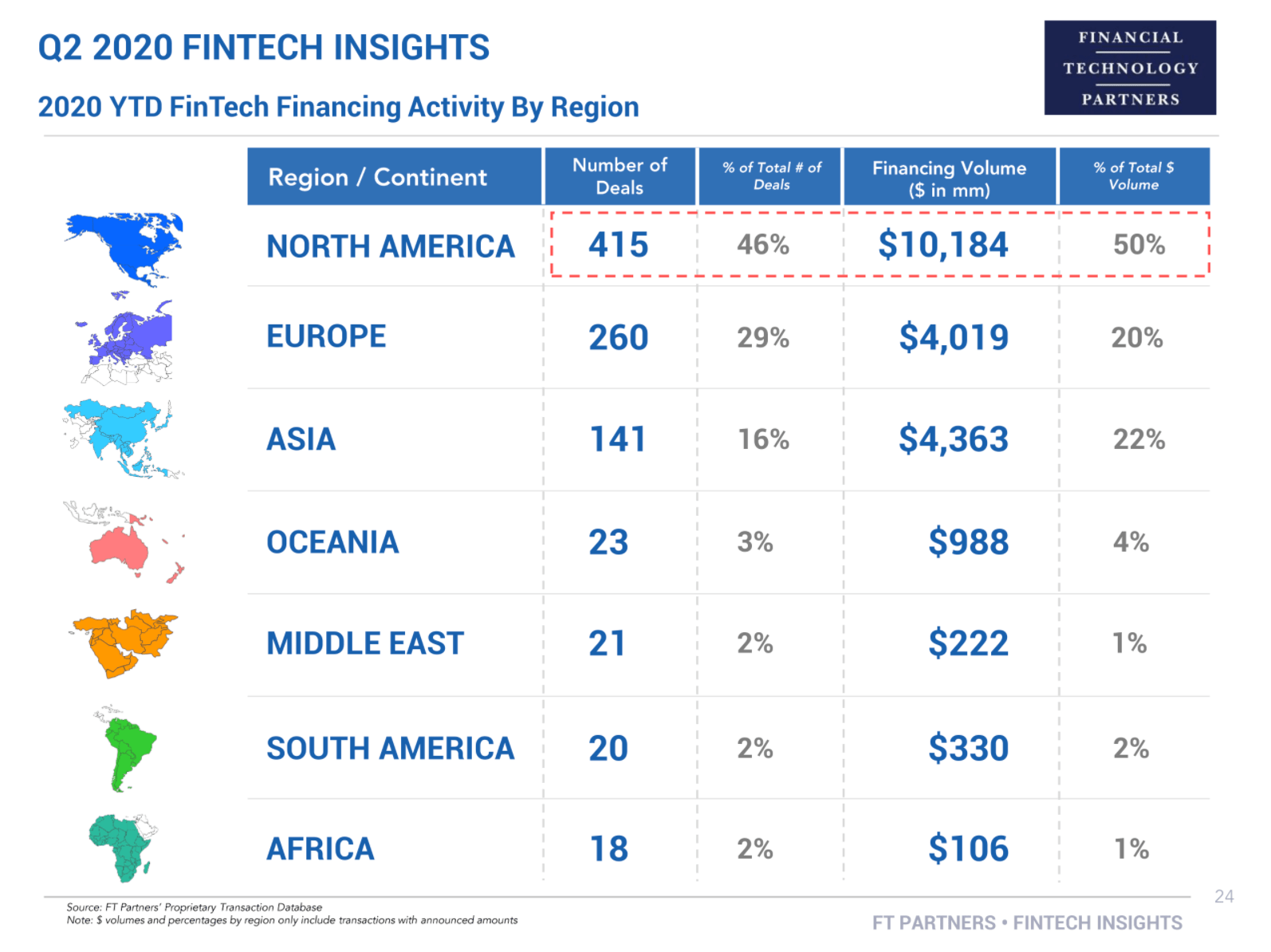 Q2 2020 quarterly Fintech insights by FT Partners Research – page 24 
In reality, although investors coming from larger markets offer more visibility, there is also much competition and pressure for Fintechs reporting back to the major hubs. That's one of the reasons compact hubs like Luxembourg started gaining more attraction for entrepreneurs looking for more than just cash injection. Setting course for Luxembourg means having contact with accessible investors, faster processes, and getting to know a vivid and collaborative network. Small yet ambitious, Luxembourg is a vital steppingstone for Fintech startups that would like to raise capital as a part of the interconnected European ecosystem.
Luxembourg is not only attractive for start-ups looking for funding, but also investment professionals. Investors like David Dana (Head of VC Investments, EIF) differentiate Luxembourg as a domestic hub full of opportunities, infrastructure, and community:
"Luxembourg being small, it makes it easier to get direct access to the right person, especially when it comes to political topics. The infrastructure is of high quality generally speaking, and when it comes to innovation, the Government has been putting a lot of resources, both financial and human, to foster the local ecosystem which is still nascent. Given the limited size of the local market, Luxembourgish startups have to think globally from Day 1, thus increasing their chances to become important player on a worldwide basis." David Dana advises the start-ups that are looking to raise capital to think big and consider a product that will be easily replicable in any language and/or jurisdiction.  He stresses that although there are a number of public programs to finance local entrepreneurs, raising capital from non-local VCs is considered a strong sign of success.
For Fintechs eyeing Luxembourg, a range of public aid measures as well as private opportunities exists to complement the success rate of innovative enterprises with high potential.
Venture Capital
Looking back: 2019 was the highest year of Venture Capital injection for Fintechs. In 2019 there was a record of 199 funding rounds representing over $14 billion invested. According to CB Insights, as of Q3, Fintech has raised $24.6B, already surpassing 2017's annual total. Funding grew on the back of 19 $100M+ rounds worth approximately $4B (as of Q3 2019). A recent Fintech Circle survey shows that experts believe that Fintech investment in 2020 will be at least 50% higher than in 2019, and just under half predict it will be somewhat higher.
European Funds
VentureEU: Under VentureEU, the EU is providing cornerstone investments of €410 million in independently managed venture capital Funds-of-Funds, including €200 million directly derived from Horizon 2020. The funds are aiming to raise up to €2.1 billion of public and private investment. In turn, this is expected to trigger an estimated €6.5 billion of new investment in innovative start-up and scaleup companies across Europe.
InvestEU: The InvestEU Programme will bring together under one roof the multitude of EU financial instruments currently available to support investment in the EU, making EU funding for investment projects in Europe simpler, more efficient and more flexible.
Public Schemes
The aid offered by the Ministry of the Economy can cover up to 20% of the acquisition costs of tangible and intangible assets. On top of that, Luxembourg provides substantial start-up aids covering early stage (Fit4Start) and growth stage (Aid for Young Innovative Enterprise) startups
The Société Nationale de Crédit et d'Investissement (SNCI) is specialised in medium and long-term financing of Luxembourg-based companies. It grants various types of loans which depend on the legal form of the businesses and the projects to be financed. Examples are start-up loans (1st business venture), equipment loans (tangible and intangible assets) and equity loans (creation, ex- tension, conversion, reorientation and rationalisation of companies).
Luxembourg Future Fund (LFF) is a EUR 150 million fund which aims to stimulate the diversification and sustainable development of the Luxembourgish economy. It was set up by the EIF and the Société Nationale de Crédit et d'Investissement (SNCI) and combines a EUR 120 million contribution from SNCI with EUR 30 million from the EIF, to be deployed over a five-year period. It will invest and co-invest in early and growth innovative European technology SMEs as well as in Venture Capital funds.
The European Investment Fund (EIF) concentrates on building the necessary private sector Venture Capital infrastructure to address market gaps and opportunities with the aim to further enhance the attractiveness of European Venture Capital as an alternative asset class. EIF works with venture capital funds that invest into innovative high-tech SMEs in their early and growth phases and focuses on disruptive early-stage technology enterprises which typically face financing challenges but also provide outstanding investment opportunities.
The Luxembourg Private Equity and Venture Capital Association (LPEA) is the most trusted and relevant representative body of private equity and venture capital practitioners with a presence in Luxembourg. Created in 2010 by a leading group of private equity and venture capital players in Luxembourg, with 280 members today, LPEA plays a leading role locally actively promoting PE and VC in Luxembourg.
Public – Private Schemes
The Digital Tech Fund: The Digital Tech Fund is a public-private seed fund that provides financing to entrepreneurs running innovative startup companies active in the field of Digital Technologies. The fund's aim is to foster long-term innovation, support the technology startup ecosystem in Luxembourg and facilitate the transfer of new digital technologies developed at the University of Luxembourg into successful spin-off companies.
Fit 4 Resilience Strategic Innovation Program: In the context of the post-Covid-19 economic recovery strategy " Neistart Lëtzebuerg ", Luxinnovation, with the support of the Ministry of the Economy, has set up a new strategic innovation programme called "Fit 4 Resilience". This programme takes the form of in-depth support for businesses of a certain size. It is designed to help them to:
Analyse how they have been impacted by the crisis internally and externally, and;
Study how to draw lessons from the crisis, both in their internal functioning (use of digital tools, leadership, internal communication, etc.)
As well as from the perspective of systemic external changes (supply chains, more regional and/or circular approach, etc.).
Private Schemes
Luxembourg Business Angel Network (LBAN): LBAN operates as a platform for introducing and matching private investors and initiators of entrepreneurial projects during the seed phase. It is run by seasoned entrepreneurs and business angels who actively contribute to the development of the network.
Alternative Funding: Crowdfunding & Cryptocurrency 
VNX: Venture capital enabled hundreds of technological breakthroughs and helped many great companies. However, for many years VC has remained a relatively small industry, closed for the majority of regular investors. VNX is a blockchain powered platform that enables its customers to syndicate VC backed deals and raise financing for new start-ups or projects from potential investors with the help of tokenization. VNX offers a novel and superior model of investment services, democratizing, automating and streamlining the investment process while providing a traditional finance industry standard level of protection to the investor.
STOKR: STOKR is a digital marketplace built on blockchain to create independent access to a new age of capital markets. Showcase your venture in a smart, transparent, and compelling way. Connect and find those who truly believe in your venture, and build a community around it. This can be done all through a full-service process, which is easy and accessible to everyone, from start-ups to small and medium size companies.