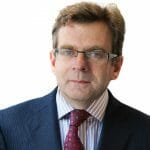 John Byrne, CEO of Corlytics, is taking part in NadiFin 2019, an acceleration program powered by MiddleGame Ventures and Farvest in partnership with the LHoFT, focusing exclusively on cutting edge Fintech startups that are using AI/ML, Big Data analytics, Blockchain and other "deeptech" tools to create seamless solutions and businesses for the European financial services market.
Ten of the most promising Fintech companies from around the world have convened at NadiFin on May 20th in Luxembourg, adjacent to the ICT Spring global technology conference, before reconvening in Dublin from June 10-14.
The NadiFin program engages a broad network of investors and strategic partners to facilitate real-world progress outside the classroom. The cohort competes in a trademarked peer-voting startup accelerator curriculum (powered by Village Capital) leading to a €100,000 investment from MiddleGame Ventures.
Corlytics
John Byrne, CEO
Corlytics is a smart regulatory compliance solution for financial institutions and regulators globally.
Located: Ireland
Sector: Regtech
Website: https://www.corlytics.com/
"We saw considerable networking and lead generation potential in attending the ICT Spring Conference with the support of Farvest. We also saw huge value in gaining an insight into the incredible work of the LHoFT and building relationships with LHoFT based Regtech firms."
Please introduce yourself, and tell us a little bit about your journey with Corlytics?
Hello, I am John Byrne, a Dublin-based entrepreneur, CEO and founder of Corlytics. I have been involved in the development of Financial Technologies for over 20 years.
I founded Corlytics in 2013, in response to my client's inability to accurately estimate the business and operational risks associated with compliance. I saw a need within the emerging Regtech market for a technology firm to combine regulatory intelligence and predictive analytics to help financial institutions manage their compliance obligations in a more effective and efficient way.
Compliance teams are facing ever-increasing regulatory complexity, resulting in higher costs for financial institutions. How does Corlytics responds to this burning issue?
Our customers face both material compliance risks and an ever-growing regulatory change burden driven by an overwhelming volume of regulatory information – by 2020 there will be over 300 million pages of regulatory text in circulation globally.
Corlytics is helping shape the digitization of compliance by using a combination of lawyers training machines and automated robotics to track, structure, label and classify relevant regulatory developments, filter out regulatory noise and deliver a smart, risk-based compliance solution.
We have developed a richly structured multi-dimensional taxonomy that provides filtered and relevant real-time views of global regulatory events across an organisation.
Our ability to structure regulatory content, map data to business lines, controls and risk areas allows Lawyers, Auditors, Risk and Compliance professionals translates regulatory developments into specific operational requirements and focus their time on value-add activities.
At the end of 2018 you launched a free Regulatory Event Data (RED) app, scanning regulators in near real-time for all types of regulatory  developments. 6 months after the launch, what are your main insights regarding the use of this app?
We are really pleased with the success and take up of our regulatory App RED (RegulatoryEvents Data) for both Android and IOS.
RED has confirmed our conviction that legal, risk and compliance professionals working in highly regulated markets need 24/7 access to actionable, real-time and relevant regulatory intel. Our free RED App delivers a highly accessible and user-friendly solution.
In the last 6 months our clients have confirmed that RED is often their first point of call each morning for regulatory updates. RED allows our clients to bookmark notices and instantly share important regulatory news with colleagues. We are also very pleased that RED can detect new regulatory updates, even before Regulators publish their own market alert.
We have significant plans for its continued development and to include a RED Alert feature soon.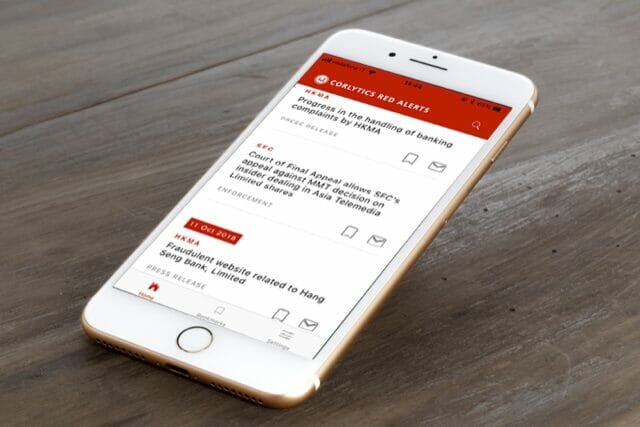 Fabienne Kofman, former BNP Paribas compliance manager, has joined Corlytics team recently. What insights have you gained from mixing institutional experience with your innovative thinking?
The success of the Corlytics' team is driven by a mix of experience, diversity and complementary skillsets. We have brought together a multi-disciplinary team comprised of data scientists, developers, lawyers, analysts and banking industry SME's to risk rate the regulatory landscape.
Fabienne arrives from the field with over 17 years' experience in the banking sector. Based in London, Fabienne will work closely to establish and grow strong long-term partnerships with our clients. Corlytics benefits hugely from the unique insights banking and finance practitioners bring to our team. Their experience enhances our understanding of client priorities, client perspectives and helps strengthen our solution and refine our client journeys.
Fabienne's tremendous personal skills and excellent professional experience has already enriched our business development team. Fabienne will ensure that we continue to 'think like a client' and place our clients at the centre of our product and development roadmap. Fabienne's experience and deep understanding of the complex issues and pain points facing compliance and risk professionals will be a valuable asset to Corlytics.
Already listed as "the world leader in regulatory risk intelligence", what is the company's growth agenda?
We continue to generate promising unsolicited inward leads and referrals which reflect the strength of our value proposition and suite of compliance risk applications. Our sales and successes to date with early adopters including global regulators, large global banks and FI's illustrates substantial validation of our product.
We will continue to pursue direct sales channels in core markets such as Europe and the US. A strategic partnership with a global bank, advisory practice or consultancy firm may be considered to accelerate growth and market approval in new territories.
We are also expanding our core product offer in terms of strategic geographical and regulatory coverage to include jurisdictions such as Russia and China. In terms of market segmentation, we see significant potential for sustained growth across Asset Management, Brokerage and Insurance.
John Byrne – CEO, RegTech Summit Europe Interview
What are you hoping to get out of the 2019 NadiFin Fintech Acceleration Program?
Together all Nadifin teams, partners and stakeholders have provided an incredible platform to allow valuable time away from 'working in' our companies to 'working on' our companies.
Corlytics is hoping to maximise the benefits of adopting the VIRAL (Venture Investment-Readiness and Awareness Levels) Pathway framework across all areas of our business to better recognise and articulate our strengths and potential weaknesses.
The opportunity to work closely with Middle Game Ventures to refine our value proposition and pitch to a broad range of mentors, fintech experts, business leads and potential investors is tremendously beneficial. We saw considerable networking and lead generation potential in attending the ICT Spring Conference with the support of Farvest. We also saw huge value in gaining an insight into the incredible work of the LHoFT and building relationships with LHoFT based Regtech firms.