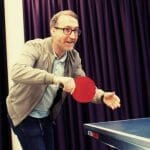 Adam Matthews, Product Manager at GECKO Governance, took part in NadiFin 2019, an acceleration program powered by MiddleGame Ventures and Farvest in partnership with the LHoFT, focusing exclusively on cutting edge Fintech startups that are using AI/ML, Big Data analytics, Blockchain and other "deeptech" tools to create seamless solutions and businesses for the European Financial Services Market.
Ten of the most promising Fintech companies from around the world were selected and convened at NadiFin on May 20th in Luxembourg, adjacent to the ICT Spring global technology conference, before reconvening in Dublin from June 10-14.
The NadiFin program engages a broad network of investors and strategic partners to facilitate real-world progress outside the classroom. The cohort competes in a trademarked peer-voting startup accelerator curriculum (powered by Village Capital) leading to a €100,000 investment from MiddleGame Ventures.
GECKO Governance
Adam Matthews, Product Manager at GECKO Governance
Gecko Governance is a blockchain enabled Regtech platform for the asset management, banking & digital asset sectors.
Located: Ireland, New York & Sydney
Sector: Regtech
Website: geckogovernance.io
Twitter: https://twitter.com/GECKOgovernance
Please introduce yourself, and tell us a little bit about your journey with Gecko Governance?
I initially saw our CEO and founder, Shane Brett, giving a presentation about GECKO, in 2014 at a local meet up in Dundalk, Ireland. Shane's passion and drive was infectious and I knew I wanted to be a part of this innovative, global company that had been set up in my hometown. Fast forward to Jan 2019 and I had just made the lateral move of working in a multinational fintech company, as a software developer to joining GECKO Governance as part of the product development team. Since then, every day has been different. One day you could be talking to clients about their functional requirements, the next you're discussing VC (Venture Capital) funding and the mechanics of how to scale the company. The journey of working in a startup has been incredibly exciting and insightful so far and you can expect big things to come on the GECKO roadmap.
GECKO Governance's "Blockchain for Funds" event from GECKO Governance on Vimeo.
You have said that one of the main challenges you face is the long adoption cycle of the customers you target. How are you working to expedite that process?
We are looking to establish and further develop our partnerships with Tier 1 institutions, as we see strategic partnerships with 'household' names as the best route to expediting this process. We're actively leveraging the use of marketing campaigns and continuously presenting at speaking events to raise brand awareness. We've also found that the referencability of positive feedback from existing clients brings credibility and direct exposure within the industry.
One of your products is a Blockchain based Regtech solution, offering a verifiable, independent blockchain audit trail of compliance. Can you describe this in more detail?
We offer a RegTech solution that automates compliance and governance business process oversight, for financial institutions. The burden of regulation is ever increasing across jurisdictions and financial institutions are struggling to manage this increased work, which has been traditionally carried out on spreadsheets.
We've built an industry agnostic, compliance cockpit. Financial Service providers can schedule all their end to end compliance and regulatory tasks and drill down into the detail of managing these processes more efficiently. Our clients can optionally integrate their environment with distributed ledger technology which time stamps the chain of steps to compliance. A spreadsheet can be mocked up, but an immutable ledger of activity proves to the regulator that any given jurisdictional requirements and processes have been followed.
Our clients use GECKO for a wide range of use cases, including but not limited to: monitoring Compliance oversight, AML/KYC, Regulatory Reporting, Operational Due Diligence, Fund Launches and Investor On-boarding.
Given the increasing cost of compliance faced by financial institutions, have you noticed an increased awareness of the Regtech solution to that problem?
We have noticed more and more service providers acknowledging the benefits of emerging technology and the impact it can have on their existing business processes, both in terms of the reduction of time spent on overly manual tasks and the cost savings involved. Although the industry can be slow to change, we see financial institutions moving to a more automated style of operating where they can free up their talented resources for more complex work.
What did you hope to get out of the 2019 NadiFin Fintech Acceleration Program?
Alongside growing our network and making new industry relationships, I am looking to finish up the program with a strong working knowledge of what makes a company 'investor ready'. Even though we have already received substantial investment, I hope to develop the skills necessary to analyse which specific business verticals within the company we can continue to develop, to cultivate future growth and expansion.
If you want to keep up with what the LHoFT gets up to, feel free to follow us on Twitter and Instagram.