Entrepreneurs are no longer discouraged by the gatekeeping of financial regulators, and have turned their attention to other pain points in the industry. The rise of 'Fintech' has not only encouraged the evolution of financial services, but also innovative new ways to understand, test and prove compliance. Solutions cover various applications, such as regulatory reporting, risk management, KYC compliance, secure messaging, and transaction monitoring.
The Regtech 2.0 Report – Burnmark and Alvarez & Marsal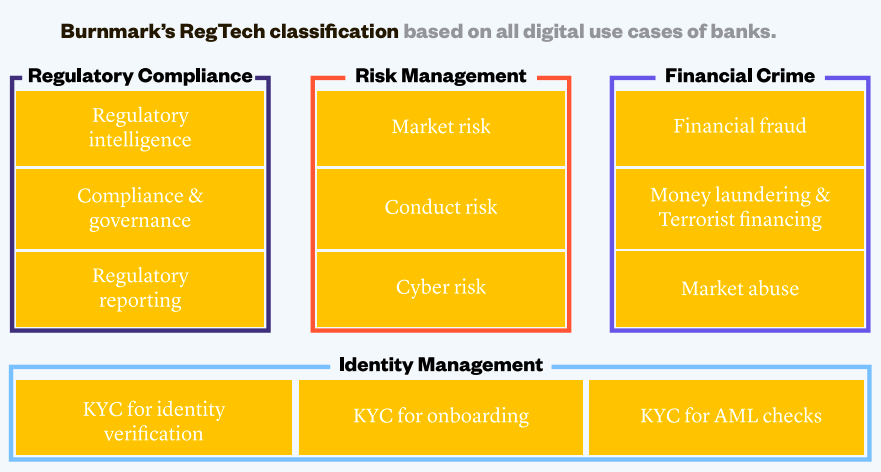 Regulatory technology is still a niche area of interest, but is attracting a significant amount of investor interest. This disparity is likely due to the need for deep regulatory understanding, as well the ability to develop innovative digital solutions.The market is growing, but not without its challenges: recent research from Burnmark shows nearly 50% of banks are hindered from adopting Regtech due to bureaucratic procurement.
Questions asked to Regtech startups – Burnmark and Alvarez & Marsal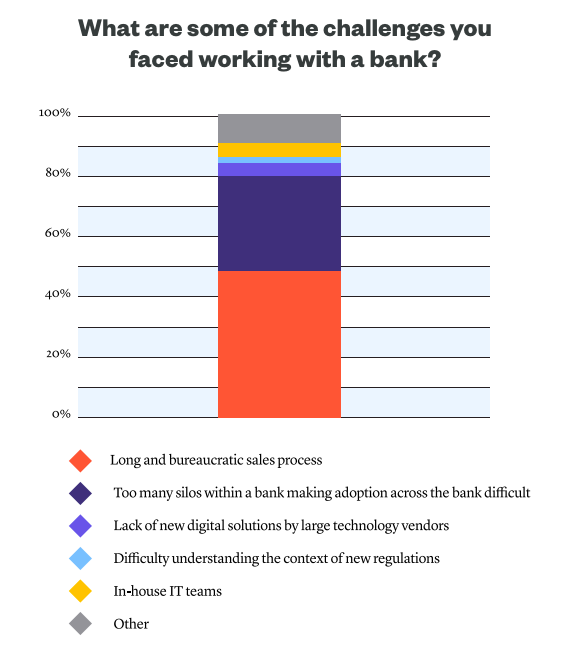 Luxembourg is fortunate to provide one of the most favourable environments for Regtech, having worked to combine institutional knowledge with the energy of entrepreneurship. In addition to deep ties between founders, consultancies, bankers and government figures, Luxembourg is also home to a responsive and forward-thinking regulatory body who produced the first nationally licensed Bitcoin exchange in the world. As a result of these factors, Regtech is the second most active sector in the local ecosystem, and growing rapidly.
To better understand what is involved in transforming compliance, we asked founders from three different Regtech startups to provide a SWOT (strengths, weaknesses, opportunities, threats) analysis of the sector:
Bert Boerman – Co-Founder & CEO of Governance.com
Denis Kiselev – Founder & CEO of SnapSwap
Laurent Denayer – Founder & CEO of ume
Strengths
What are the benefitsof building products aimed at regulatory compliance, rather than tackling more common areas of financial technology like payments, banking, and lending? What makes it an attractive area of innovation?
"Unlike some other areas of tech, Regtech solves a problem right here, right now"
-Bert Boerman
Laurent Denayer:
"Most of the regulations are requesting a standardization of risk measures, reporting as well as processes. This standardization is a call for mutualizing the efforts with utility platforms. Regtechs are providing cost effective, automated and flexible compliance solutions as well as a substantial reduction of operational risk."
Bert Boerman:
"Unlike some other areas of tech, Regtech solves a problem right here, right now. It provides multiple benefits such as cost reduction, Increased transparency, improved understanding of your business, lowered risks etc. ROI on Regtech investments is therefore extremely short and should be a no-brainer for any forward thinking financial institution."
Denis Kiselev:
"We aim to disrupt the regulatory landscape by providing technologically advanced solutions to increasing demands of compliance within the financial industry. We help financial institutions address compliance in a more efficient and less resource-consuming manner. We facilitate counterparty due diligence and Know Your Customer procedures, anti-money laundering (AML) controls and fraud detection. Our service considerably helps reducing customer on-boarding timescales from several weeks to minutes while meeting all EU regulations. This leads to better customer experience as it will improve the speed to market of financial solutions and benefit the end customers of the banks."
Weaknesses
What makes working in the regulatory space particularly demanding, which may be less of an issue for entrepreneurs in others areas? Are there operational issues or skill shortages to consider?
"The skill requirements for compliance are also evolving. Some functions are going to be automated, including in the regulatory space, through the use of new technologies."
– Denis Kiselev
Bert Boerman:
"Regtech is not considered as hot by bankers as other Tech areas like Blockchain, crypto, Robo advisors etc. That's mostly because regulatory compliance is considered to be a necessary evil rather than competitive opportunity to grow your business. This means it is hard to find a sponsor in financial institutions that will drive Regtech projects forward."
Denis Kiselev:
"The regulatory framework in finance is constantly evolving and changing rapidly. Which means we need to ensure we keep our competitive advantage of agility and adaptability. The danger is to stay focused on one technology and not being able to change down the line. Moreover, the skill requirements for compliance are also evolving. Some functions are going to be automated, including in the regulatory space, through the use of new technologies.There will be an increased need for staff to develop further skills regarding financial crime risk and mitigation, compliance, coding, system design and critical thinking."
Laurent Denayer:
"Digital transformation is more a question of change management rather than technology. Financial institutions need to understand that collaboration for some part of their activities will improve their business and their customers experience and will not jeopardize their competitive positioning. This is particularly true in the business ume is operating: due diligence: each firm is chasing the same information that is has no added value. Mutualising the data collection process would enable to save costs, spend more time on analysing the information and make the lives of everybody easier!"
Opportunities
What does the future hold for Regtech startups? Are there other areas to move into, new ground to break? In what ways might the future bring more stability? What are the opportunities provided by new technologies?
"The level of Fintech/Regtech adoption is still very low, and will have to grow in the coming years."
– Laurent Denayer
Denis Kiselev:
"The future for Regtech startups looks positive, as existing infrastructure cannot keep up with the technical requirements regulators are expecting. The current infrastructure is built on legacy code, not easily replaced, so firms are turning to regtech solutions for cheaper, scalable options. With their technologies, Regtech startups can help banks to convert regulatory compliance into a competitive advantage by helping them to leverage regulatory focused data and to better manage their compliance risks. Furthermore, the new regulations such as the updated Payment Services Directive (PSD2) and the revised Markets in Financial Instruments Directive (MiFID II) will definitely increase collaboration between Regtech businesses and financial institutions, leading to a more collaborative, transparent approach. As an example, according to Bloomberg, the global demand for regulatory, compliance and governance software is expected to reach 118.7 billion dollars by 2020, which represents a great opportunity for Regtech."
Laurent Denayer:
"The level of Fintech/Regtech adoption is still very low, and will have to grow in the coming years. We have a roadmap of innovations we would like to develop that will make businesses more transparent and more competitive. Artificial intelligence and blockchain are two areas we believe have strong potential."
Bert Boerman:
"Research shows that regulatory spending in the financial sector will not go up dramatically (it is already enormous) but that the allocation of this spending to tech will increase more than 7 fold in the next 5 years. This creates a huge opportunity for Regtech companies like ours."
Threats
What are the risks to startups in the space? Are there threats produced by new technologies, which may change the way financial services operate? Is growing competition a significant worry?
"The long decision and onboarding cycle kills most startups before they have a chance to prove themselves."
– Bert Boerman
Denis Kiselev:
"The regulatory landscape is further complicated by the increasingly growing number of Regtech companies, and expanding ranges of products and services being offered. It becomes difficult for financial institutions to ensure that they choose the right and the more stable partners. In addition, many are in very early stages, and they typically offer solutions that only solve a small portion of compliance needs. On another hand, the cyber threat is growing, there are privacy risks on customer data which require more efforts on safeguarding customer data."
Laurent Denayer:
"Questioning our business is part of our DNA and is actually the way we are operating. Agile methodology pushes us to adapt constantly to our clients' needs and to pivot fast our product offering."
Bert Boerman:
"Procurement is still the main threat to Regtech startups. The long decision and onboarding cycle kills most startups before they have a chance to prove themselves. We had to go through this desert of almost 3 years too before business finally took off. Procurement is unfortunately not improving, so startups will need to learn to deal with it."
Conclusion
It's clear that despite the growing importance of Regtech solutions across the financial sector, it is an area of innovation that requires a significant amount of support. Working with industries that can be slow to adapt, burdened by bureaucracy and slow procurement cycles, Regtech startups will need a lot of local support. Whether it's introductions to corporate partners, startup knowledge or access to the regulator, the future impact of Regtech (on efficiency, cost cutting and transparency) makes it vital area of innovation to nurture.

The startups participating in Fintech Europe 2018
An example of this is Fintech Europe 2018, an upcoming investment readiness program we are hosting here in Luxembourg, created  by Village Capital in conjunction with PayPal and MiddleGame Ventures. The program highlights some of the most innovative Regtech entrepreneurs transforming financial services across Europe, as well as Insurtech and Wealthtech solutions. The workshops will be held in Berlin, April 16/19, and Luxembourg May 14/17 and June 11/14, working closely with local partners from across the financial services ecosystem. The ventures are all backable, and represent a high degree of both innovation and impact in the financial space. Up to two companies will be eligible for funding of up to € 200,000  from MiddleGame Ventures.
[We are looking for targeted mentor engagement from investors, industry experts, experienced entrepreneurs, and companies in the financial services industries, if you're interested in joining us for the workshops check for more info here.]