KOOPHub and the LHoFT Foundation build bridges between Luxembourg and Turkey to foster innovation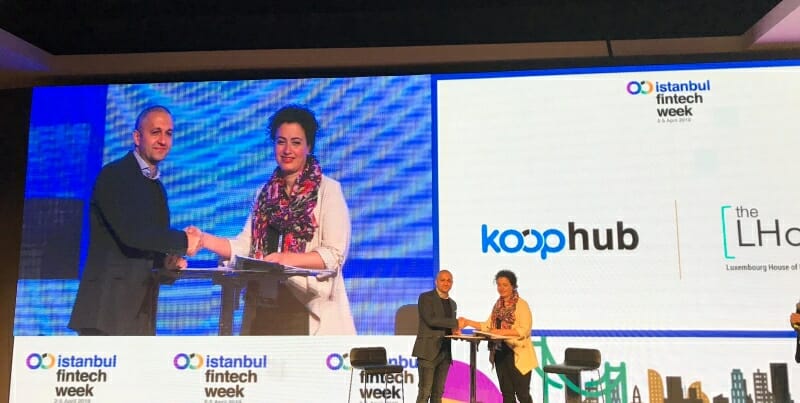 From left to right: Alex Panican, Head of Partnership & Ecosystem at the LHoFT & Demet Zubeyiroglu, Co-Founder & Managing Director of KOOPHub
KOOPHUB, the regional Fintech Hub of EEMEA (Eastern Europe, Middle East, and Africa region), and The Luxembourg House of Financial Technologies (The LHoFT) have signed a Memorandum of Understanding ("MoU") during the Istanbul Fintech Week in order to foster innovation and build bridges between Luxembourg and Turkey.
The two Fintech hubs will collaborate on a number of initiatives to benefit from each other's ecosystems, giving a further boost to the economic development of the region. This cooperation agreement between KOOPHub and the LHoFT seeks to cement a strong bond between the 2 countries, valuing cooperation that is fundamental to promote Fintech across Europe and beyond.
Demet Zubeyiroglu, Co-Founder & Managing Director of KOOPHub explained: "Luxembourg is a global hub for financial services. Supporting this positioning, financial technologies landscape has become very instrumental thanks to efforts by the LHoFT. Through our collaboration, we wish to weigh on opportunities and convergences by developing joint programs and activities. I believe this partnership will genuinely help FIs, investors, lawyers and startups in identifying prospects towards both of the ecosystems."
Alex Panican, Head of Partnership & Ecosystem at the LHoFT added: "Istanbul has always been a bridge between Europe, Middle East and Asia, therefore we see real synergies between our hubs as Luxembourg is becoming a fintech gateway to Western Europe. Moreover, we are always looking for new markets for our fintechs and the region looks very promising for Regtechs and Financial Inclusion projects."
About KOOPHub, the Financial Innovation Hub of EEMEA — KOOPHub, towards its diverse community-building services, serves as an enabler in this fast-growing industry to meet with requests of parties at all-types and scopes.
About the Luxembourg House of Financial Technologies (The LHoFT) — Тhe LHoFT Foundation (LHoFT) is a public/private national Fintech platform dedicated to federate and foster innovation within Luxembourg's financial services community, ensuring its future competitiveness. The LHoFT serves as a soft-landing platform for Fintech that are looking to launch their activities in Luxembourg. Beyond incubation, the LHoFT creates value for the entire Luxembourg FinTech ecosystem: financial institutions, FinTech trailblazers, IT industry, research and academia as well as regulatory and public authorities.