The LHoFT is excited to be partner & sponsor of the Paris Fintech Forum 2018, which will be held on January 30th & 31st, at the former stock exchange market in the very heart of Paris. We will be joined by a delegation of members and partners, including many key figures of Luxembourg's financial technology ecosystem.
We asked each representative a few questions to help shed light on their work, as a part of our series of interviews: The Innovators.
This time we caught up with Vincent Him, Business Development Director for Continental Europe at Duco.
"When systems are designed to adapt with minimal disruption, firms can stop wasting time talking about regulation and get back to complying and driving their business forward."- Vincent Him
Could you introduce yourself?
My name is Vincent Him, I am the Business Development Director for Continental Europe at Duco.
I started off my career working for State Street in Luxembourg, where I headed up a variety of teams responsible for reconciliation, settlement, payments and reporting. Following that I moved into the enterprise technology space, working for two large providers, before joining Duco in 2016 to open our Luxembourg branch and drive the company's commercial development in Europe.
Duco provides technology that enables banks, brokers, asset managers and exchanges to normalise, validate and reconcile any type of data in Duco's cloud, providing firms with on-demand data integrity and insight. The company has seen rapid and global growth as the industry re-platforms, adopting advances in leading technology to eliminate operational risk and cost and making actionable data more immediately available across the enterprise.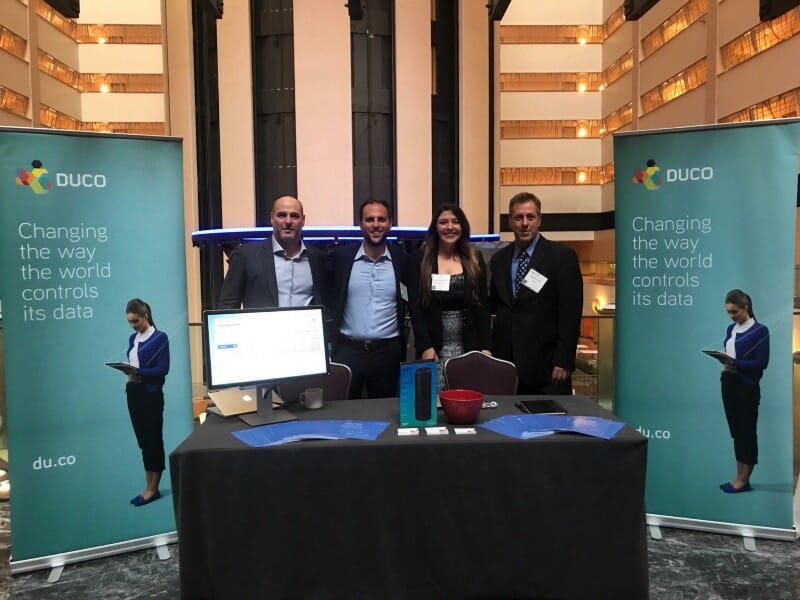 Members of the Duco team at the Waters Buy-Side Tech Summit in New York.
Duco was recently listed by Deloitte in the top 100 fastest growing technology companies in Europe, with revenue growth of 1,590% over the past four years. We are now looking to build on this success, with expansion in Europe a key part of our strategy.
As European financial power base that is embracing innovation, which aspects of Luxembourg's financial technology ecosystem have been most beneficial to your company?
Despite the small size of the country the fintech ecosystem is extremely well developed in Luxembourg. The Luxembourgish government is helping fintech companies to develop and grow through Luxinnovation, for example. There are also a large number of innovation hubs that are driving the introduction of new standards and intelligent technology. The LHoFT has assisted Duco in marketing our capabilities, increasing the company's visibility in Luxembourg and putting us in touch with partners and prospects.

Duco was listed in Deloitte's '500 fastest-growing tech firms in EMEA'.
Also a number of key banks in Luxembourg are investing significant resources in innovation and digital transformation, to ensure they are not overtaken by the rise of challenger banks and other fintech firms. It is notable that it was an appetite for innovation that enabled us grow our presence in the region quickly, adding new clients across the buy-side and sell-side such as one of Luxembourg's largest tier 1 banks within a year of opening Duco's Luxembourg office.
What do you think are the key challenges and risks for the different financial technology players in Luxembourg and in Europe?
Duco provides a self service user-driven, SaaS-based technology solution. For us, one of the key challenges both in Luxembourg and in Europe, is the fact that some firms still exhibit reluctance to use SaaS-based solutions as they are not comfortable with their data "leaving the building".
Duco continuously benchmarks our information security and data protection capabilities to insure the we provide best of breed solutions with highest level of security for our existing and prospective clients. The success, cost efficiencies and operational agility of our SaaS model introduces have proven very successful with our existing client base as they scale globally. Our challenge is therefore to educate the market and to overcome the misperceptions of a SaaS model. Unlocking the true value and power of SaaS is just a phone call away.
Which trend in financial technology do you think deserves more discussion, and which less?
The main trend that we have based our platform and service upon is the move away from inflexible, monolithic deployed software and towards more flexible, self-service, intelligent technology solutions. In an era of constantly improving technology and efficiency drives across finance and other industries, many firms still tie themselves to instantly obsolete technology with very high ongoing overheads in terms of infrastructure, staff resources and maintenance costs. From a cost, efficiency and agility point of view, it makes far more sense to subscribe to services which provide the same or better results within a framework that can grow and adapt to their business needs. This trend could certainly use more discussion.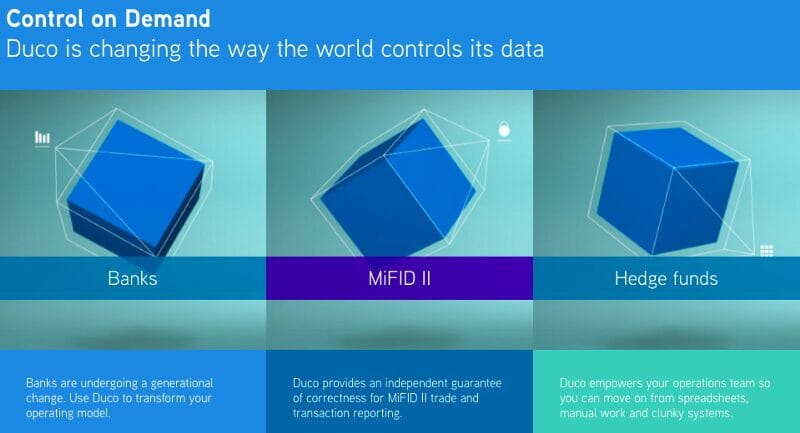 Conversely, with greater adoption of flexible services such as ours, the current trend for talking endlessly about regulation should diminish. A great deal of the pain of complying with regulations such as MiFID II comes from the difficulties and costs firms encounter in adapting their systems. When systems are designed to adapt with minimal disruption, firms can stop wasting time talking about regulation and get back to complying and driving their business forward.
What are you most looking forward to getting out of Paris Fintech Forum this year?
Having our CEO Christian Nentwich take the stage on Wednesday January 31st during one of the break out sessions focused on innovation. The forum provides a great opportunity to increase Duco's participation and brand awareness within the region. We look forward to meeting with clients, prospects and potential partners, and learning more about the main innovations and trends around at the moment.
Any final thoughts or predictions for Fintech in 2018 you wish to share?
We think that data protection and privacy will be a major theme this year, partly because of GDPR but also due to the increased tendency towards externalised systems and operations. Because Duco is perfectly placed to provide essential services to banks within this environment, my fintech prediction for 2018 is that this will be another great year for Duco!
If you want to keep up with what the LHoFT gets up to, feel free to follow us on Twitter and Instagram, or visit our website!