The LHoFT is excited to be partner & sponsor of the Paris Fintech Forum 2018, which will be held on January 30th & 31st, at the former stock exchange market in the very heart of Paris. We will be joined by a delegation of members and partners, including many key figures of Luxembourg's financial technology ecosystem.
We asked each representative a few questions to help shed light on their work, as a part of our series of interviews: The Innovators.
This time we caught up with Nicolas Buck, CEO of SEQVOIA.
"Luxembourg has the opportunity to grow within Europe by supporting European and global players, thanks to the same advantage: agility." — Nicolas Buck
Could you introduce yourself?
I am Nicolas Buck, CEO of SEQVOIA. I founded SEQVOIA in 2012 with Renaud Jamar, after we sold our previous company Victor Buck Services to the Luxembourg Post. SEQVOIA is a regtech company delivering technological solutions for asset managers and asset servicing companies.
With our software, clients automate production, translation, typesetting and localisation of regulatory fund documentation. Our job is to turn the complexity of compliance into investor confidence, thanks to fluid and accurate investment fund information.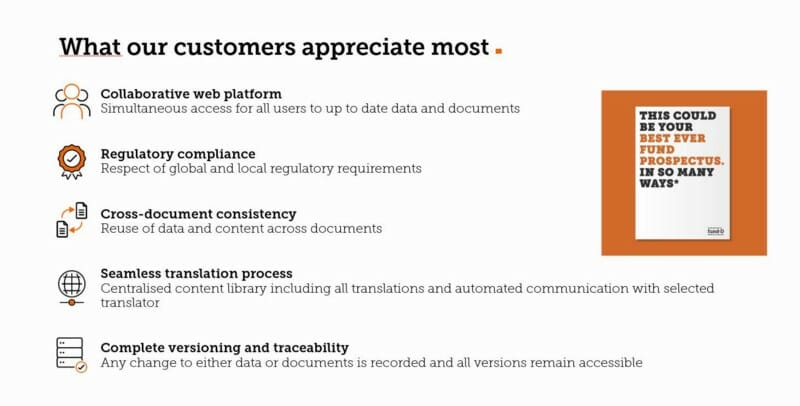 As European financial power base that is embracing innovation, which aspects of Luxembourg's financial technology ecosystem have been most beneficial to your company?
We are no longer a startup, but we are an ambitious, fast-growing company… so we welcome the work that is being done to raise the profile of Luxembourg as a technology centre for the finance industry. Most players in the financial industry are looking for innovative solutions that can help them meet regulatory and operational challenges… and the competition is global. So it is essential that we demonstrate that Luxembourg has a top-notch service industry and a deep pool of talent focused on developing the most efficient and practical solutions.
What do you think are the key challenges and risks for the different financial technology players in Luxembourg and in Europe?
The speed of transformation, increasing regulation and shrinking timelines are dominating the landscape. The challenge is to find the right pace — you want to lead but not be too far ahead, you want to work very fast but avoid making mistakes.
In this context, smaller players like us are more nimble. More generally, Luxembourg has the opportunity to grow within Europe by supporting European and global players, thanks to the same advantage: agility.
Which trend in financial technology do you think deserves more discussion, and which less?
Blockchain and AI are definitely key trends, and the intensity of discussion around these topics reflects a high level of interest within the industry. The challenge is to make these technologies work for our clients and their stakeholders, in a very diverse market. And help them transition confidently from their current platforms to next generation solutions.
What are you most looking forward to getting out of Paris Fintech Forum this year?
This is our second year at the Paris Fintech Forum and we are delighted to be back. This time we are hosted by the LHoFT and it's very important for us to support their efforts to make Luxembourg truly stand out on the map, as a partner for French and European asset managers. There are very interesting businesses emerging in Luxembourg at the moment and we want to be at the heart of this movement.
Besides that, being at the #PFF18 will make us smarter about what we need to do as a company and as a member of our service centre community. And it's also a great opportunity to meet new contacts and hear expert views on current FinTech issues, and then turn challenges into opportunities.
Any final thoughts or predictions for Fintech in 2018 you wish to share?
Given the pace of new policies and regulations, regtech will remain a major trend. But beyond tackling the regulatory burden, I'd like to shift the discussion towards discovering new opportunities. Already we're definitely moving towards a mutually beneficial collaboration between FinTech and financial institutions, where technology provides automation that frees financial players to focus on their core business and create more value for their customers and shareholders alike.
Well done @seqvoia_!
You're #6 on this week's
The 100 most influential RegTechs via @PlanetComplianchttps://t.co/Pjp4wS9zX6 pic.twitter.com/R3r4FaioPK

— Planet Compliance (@PlanetComplianc) January 23, 2018
If you want to keep up with what the LHoFT gets up to, feel free to follow us on Twitter and Instagram, or visit our website!