"Building a Fintech company, like most new businesses, is a journey of endurance and resilience. Build on what works, understand the value clients are looking for and differentiate based on this. You have to continue to invest in this perspective to find those earlier adopters who let you build customer success stories you can bring to your next opportunity. Take it one step at a time while sticking to your vision and values." — Eugene Danilkis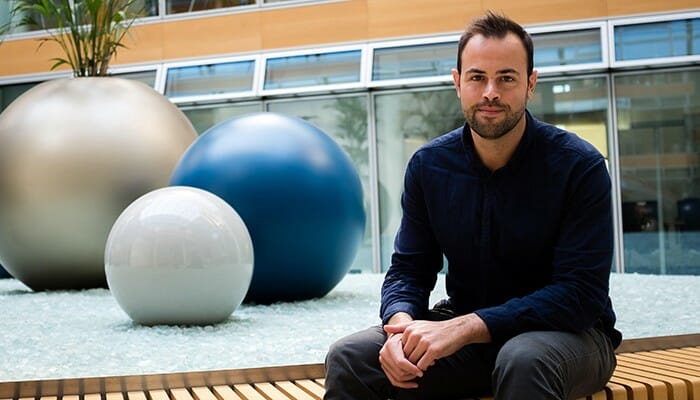 Eugene Danilkis, CEO and Co-Founder of Mambu
What is your current position, and what has your journey there involved?
I studied Computer Science, and started my career working as a software engineer on control software for the international space station, but I wanted to combine my interests in technology with those of business, design and social behaviour. I was drawn to a degree in Human Computer Interactions which is a multidisciplinary qualification at the intersection of those fields.
Unknowingly at the time, this put me on the path toward Fintech and Mambu. I met my Mambu co-founders while working on a degree-related project — investigating how modern technology can help financial services access hard to reach markets.Through our work we found a gap in the market, legacy approaches to building banking technology was too expensive, slow and cumbersome to help financial institutions service the individuals and micro, small and medium enterprises who were poorly served by the existing backing infrastructure.
At the same time, cloud technology was disrupting industries, with internet and smartphone penetration becoming the norm, even in remote regions. Our idea was to bring lending and banking technology into the 21st century via the cloud, making it accessible to projects of any size and flexible enough for any market opportunity.
Could you describe what your company offers? What differentiates it, and what has enabled that?
Mambu is a cloud banking platform, a Software-as- a-Service (Saas) engine that powers banking and lending products for institutions ranging from Fintech startups to leading banks and telcos. We consider ourselves the lean, agile, cloud-first alternative to legacy core banking systems.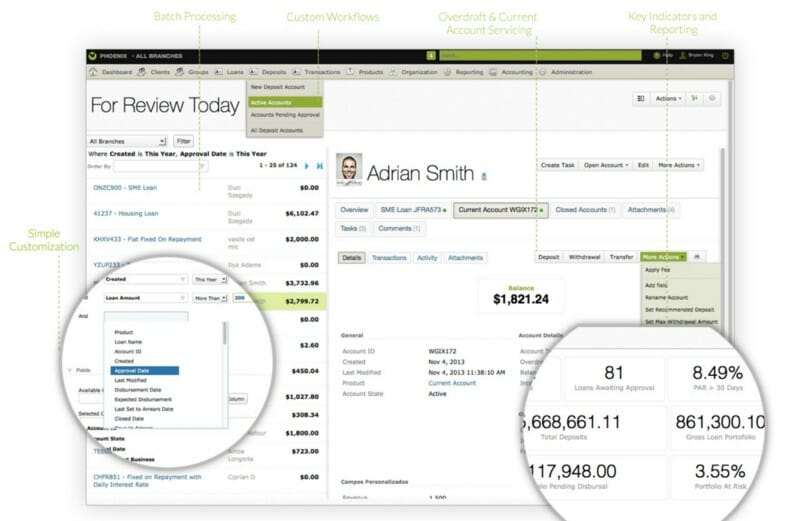 A service orientated, flexible and simple architecture.
Essentially Mambu forms the engine of the banking or lending system and through the use of APIs, clients can plug in innovative integrations to any customer-facing channels, payment providers, and other complimentary SaaS service for simple, streamlined and automated customer journeys. We help clients start up new business ventures, transform existing operations, launch new products and expand into new markets.
That's what differentiates us — through our platform clients can design and launch products themselves quickly, scale easily and do it with a small team. We put an emphasis on product and technology innovation with several major releases a year — and any development undertaken for a specific delivery is made available to all clients as part of our releases.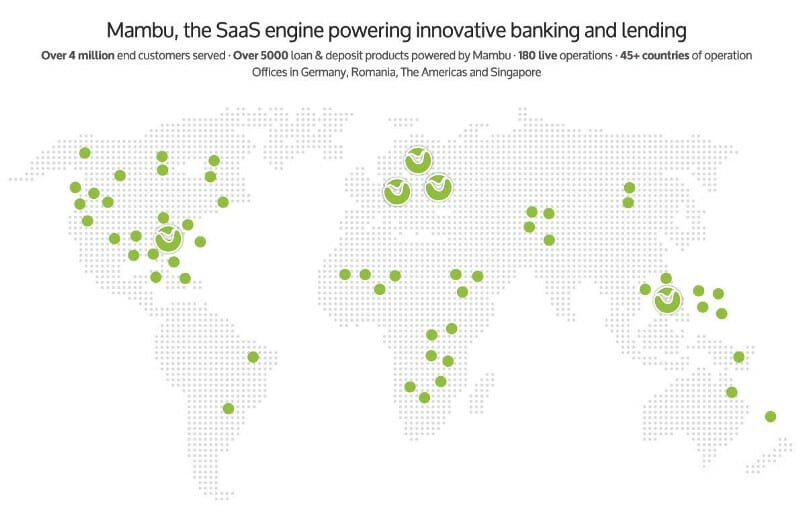 We enable our clients to take an agile, cost-effective, digital-first approach to bringing their lending and banking products to market. Today our technology powers over 5000 banking and lending products serving over 4 million end customers through more than 180 live operations in over 45 countries.
What were the major challenges you encountered entering the market?
Our initial concern was how quickly cloud technology would be adopted as banks and financial services are traditionally reluctant to adopt new technology. But the speed, agility and low operating cost of cloud are undeniable, the industry saw the strengths and there was a strong push to accept it with more regulators not only approving but encouraging its use.
Next was convincing institutions to take a risk on being one of the first to implement Mambu, which was at the time a new and untested product which would own and control their mission critical data like customer details, transactions and financial data.
As every institution is at a different stage on the technology adoption curve, we worked on providing the right value for them at the right time, from speed to market to speed of change, in order to overcome the perceived risks of both cloud and new technology.
Once the value perception of initially cost, and then speed to market and speed to change was higher than the perceived risk of being an early adopter we were able to again customer sand traction and build on top of that.
In a broader sense, what excites you about the future of financial technology?
New entrants like robo investment companies and digital banks are simplifying the way people interact with financial institutions. They are taking the complicated world of financial services and making it simple and easier to use. Customers can now access a range of tailored products and advice on investment decisions made simpler and easier with smart
technology.
Also exciting is the growing focus on offering SMEs greater access to finance. These small enterprises are the lifeblood of most economies, and with more and new financial institutions using technology to take the complexity out of SME lending, we should see more entrepreneurs emerging.
I'm hoping this wave of change will make financial services simpler to access and simpler to use for both individuals and businesses alike — and hopefully at a lower cost.
What startups or founders do you look to for inspiration?
There are a few companies that have changed the industry with their work. Salesforce spearheaded a technology and business movement that is part of everyday business today. When they started in 1999 they were pioneers in Software-as- a-Service and they had to fight for acceptance of their business model, technology model, deployment model and support model.
Today, using customer relationship management software via the cloud is accepted in every industry and SaaS is widely accepted as the best choice from startups to Fortune 500 companies.
Netsuite is another cloud computing innovator which demonstrated that SaaS is not just for SMEs, and built a business around the commercial benefits for larger enterprises. Salesforce did this too, but Netsuite helped demonstrate how it can be successful mostly with enterprise customers and with a very complex product like ERP.
Then of course there is Amazon Web Services (AWS). I admire their speed of innovation and quality of service as a business. The manner in which they rollout, the way it is documented and communicated and just how quickly they have gone global is an inspiration from both a technology and business perspective.
If you could give one piece of advice to the aspiring Fintech folk reading this interview, what would it be?
While FinTech is fast moving, the market, especially in B2B, may not be so quick to adopt. So if you are getting into the business, know that you are signing up for a marathon, not a sprint.
It is relatively easy to build a new basic product but financial services is a complex environment. You have to work on building credibility through working closely with initial customers, show the market the value you can bring through successful projects.
This generally a risk averse environment that needs assurances and references but it does contain innovators who can become your close partners in the early days and be key references for you as you move through the technology adoption curve.
Building a Fintech company, like most new businesses, is a journey of endurance and resilience. Build on what works, understand the value clients are looking for and differentiate based on this. You have to continue to invest in this perspective to find those earlier adopters who let you build customer success stories you can bring to your next opportunity. Take it one step at a time while sticking to your vision and values.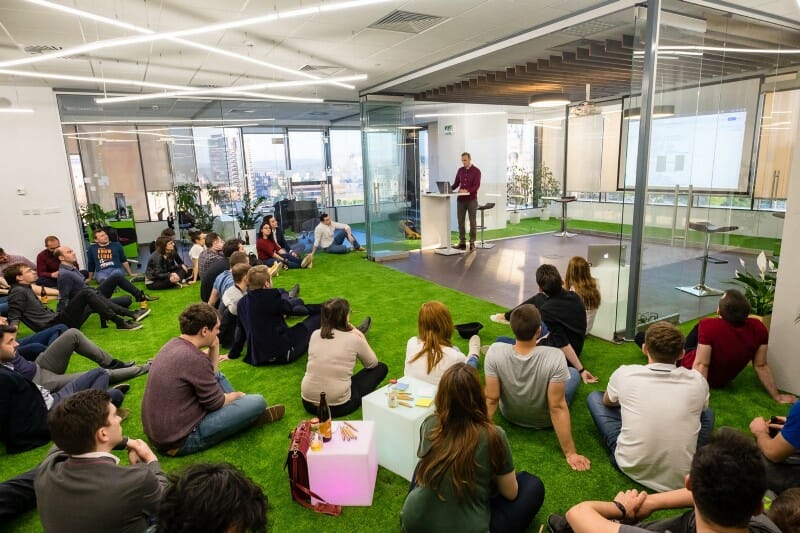 Mambu office in Iași, Romania.