The LHoFT is excited to be partner & sponsor of the Paris Fintech Forum 2018, which will be held on January 30th & 31st, at the former stock exchange market in the very heart of Paris. We will be joined by a delegation of members and partners, including many key figures of Luxembourg's financial technology ecosystem.
We asked each representative a few questions to help shed light on their work, as a part of our series of interviews: The Innovators.
This time we caught up with Alex Lawrence, Managing Director of CrossLend.
"Keeping abreast of trends in UI (User Interface) and UX (User Experience) are critical to any kind of –Tech. Why? Because financial players tend to forget an essential ingredient in their business landscape: the client."
Could you introduce yourself?
My name is Alex Lawrence and I'm the Managing Director of CrossLend Sàrl.
CrossLend is a B2B fintech company with a mission to make the European debt ecosystem more efficient and transparent. We launched our operations in Luxembourg in 2015 and came to LHoFT at the end of 2017.
We provide securitisation as a service, transforming loans into bonds on a 1 loan:1 bond basis. Our innovative securitisation setup allows originators to efficiently scale their lending business and investors to build diversified portfolios of loans (via bonds) at a pan-European level, while enjoying greater risk transparency.

As a European financial power base that is embracing innovation, which aspects of Luxembourg's financial technology ecosystem have been most beneficial to your company?
Obviously, the financial panorama in Luxembourg is remarkable: there are several European players here that we view as potential allies in helping us reach our goals.
Thanks to the remarkable development of the fintech community in Luxembourg, we see plenty of exciting new opportunities for us — and for many other start-ups.
Presently, thanks to our relationships with LHoFT and BGL BNP Paribas, we're on the fast-track, networking with a host of prospective business leads and business enablers not only in the "Grouss Regioun", but all over Europe.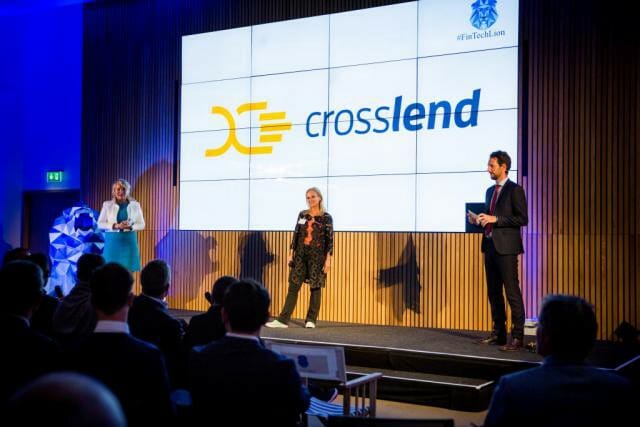 CrossLend at the 2016 Fintech Awards Luxembourg
What do you think are the key challenges and risks for the different financial technology players in Luxembourg and in Europe?
The challenge of each and every fintech is to be taken seriously by financial dinosaurs that haven't changed their business model in eons.
One of the main risks for many fintech players is to not have their offerings and ideas co-opted by these powerful dinosaurs, before they have managed to establish themselves as credible competitors.
Some fintechs are truly game-changing and may indeed, one day, supplant entire banking structures; others can offer amazing services to the banking industry as long-term partners and enablers.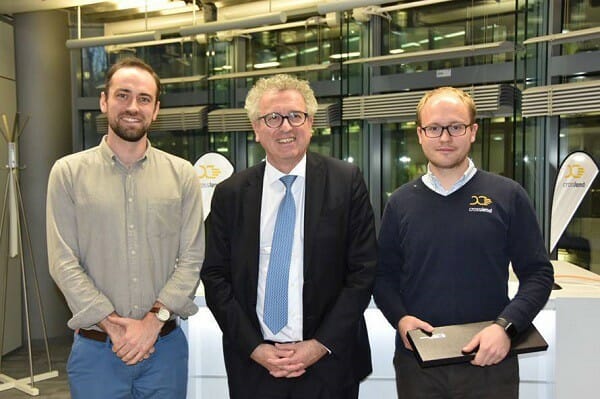 Alex Lawrence, General Manager, Crosslend; Pierre Gramegna, Minister of Finance; Oliver Schimek, CEO and Founder, Crosslend — Photo credits L-R
Which trend in financial technology do you think deserves more discussion, and which less?
All fintech trends deserve focus and attention, however, I think that keeping abreast of trends in UI (User Interface) and UX (User Experience) are critical to any kind of –Tech. Why? Because financial players tend to forget an essential ingredient in their business landscape: the client.
Once you understand what your client wants and expects, you can start developing your service or product around that.
Many fintechs cater precisely to these service and product gaps. If they do so while implementing the latest UI and UX insights, it's a winning formula.
Additionally, transparency is key.
These days customers want know exactly what they are buying into — unfortunately some financial players still haven't grasped that. From the conception of a product or service to its delivery and use, everything should be crystal-clear. It's this approach that underlies our 1 loan:1 bond securitisation process.
What are you most looking forward to getting out of Paris Fintech Forum this year?
First and foremost, we look forward to representing Luxembourg as a startup realm for fintechs. Everyone talks about London, Paris or Frankfurt as FinTech hubs, but Luxembourg deserves both recognition for what it has to offer and a piece of the industry's cake. We're proud to not only introduce ourselves as a company working on a European level, but in affiliation with a country which provides us with the perfect ingredients for growth.
The Paris Fintech Forum is an amazing opportunity to become acquainted with and meet fellow start-ups and their respective entrepreneurs as well as exchange business ideas and development possibilities.
When it comes to new investors, enablers or prospective business leads, just one handshake can make the difference — we're eager to see if that handshake will happen in Paris.
Any final thoughts or predictions for Fintech in 2018 you wish to share?
2018 will be great for fintech: we're finally coming to a point where the banks need us (and vice-versa). Doors are opening to FinTech-bank co-operations that would have been impossible 10 years ago. New horizons will surely open up through this hybrid of old-school clout with new-school daring and innovation.
The world is about to "celebrate" 10 years of fintech's existence.
Over these 10 years, fintechs managed to establish cryptocurrencies, launch and export blockchain around the world for numerous different types of businesses, change the way people bank and render obsolete companies that have been around for centuries. Not bad, huh?
If you want to keep up with what the LHoFT gets up to, feel free to follow us on Twitter and Instagram, or visit our website!