A comprehensive evaluation of the European tech space at a pivotal moment
The State of European Tech (SOET) Report is considered to be "among the most comprehensive data-driven analysis of European technology" by the European Innovation Council. The 2021 edition was launched on December 7 and provides decision-makers with a host of insights into the evolving tech landscape.
Timing-wise, this is an interesting one: the report provides an update on the state of tech and innovation at a moment when the world economy continues to recover from COVID-induced shocks. This year's edition of the report notably allows us to get a better sense of whether the forced, rapid societal adaptions to a new modus operandi, greatly facilitated by technological solutions, is leading to durable change, or whether we will see a "regression toward the mean".
Let me state up front that everything points towards the former.
As Chris Grew, Partner at Orrick – one of the report's sponsors – states:
Now is a watershed moment for the tech and venture ecosystem across Europe and around the world. Europe is attracting record levels of investment and growth, with the innovation economy positioned to take the lead in tackling today's systemic societal challenges.

[…]

Fintech investment has led the charge, rising by 159%, with total investment of nearly $15B, while planet-positive investments are dominating the fast-growing purpose-driven space.
ESG and sustainable finance are here to stay and we at LHoFT are convinced that fintechs will have an increasingly important role to play in facilitating the data collection, validation and analytics efforts required to build sustainability into the core of everything corporates and financial institutions do.
Luxembourg's role in a growing European ecosystem
A few things that stand out to us at LHoFT:
Luxembourg ranks very highly both in terms of startups per capita and in terms of capital invested into startups per capita, cf. below: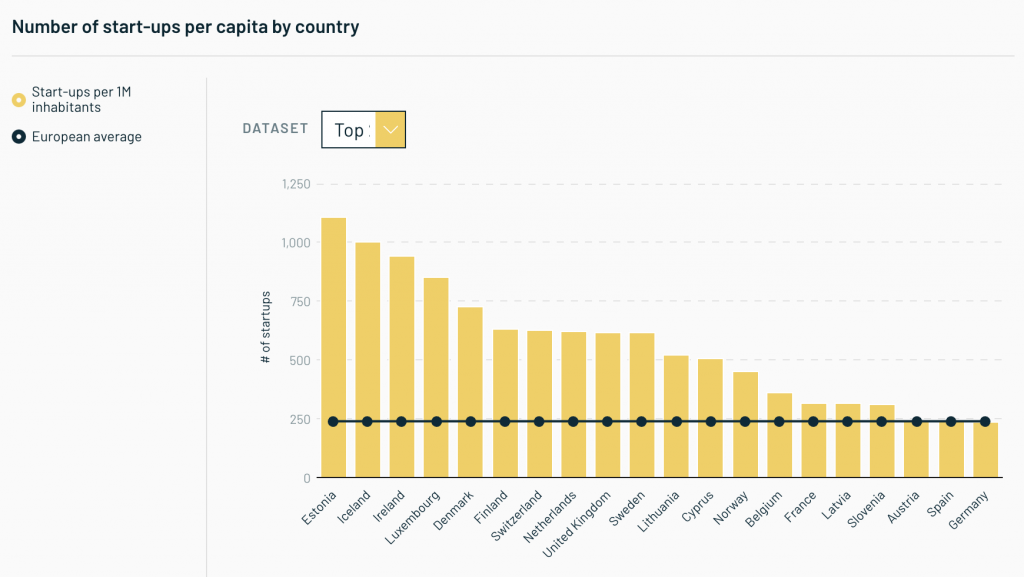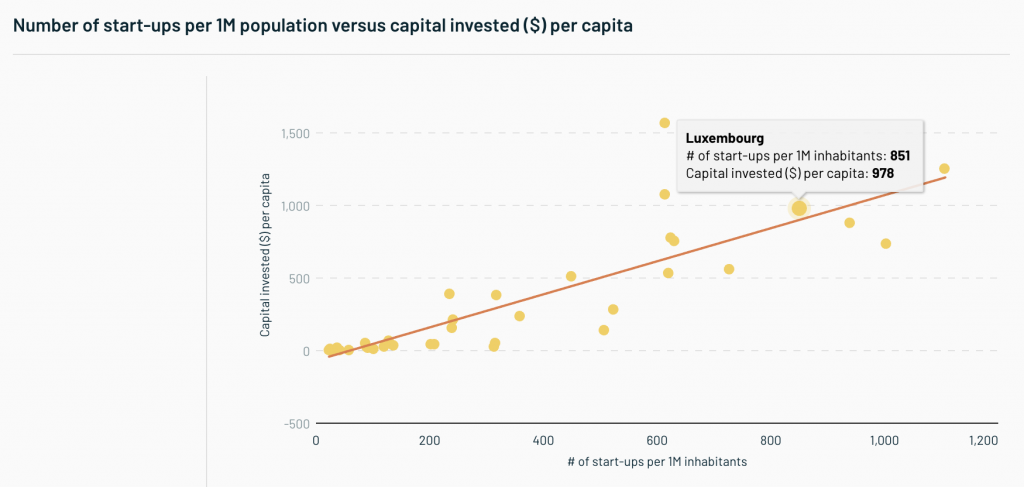 The tendency for top European hubs to capture the lion's share of funding has increased further, with companies based in London, Berlin, Stockholm, Munich and Paris raising 54% of all capital in the region, up from 49% in 2017. At the same time, concentration in terms of number of deals has decreased, pointing to greater decentralisation of the ecosystem in Europe.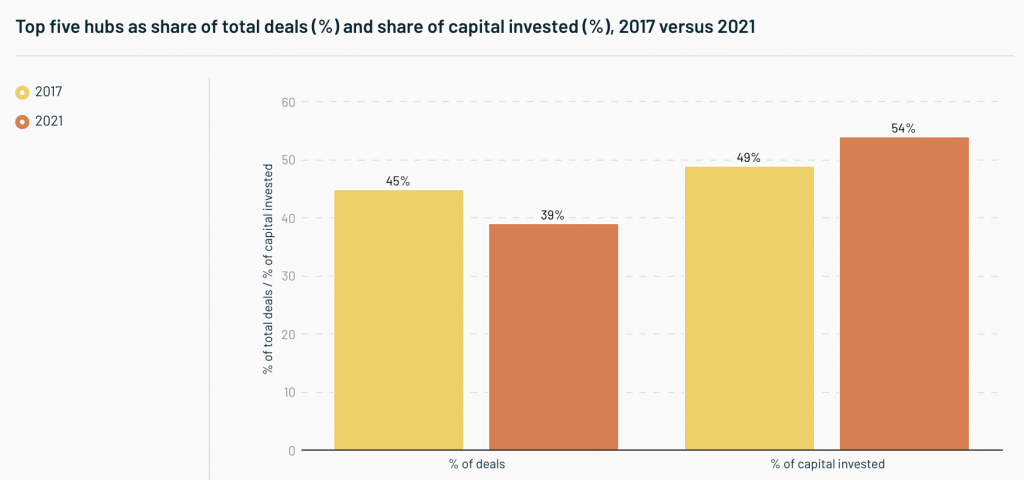 At the same time, there is growing consensus that the importance of physical proximity is diminishing, which is mirrored across a number of metrics. The ability to hire talent across Europe thanks to remote working arrangements is seen as a mutually beneficial boon both for entrepreneurs and for their expanding work force in terms of quality of life. Luxembourg, as an extremely open economy, should stand to benefit from these developments.
European startups should benefit from the fact that the continent is home to many industrial leaders, with particular emphasis on IT stacks. This presents ongoing opportunities for startups & tech companies, not least in the financial sector, and Luxembourg should continue to actively support initiatives and platforms that capitalise on this dynamic.
Europe is in a strong position to shape the next wave of disruption in B2B, as Europe is home to many industrial market leaders built on legacy technology ready to be disrupted.

Robert Lacher

Visionaries Club & La Famiglia
Europe remains disadvantaged versus the U.S. in terms of raising capital, which makes ongoing EU efforts such as the Capital Markets Union all the more pressing. "Almost one-fifth of founders say it has become harder to raise capital in 2021, while a further 40% or so believe the environment remains unchanged from the past year, which itself was a year that saw a record number of founders responding that fundraising had become harder."
Raising funds in Europe is still a different experience from raising funds in the US. European founders still fly out to the US for fundraising. Sometimes for expertise, sometimes for fair market offers.

Jakub Jurovych

Deepnote | Founder and CEO
A new dawn
The past year and a half have been left no one unaffected, imposing a steep price on societies around the globe. Silver linings include the realisation that more flexible work arrangements and business models are not only possible but in many ways desirable, not least when considering access to capital and talent. This in turn is enabled by far-ranging modernisation of technological infrastructure, presenting opportunities for incumbents and startups alike.
Finally, Luxembourg is presented with a particular opportunity to leverage these macro dynamics by fostering innovation proactively. The 2021 SOET report shows that the Grand Duchy is already punching above its weight in some regards – let's keep the momentum going.