As the battle against COVID-19 continues, doctors, nurses and all the essential workers need some support, now more than ever. The best way to show them appreciation is that we stay safe in our houses, taking care of our families and all the amazing beauties of life.
The secret of a healthy soul starts with the food we eat. This week, we want to offer you a set of delicious recipes with the hope of inspiring all those who ran out of inventivity or simply want to try new ways to fuel their days.
Stay home ! Stay Safe !
MAIN COURSES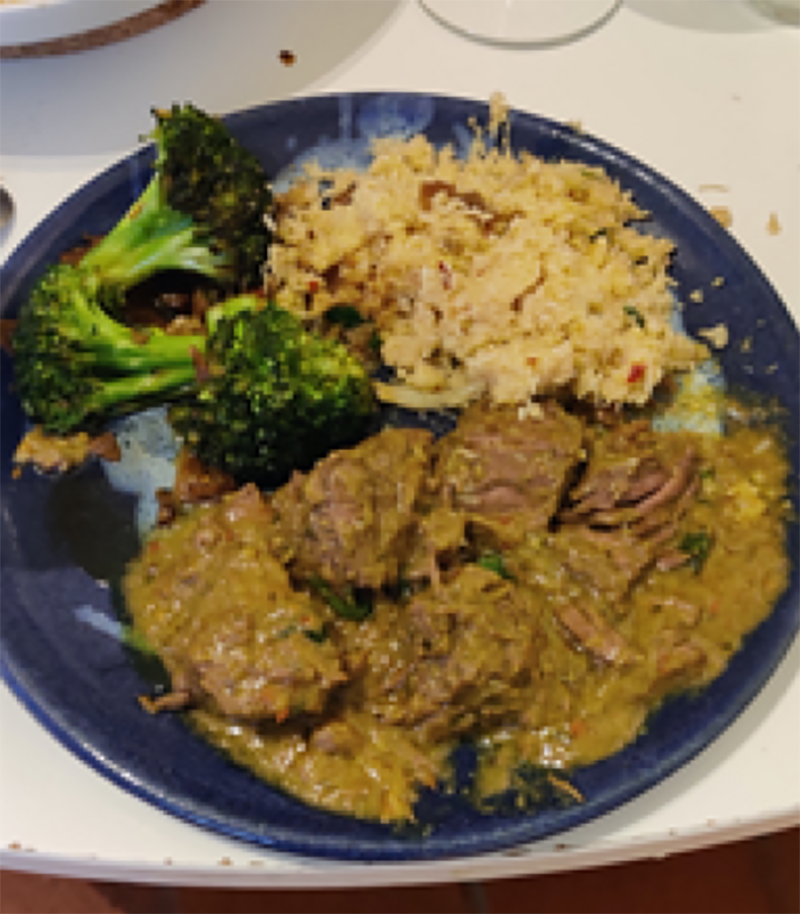 Blockchain Beef Rendang, By Nasir, LHoFT Tandoori Specialist 
THE YUMMIEST BEEF STEW YOU WILL EVER EAT AND SO EASY TO COOK!
Ingredients for 4 people:
1 large onion, roughly chopped
2 tbsp chopped fresh ginger
1 tbsp chopped galangal (or another tbsp of ginger)
1 tbsp chopped garlic
1 lemongrass stalk, chopped, or a tablespoon of minced lemongrass from a jar (easily avail in most grocery stores)
6 red chillies,
2 tbsp sunflower oil
1 cinnamon stick, or a teaspoon of cinnamon powder
6 cardamom pods
800g braising steak, cut into 2cm/1inch cubes
4 kaffir lime leaves (can use the equivalent of dried leaves, easily avail in grocery stores)
Juice from a lime
400ml coconut milk
1 tbsp of tamarind paste or juice of another lime
coriander sprigs to garnish
Around 5 hours of preparation.
Method:
Create a rendang paste: place the onion, ginger, galangal, garlic, lemongrass, turmeric and chillies into a food processor. Blend to form a smooth purée.
Heat a wok and add the oil. Fry the paste over high heat until the paste turns darker and is highly aromatic around 3-4 minutes.
Add the cardamom pods (crush the cardamom pods gently with the back of a spoon before frying) and the cinnamon stick broken in half and cook for another minute.
Add the meat, and fry the meat in the paste stirring all the time, until it is well browned.
Pour over the coconut milk and tamarind purée and bring to a gentle simmer, add the kaffir lime leaves and lime juice.
Season with salt, stir well then reduce to low heat and cover
Cook for between 4-5 hours, stirring every hour. The meat should be really tender, often breaking apart, and the sauce really reduced and rich.
Garnish with coriander leaves and serve – for example with cauliflower rice and stir-fried broccoli!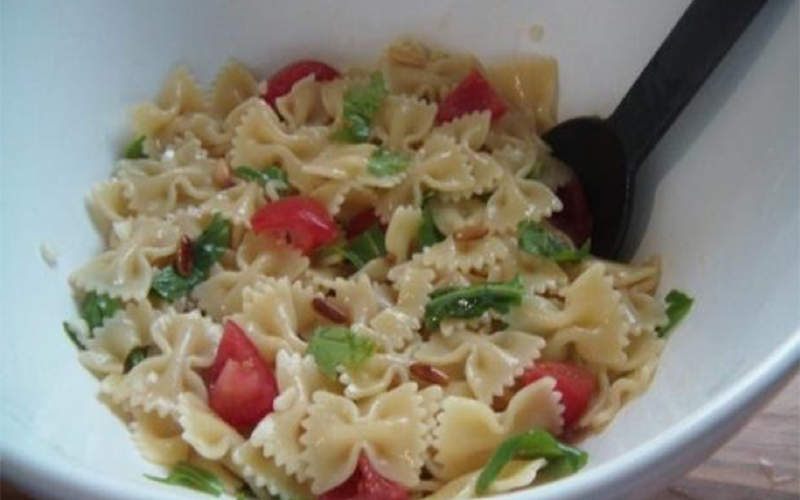 Farfalle with feta, arugula and toasted pine nuts, by Antony, LHoFT Athlete Cooker 
Ingredients for 1 Person:
170g of feta cheese, crumbled
75ml of olive oil
 dried oregano
200g whole wheat farfalle
230g of baby arugula
75g of pine nuts
2 garlic cloves
100 gr of tomatoes
Around 30 minutes of preparation.
Method:
In a bowl, whisk together 30 ml of olive oil, oregano and crushed tomato. Stir with 1 minced garlic clove. Crumbled in about 110g of feta and place the bowl in the fridge. In another bowl, whisk together the remaining 45ml of olive oil and the other garlic clove.
Bring a pot of salted water to a boil and cook the farfalle according to the directions on the box. Place the baby arugula in a large bowl.
While the pasta is cooking, place the pine nuts in a skillet and heat over low heat. Stir, toss and shake the pan constantly so the pine nuts don't burn, cooking until golden, toasty and fragrant, about 5 minutes.
Once the pasta is finished cooking, drain it and place it directly over the baby arugula. Drizzle the garlic olive oil over the pasta and cover the bowl with a piece of foil. Let sit for 5 minutes. This should wilt the arugula and you can always give it a good stir to help the process along.
Toss the pasta with the marinated feta (I add the entire contents to the pasta) and pine nuts. Add the remaining feta on top. Toss well and serve!
Cheese Course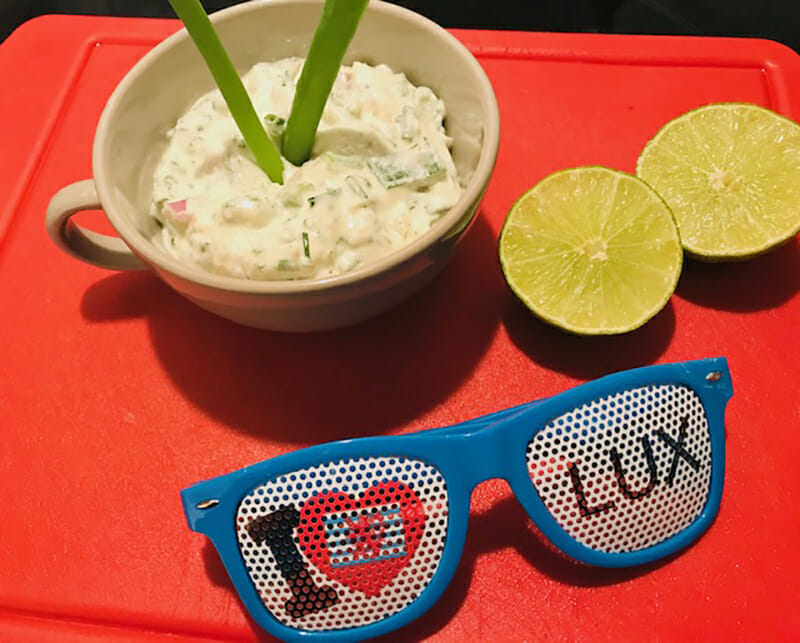 Cervelle de Canut (Typical Recipe from Lyon), By Manon LHoFT Cheerful Cooker 
Cervelle de Canut is, as its name does not explain it, a recipe of fresh cheese with fines herbes. In "Lyonnais", the word Canut means silk worker. This was considered a workingman's dish but is now part of the classic Lyonnais traditional cuisine.
Ingredients:
1 pound white cheese
2 tablespoons crème fraîche/ fresh cream
2 tablespoons white wine vinegar
1 tablespoon of olive oil
3 tablespoons finely chopped fines herbes
Thyme
Rosemary
Marjoram
Tarragon
Chives
Chervil
Savoury
2 small shallots, very finely chopped
Sea salt and fresh ground pepper to taste
Around 10 minutes of preparation.
Method:
Mix the fromage blanc and the crème fraîche.
Stir in the herbs and shallots and toss to mix.
Taste for seasoning, and add salt and freshly ground pepper to taste.
Let sit overnight, if possible, to allow the flavours to blend.
Served either as a dish with hot potatoes or to close a meal before dessert. You can also use it as a starter on some good bread with some radish on it.
Tip from the cook: Pair your dish with a nice Juliénas Beaujolais wine or a Châblis Blanc 
Desserts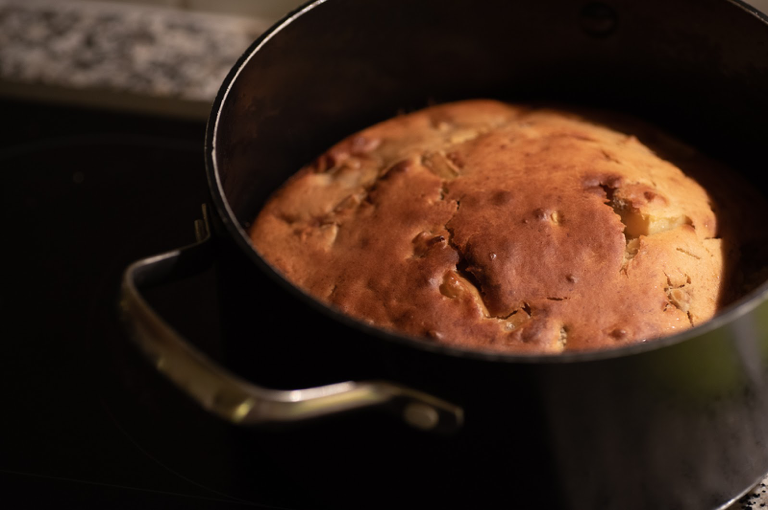 Banana bread, By Jerome, LHoFT Chemist Cooker 
Ingredients:
2-3 very ripe bananas
2 eggs
100g melted butter or neutral vegetable oil
200g all purpose flour (optional: add 30%-50% whole grain flour for higher fiber content)
100g brown sugar
a cup of whole milk
chopped walnuts
optional: 1 diced apple
1 teaspoon of salt
small amount of baking powder
 Method:
Preheat oven to 150-170 degrees Celsius, with a ceramic bowl or cup filled with water inside.
Melt butter on gentle heat. Mix melted butter, eggs & sugar in a bowl.
Blend peeled bananas with the milk & salt. Combine the banana blend with the egg/butter/sugar mixture. Add flour and baking powder & mix. Once smooth, add in chopped walnuts & apple.
Butter whatever vehicle you choose to bake this in – a teflon-coated pot works like a charm – and coat with flour. Add in your banana bread mixture. Bake for 45-60 minutes at 170C.
Remove, let cool to room temperature, enjoy.
Tip from the cook: fantastic with vanilla ice-cream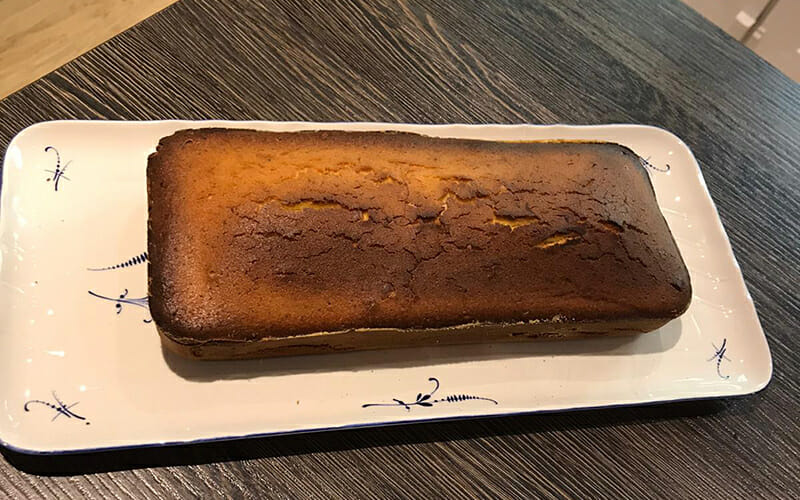 Lemon Cake (6-8 peoples), by Dilek, LHoFT Turkish Delight  
Ingredients:
250 g flour
150 g sugar
1/2 sachet of baking powder
4 eggs
100 g melted butter
1 lemon
Around 50 minutes of preparation.
Method:
Heat the oven at 180C
Butter and flour your cake pan
Melt the butter in the bain-marie
Wash the lemon
Grate the lemon into papier thin slices (try not to get the white part of the lemon)
Then cut the lemon and squeeze it
Mix the flour, sugar and the baking powder
Add the eggs one by one, then the melted butter, lemon peel and lemon juice
Pour the ingredients in your cake pan and bake it for 40 minutes
As soon as you take it out from the oven turn it upside down on your serving plate
——
To conclude, we want to renew our sincere thanks to the healthcare professionals and every other essential worker who is truly supporting our communities. The best way to show them appreciation is that we stay safe in our houses enjoying food, our families and all the amazing beauties of life.
Please, do not hesitate to contact any of us for feedback, request of help or just a chat using our dedicated email address ([email protected]) or contacting directly any of us.