ESG Radar and Ticked Teams win the final pitching competition after one week-long training program organized by the LHoFT and CFTE
Last Saturday, 5th December, ESG Radar (AKA the Governance.com team) and Ticked (AKA the Lingua Custodia team) won the final pitching competition after an intense, week-long immersion in the inaugural Fintech Entrepreneurship Program, delivered by the Luxembourg Digital Finance Academy.
ESG Radar developed a solution helping the asset managers that are currently facing conflicting challenges in relation to sustainable investing.
Ticked developed an AI powered solution to enhance better, faster and cost-efficient detection of greenwashing in funds documentation.
Alongside two others teams, ESG Radar and Ticked pitched in front of the notable jury, composed of:
Julie Becker, Deputy CEO of Luxembourg Stock Exchange;
Denise Voss, Chairwoman of LuxFLAG;
Ananda Kautz, Head of Innovation, Digital Banking and Payments at ABBL;
Tram Anh Nguyen, Co-Founder of CFTE;
and Nasir Zubairi, CEO of the LHoFT;
all judging on 4 criteria's: boldness; viability​; look and feel of the delivery​ and Fintech entrepreneurship skills.
The Fintech Entrepreneurship Program is the first initiative of Luxembourg's Digital Finance Academy, built by the Luxembourg House of Financial Technology (The LHoFT) and the Centre for Finance, Technology and Entrepreneurship (CFTE) after an agreement signed during the Singapore Fintech Festival in November 2019.
The Academy is designed to help financial institutions upskill their employees in Fintech, and help finance professionals, masters or PhD students and policymakers deepen their understanding of the changing landscape of the industry.
From Friday 27th of November to Saturday 5th of December, four teams led by four prominent Luxembourg Fintech companies (LuxHub, Tokeny, Governance and Lingua Custodia) worked tirelessly on case-studies dedicated to Open Banking, Blockchain, RegTech, and Artificial Intelligence.
The use-cases gave each team a concrete problem to explore, taking ownership by developing a realistic strategy within the firm's framework of available resources, in light of sustainability goals.
The four teams worked with leading Fintech firms in Luxembourg, learned how to apply design thinking and agile methodology, received mentoring from successful founders and innovation executives, and enhanced their professional networks.
On the first day, Friday 27th of November, each team received 8 hours of classes delivered by industry experts, covering topics such as entrepreneurship, legal, marketing, and cash management. On Saturday 28th of November, each team worked with 13 prominent mentors giving them guidance and feedback. Led by Antony Martini and Piotr Kurzepa from CFTE, the teams continued work on their proposals throughout the week, up until the "Grande finale".
The Fintech Entrepreneurship Program culminated with a final pitch session on Saturday 5th of December, gathering Luxembourg's Fintech and Finance community digitally. The 4 teams delivered their final pitches, leveraging the input they had received from the program partners, experts and mentors over the course of the program.
ESG Radar and Ticked received an official graduation certificate from CFTE, as the other participants, in addition to an access to the CFTE Entrepreneurship program and a free membership at the LHoFT to continue working on the project, and an opportunity to turn it into a reality.
Mrs Tram Anh Nguyen, Co-Founder of CFTE stated: "We are thrilled to have partnered with LHoFT to develop and deliver the very first entrepreneurship programme and I am very pleased we have made an impact in Luxembourg. This programme was developed for people from all backgrounds to acquire some excellent knowledge in Fintech and in today's world, one skill that one should have is the mindset of an entrepreneur. I am amazed by the quality of strategies developed by each team in just a week." 
Mr. Nasir Zubairi, CEO of the LHoFT Foundation commented: "The Fintech Entrepreneurship Program aims to upskill financial services professionals to be able to better embrace and take advantage of the accelerated shift to digital. We are very grateful to all the mentors, tutors and supporters of this program alongside the participants who showed enthusiasm and real engagement in their attendance. Congratulations to all the teams and in particular ESG Radar and Ticked for their outstanding projects."
Mr. Antony Martini, Fintech Entrepreneurship Program Lead, added: "Four teams competed to develop the best business strategy within the boundaries of their available limited resources, exceeding the judges and Innovation Leaders' expectations in the end. The Fintech entrepreneurship program is an intense program reflecting the realities of entrepreneurship combining both lectures by renown instructors, the exposure to in-field mentors and the solving of real-live case studies."
Meet the Teams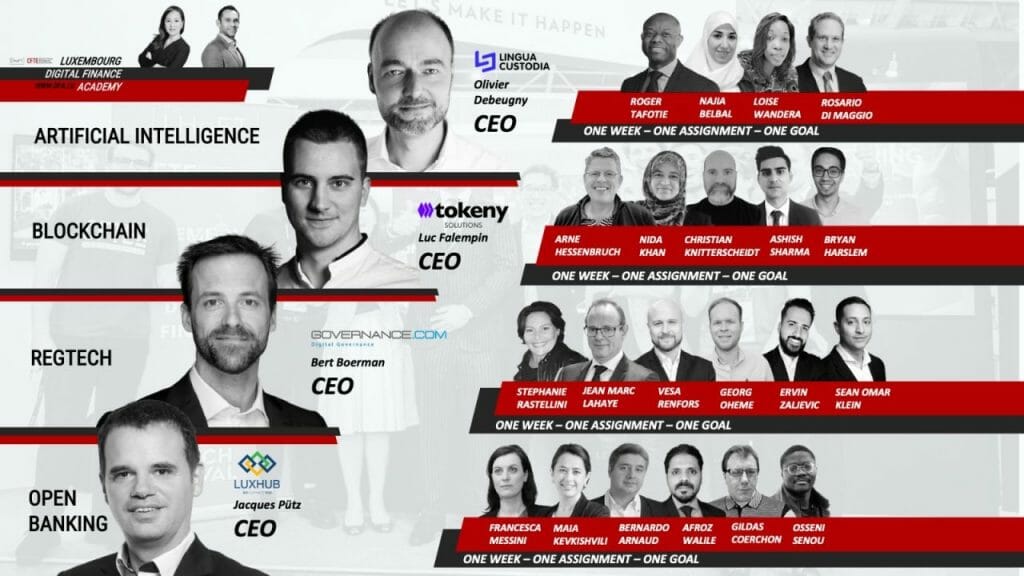 The Open Banking Challenge, led by Jacques Pütz, CEO of LUXHUB, Leading European Open Banking innovator which secured an additional €7.4 million in an internal funding round in May 2020
About the Challenge: Based on current open banking opportunities, Jacques will help you build a product offer, relevant for incumbent financial institutions wishing to offer their retail clients a unique customer experience.
About LUXHUB: LUXHUB is a Fintech helping financial institutions take advantage of the different opportunities offered by the API economy (Open Finance).
The Team
Francesca Messini, Director – Fintech Leader at Deloitte
Maia Kevkishvili, Current Account Manager at Volkswagen Payments
Bernardo Arnaud, Serial entrepreneur, market Leader in financial inclusion through open banking in Brazil
Gildas Coerchon, Chief Compliance Officer at Joompay
Osseni Senou, Impact ESG background
The Blockchain Challenge, led by Luc Falempin, CEO of Tokeny, Winner of the 2019 Luxembourg Fintech Awards
About the Challenge: On Luc's team you'll learn how to leverage blockchain technologies to make green finance more accessible and attractive.
About Tokeny: Tokeny Solutions allows financial actors operating in private markets to compliantly issue, transfer and manage securities using distributed ledger technology, enabling them to improve asset liquidity.
The Team
Arne Hessenbruch, MIT Lecturer
Nida Khan, Cybersecurity & Blockchain Research / Founder of Nash
Christian Knitterscheidt, COO of Savedroid
Asish Sharma, Innpact – ICFA Adviser – Impact Finance Fund Consultant
Bryan Harslem, Cryptocurrency advisor
ESG Radar Team – The RegTech Challenge, led by Bert Boerman, CEO of Governance.com, Winner of the 2016 Luxembourg Fintech Award
About the Challenge: On Bert's team you'll learn how to build a product to help fund managers contribute to a sustainable world, by monitoring, reducing and disclosing sustainability risks (ESG) in their portfolios.
About Governance.com: Governance.com's DiGIT platform allows companies to embrace digital transformation, by quickly building solutions to complex business problems with a low-code application platform and a set of business oriented acceleration components.
The Team
Stephanie Rastellini, Current Operation Transformation Lead
Jean Marc Lahaye, Funds manager
Vesa Renfors, CFO Apollonian
Ervin Zaljević, Manager Funder Corporate Services
Sean Omar Klein, Junior Payments Officer DZ Private Bank
Georg Oheme, International Business Developer at Vistra
Ticked Team – The Artificial Intelligence Challenge, led by Oliver Debeugny, CEO of Lingua Custodia, Runner-up of the 2018 Luxembourg Fintech Awards
About the Challenge: ESG investment: Bring to the market a new tool to identify greenwashing, where a company or organization spends more time and money on marketing themselves as environmentally friendly than on minimizing their environmental impact.
About Lingua Custodia: Lingua Custodia, the specialist of Natural Language Processing applied to finance.
The Team 
Roger Tafotie, Managing Director at Operxify, Former Associate Director EY, Professor in Law
Najia Belbal, Independent Director, Member Digital Committee at ILA
Loise Wandera, Senior Scientist at HydroSat & ESG specialist
Rosario Di Maggio, Former Director of Business Dev. at Vistra
Meet the Fintech Entrepreneurship Program Instructors
The Instructors: 
Huy Nguyen Trieu, Co-founder of CFTE;
Janos Barberis, Co-Founder at EdTech Accelerator;
Nadia Manzari, Partner at Schiltz & Schiltz S.A;
Brad van Leeuwen, CEO at Cledara Co-Founder;
Dr. Jürgen Wolff, CEO of A352 S.à.r.l;
Alex Panican, Head of Partnerships & Ecosystem at the LHoFT;
Aram Attar, VC Researcher & Teacher, Founder of Tytchme