As a part of LHoFT Talent Month, we're approaching the issue of recruiting technology talent from all angles. In our last article we looked at why people have chosen to move to Luxembourg to work in Fintech, and this time we're looking at it from the perspective of a company. What do Luxembourg Fintech companies offer potential recruits? What do they look for in candidates?
To begin, we spoke to Georges Berscheid, Co-Founder and CTO of Finologee: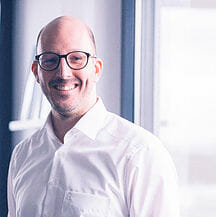 What are the important factors to consider when hiring a new tech or IT recruit?
There are several things that we look for in candidates:
Natural curiosity: Technologies are evolving very fast so absolute knowledge about certain technologies is less important than the capacity to learn new things quickly and efficiently. Curiosity is the driver for this.
Understanding vs. executing: We look for candidates that actually try and understand the broader context (e.g. the architecture of the application, the way the tools they use work exactly) of what they're working on instead of just focusing on the particular module they're told to work on.
Excitement about the product that we create: We're a product company, we create digital experiences for our customers and that's something that candidates need to be equally excited about. We grow our products and treat them like our babies.
What positively differentiates your company for potential recruits?
At Finologee we bring together the largest financial institutions and fintechs – leveraging our deep understanding of innovation. Even though we began operating less than two years ago and we are a startup-minded company, we certainly divert from other players in the market by being 100% led by 4 entrepreneurs with over 25 years of expertise in building digital products from scratch. Besides, we are fortunate enough to count on a seasoned team with a diverse mix of personalities whom we believe in giving the space to do what they're good at and also giving them the room to get even better, grow and thrive together by taking responsibility and not orders.
On top of that, we work with a future-proof technology stack to build the next generation of digital ecosystems for the financial industry. We truly believe at this moment in time we have all the right ingredients to make a significant impact and become a leading European fintech company.
What makes Luxembourg an attractive destination for tech talent?
Everything is very easy in Luxembourg, the country provides a favorable environment in terms of infrastructure, central geographic location, internationality, and tax. Not to mention, the startup ecosystem in Luxembourg is growing exponentially, drawing on a long history of innovation, Luxembourg is committed to foster new ideas and companies, which makes it a perfect springboard to build digital businesses.
This directly translates into Luxembourg being home to some of the best technical and creative minds who are helping the country to lead the way in cutting-edge innovations in areas such as Fintech and Artificial Intelligence. Luxembourg offers a big tech job market and plenty of opportunities to move around and rapidly build a successful career.
Hiring great IT and Tech talent is one of the biggest challenges faced by Fintech companies.
We have decided to tackle this issue, dedicating March to the LHoFT Talent Month where we will organize, sponsor and attend several student recruitment forums, masterclasses and workshops across Europe.
Check below for our list of events – and keep an eye on our events section. Send a email to [email protected] if you have any questions!

#talentmonth19