Discover the Luxembourg Digital Finance Academy and Apply to the Fintech Entrepreneurship Program powered by CFTE & the LHoFT.
The Luxembourg House of Financial Technology (LHoFT) and the Centre for Finance, Technology and Entrepreneurship (CFTE) have launched the Luxembourg Academy of Digital Finance, after an agreement signed during the Singapore Fintech Festival in November 2019.
The Academy is designed to help financial institutions upskill their employees in Fintech, and help finance professionals to deepen their understanding of the changing landscape of the industry.
Conceived and build to help you adapt to a world of technology-driven finance, CFTE and the LHoFT designed together an exclusive "Fintech Entrepreneurship Program"
DETAILED COURSES LAYOUT, WEEK PROGRAM INCLUDING RECOMMENDED READINGS, ACCESS CODES AND FURTHER INSTRUCTIONS WILL BE DISTRIBUTED INDIVIDUALLY TO EACH SELECTED PARTICIPANT UPON REGISTRATION – FOR MORE INFORMATION GO TO WWW.DFA.LU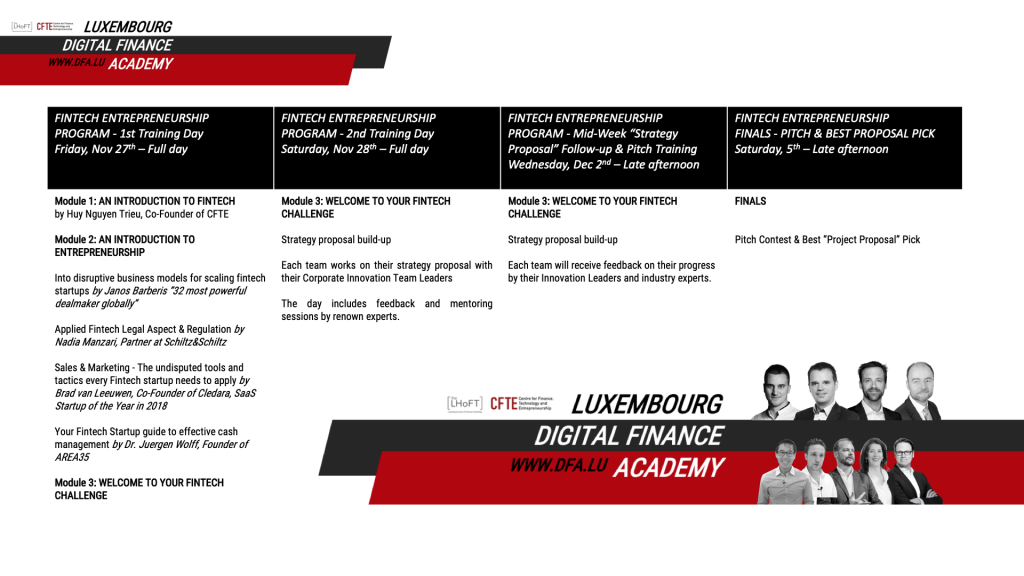 What is the Fintech Entrepreneurship Program?    
In collaboration with CFTE and the LHoFT, the Luxembourg Digital Finance Academy will deliver a unique immersive online program on Fintech Entrepreneurship for professionals from the financial sector and people interested in developing entrepreneurial skills.
What you will get: 
Acquire knowledge in entrepreneurship
Learn about the dynamics between FinTechs and Incumbents
Get mentored by successful founders and executives
Pitch your solution in front of industry leaders
Grow and enhance your network
Meet the Team Leaders
The founders of four top Fintech companies from the LHoFT ecosystem will each be guiding a team through a case study over the course of the program:

Meet the Instructors
Meet the industry experts who will be guiding you through the course content of the Fintech Entrepreneurship Progam, and the topics they will be covering: