At the LHoFT, we strongly believe that financial technology is crucial to advancing financial inclusion, empowering groups that have been left behind by the traditional financial system. Whether it's financing for rural farmers, point of sale technology for underbanked merchants, or specialised insurance products, the positive impact being driven by entrepreneurship is improving lives around the world.
Building on the success of previous experience, CATAPULT: Inclusion Africa is a unique one week program of Fintech startup development built by the LHoFT Foundation, targeting African Fintech companies, focusing on creating bridges between Africa and Europe and aligned with the sustainability goals of Luxembourg's finance centre.
In the run up to our Financial Inclusion event we will be sharing insight from key figures in the Financial Inclusion world, beginning with Simon Schwall, Founder of OKO:
"Spend time with the target users on the ground: ideas that look great in theory may fail for very practical reasons." – Simon Schwall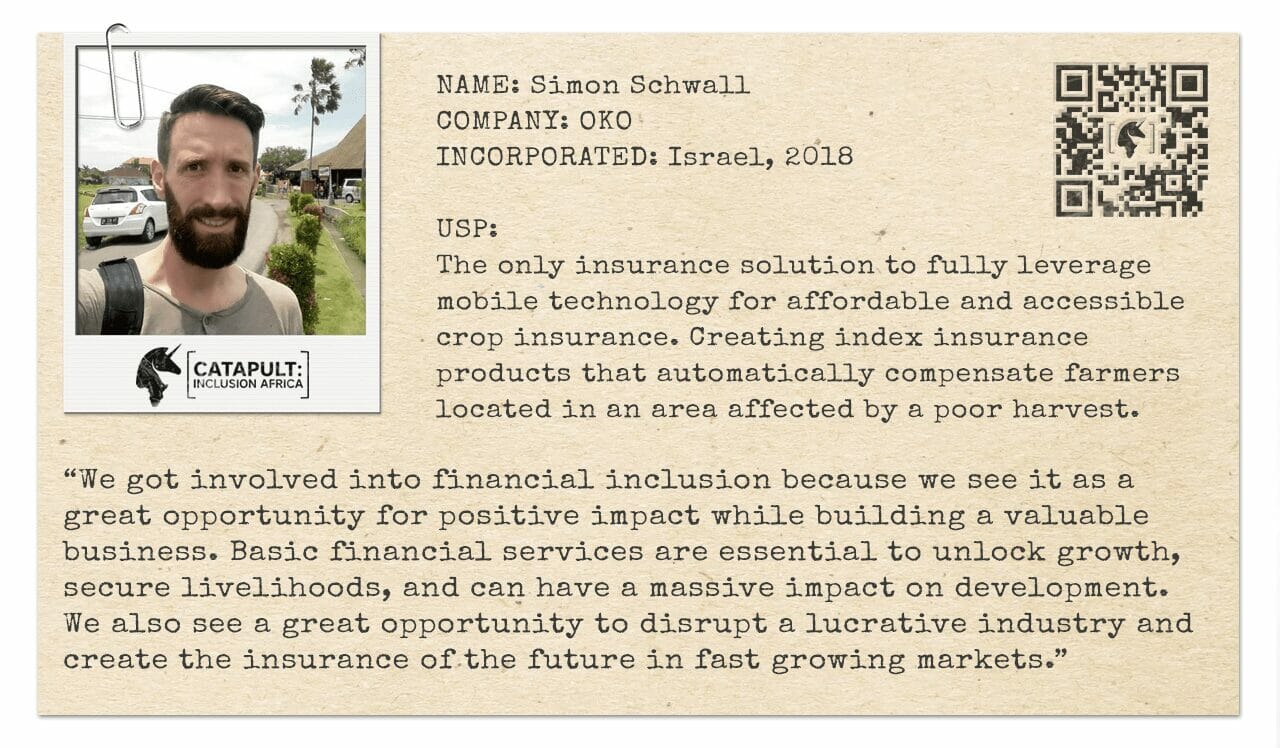 Can you tell us a little about yourself and your company?
I describe myself as an entrepreneur and a micro-insurance specialist.
I have always been attracted to new technologies, but also to discovering remote places and the rural world, starting with 3-week stay with nomad herders in Mongolia when I was 18.
As a management consultant for telecom companies, I discovered the impact that mobile phones were having in emerging countries. Suddenly people are able to send money across the country with their phone, they can pay solar panel instalments with daily SMS, and they can negotiate the price of their harvest with people in the city.
I wanted to be part of this revolution, and I joined BIMA, a Swedish start-up providing life and health insurance to unbanked populations in emerging countries. BIMA's main idea is to offer people to convert some of their mobile phone credit into insurance premium. With them I moved to Papua New Guinea, where I lived for 2 years and created the most popular life insurance in the country. I then replicated this in Fiji, before moving to the Middle-East. It was a major achievement.
But I realised that there was one major risk that my customers were still exposed to: a bad harvest. In 2015 and 2016, the highlands of Papua New Guinea were hit by a severe drought that caused distress to hundreds of thousands. I realised that I had a tool that could help them, if I could only observe the state of the fields remotely. So I did some research, and decided to leave BIMA to create OKO.
At OKO we secure the income of smallholder farmers through insurance. Customer can use their phone to obtain an insurance policy and pay their premium with only a few SMS. Then we look at the weather in their area and if we observe that they suffer from a bad season, we automatically send them a financial compensation.

ILTV Simon Schwall Co Founder CEO of OKO
What are the key challenges faced by crop insurers in Africa, and how are you tackling them with technology?
Only large industrial farms are currently covered by insurance in Africa. This is because there are many administrative costs associated with insurance, that don't depend on the size of the farm: quote creation, payment collection, on-site visits for claim verification etc. This means that insurance companies cannot serve smaller farms which are remotely located and have no bank accounts.
At OKO we use technology to automate these processes:
Customers can obtain a personalised quote via SMS, through a chat-bot
They can then pay their policy using mobile money services, with any kind of phone
We then monitor the weather at the location of their field and automatically pay the weather was not favourable.
What advice would you offer to other founders looking to increase Financial Inclusion in Africa?
I would have two main recommendations:
Spend time with the target users on the ground: ideas that look great in theory may fail for very practical reasons. For example, our SMS menu is theoretically accessible to all. But farmers might not have battery, coverage or credit to use it, and many are not literate. As a consequence we are now also offering an option to be called back a convenient time for them.
Don't be afraid of regulatory barriers: The regulation may not allow certain innovations, but if your product is contributing to the financial inclusion goals set by the regulator, you should talk to the regulator to obtain a derogation, or an agreement to test the system under specific constraints. The regulation will probably adapt to facilitate useful innovations: for example, West African countries are now adjusting the regulation to accommodate mobile-based insurance.

Demo OKO SMS registration
What are you hoping to get out of your experience at CATAPULT?
CATAPULT is an amazing opportunity for us to meet with other start-ups in this field. Financial inclusion is a multi-faceted problem, and there are multiple synergies between financial education, micro-loans, technologies, regulation etc.
For example, farmers could lower their risk profile through our insurance and therefore benefit from an easier access to micro-loans. Or insurance could be one of the products offered to farmers that used a rural saving account. And more generally, sharing experience with other companies operating in similar markets will be instrumental to our success.
What's next for OKO? What do you see as the key challenges as you grow further?
Our parametric and mobile-centric insurance products are a great improvement in comparison to traditional insurance, but they are not perfect. For example they cover only weather risks for now, and the granularity can still be improved. We are working on creating more sophisticated products that would cover pests and diseases. We are also looking for providers of yield and weather data with high granularity levels.
What does ​'financial inclusion' mean to you?
Any entrepreneur (and by that I mean a shop owner, a farmer, a computer engineering student, etc.) should be able to start something small and have access to basic financial tools to make it grow, such as a payment gateway, a loan and an insurance.
So for us, financial inclusions means offering a level playing field to all, and create a fertile ground for innovation.