At the LHoFT, we strongly believe that financial technology is crucial to advancing financial inclusion, empowering groups that have been left behind by the traditional financial system. Whether it's financing for rural farmers, point of sale technology for underbanked merchants, or specialised insurance products, the positive impact being driven by entrepreneurship is improving lives around the world.
Building on the success of previous experience, CATAPULT: Inclusion Africa is a unique one week program of Fintech startup development built by the LHoFT Foundation, targeting African Fintech companies, focusing on creating bridges between Africa and Europe and aligned with the sustainability goals of Luxembourg's finance centre.
In the run up to our Financial Inclusion event we will be sharing insight from key figures in the Financial Inclusion world, beginning with Ogunwande Oluwole, CEO of SmartTeller:
"Financial inclusion to us is bridging the gap between the banked and unbanked, by proving the digital banking platform to connect them." – Ogunwande Oluwole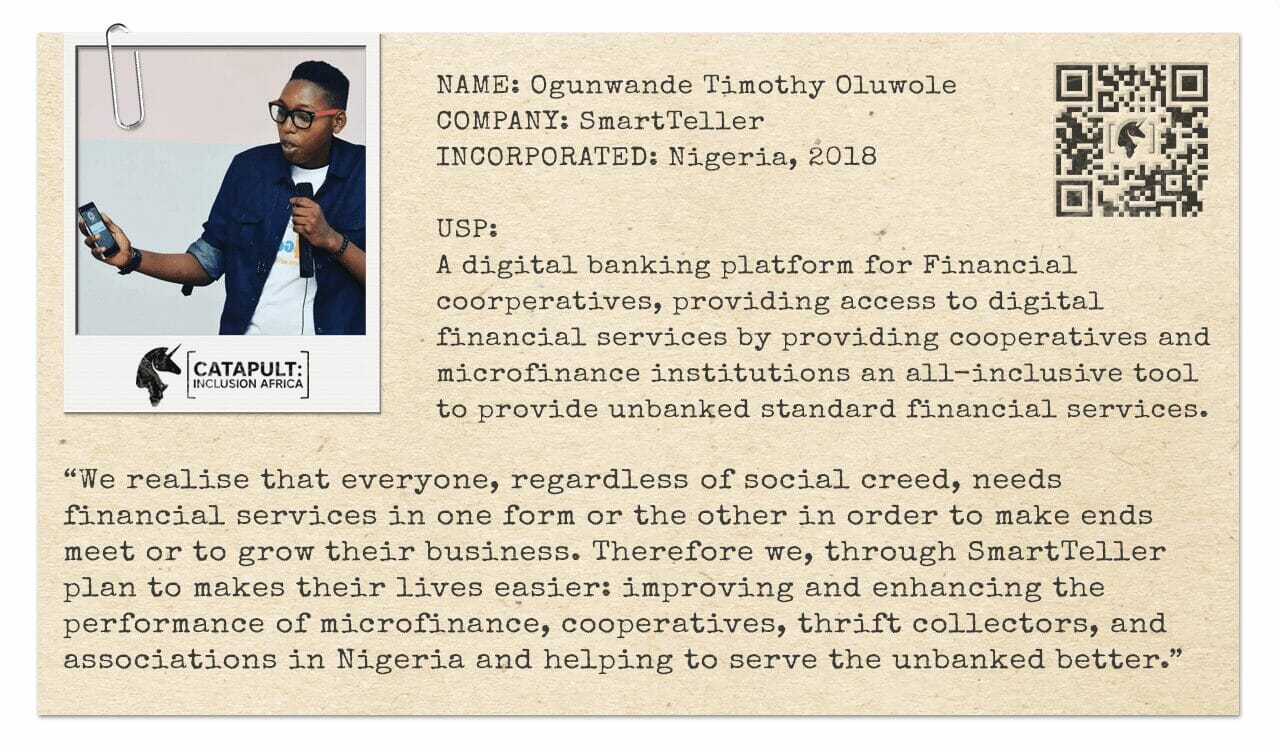 Can you tell us a little about yourself and your company?
I started developing software very early as a software engineer, involved in product designs and development as full stack developer, and worked with startups to build products before I started my own company, As an entrepreneur, I started working on the SmartTeller concept because I saw I need for it, while studying Computer Science as an undergraduate in the University.
I joined the Africa Banking & Finance Conference 2018, as well as several others, to learn and gain more insight about Financial Inclusion as it relates to my idea, I was selected for Google Launchpad Lagos and StartUp Nigeria by the Nigerian Government where I received mentorship and support to start SmartTeller.
SmartTeller is a Nigeria based startup that helps financial cooperatives digitize payments and banking, this enables us to provide better services to the unbanked, and aids us in providing a borderless payment between the banked and unbanked. SmartTeller is web and mobile platform that digitizes cooperative operations and eradicates the inefficient paper based processes of cooperatives, enable online banking and allowing people find and join cooperatives around them.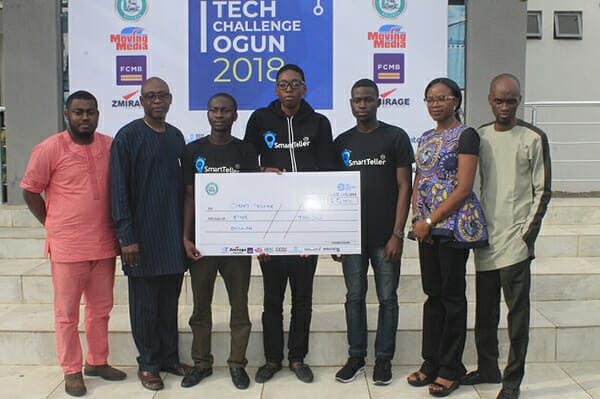 SmartTeller wins $5,000 cash grant in the VerveTree Hub and FCMB Tech Ogun Challenge
What were you involved in before SmartTeller which led to the development of this
idea?
I live in a country where we have more unbanked than the banked, even within my immediate environment, and I observe the same in other african countries. I believe there should be a better way to provide financial services to the unbanked. Through research I found that they prefer to bank with  local cooperatives, so I started to digitise the operations of every single cooperative, such as thrift collectors, savings cooperatives and others, to enable people receive better banking services thereby driving financial inclusion and leading to the company now called SmartTeller Technologies LTD.
What can you share about the role of financial cooperatives in Africa's push for Financial Inclusion, and how they can adapt to better serve customers?
Financial Cooperatives are the closest to the unbanked and they serve as the medium for us to help those that are financially excluded. SmartTeller now serve as tool to be used by every single Financial cooperatives such as Thrift Collectors, Saving and Credit Cooperatives, etc. to digitize their operations and services.
What advice would you offer to other founders looking to increase Financial Inclusion
in Africa, and in Nigeria specifically?
Well, I would advise others to start early. Don't wait to get prepared, start to get prepared. and start by investing in yourself.
What are you hoping to get out of your experience at CATAPULT?
I look forward to learning about how we can better drive financial inclusion, also look forward to collaborations and meeting potential investors.
What's next for SmartTeller? What do you see as the key challenges as you grow
further?
We are setting up a borderless payment system that allows the unbanked to receive payment from the banked, this means the banked with bank account or blockchain crypto account can pay or send money to the local underbanked with cooperative account. We hope to make our platform accessible with free internet connection within our local communities.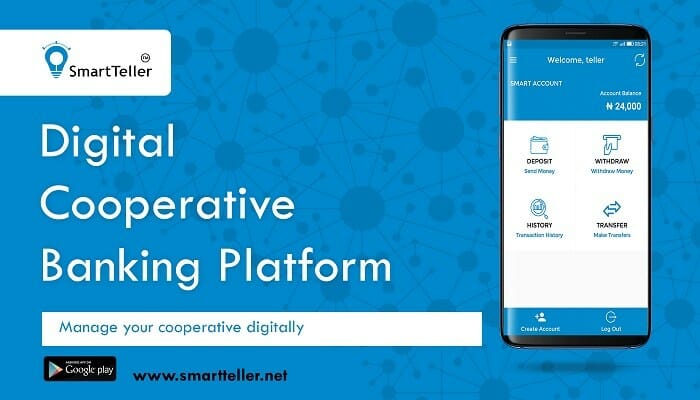 What does ​financial inclusion mean to you?
Financial inclusion to us is bridging the gap between the banked and unbanked, by proving the digital banking platform to connect them.