At the LHoFT, we strongly believe that financial technology is crucial to advancing financial inclusion, empowering groups that have been left behind by the traditional financial system. Whether it's financing for entrepreneurs, pension products for the underbanked, specialised insurance plans or even financial education and literacy aids, the positive impact being driven by entrepreneurship is improving lives around the world.
Building on the success of the first edition of the program in 2018, CATAPULT: Inclusion Africa 2020 is a unique one week program of Fintech startup development built by the LHoFT Foundation, targeting African Fintech companies, focusing on creating bridges between Africa and Europe and aligned with the sustainability goals of Luxembourg's finance centre.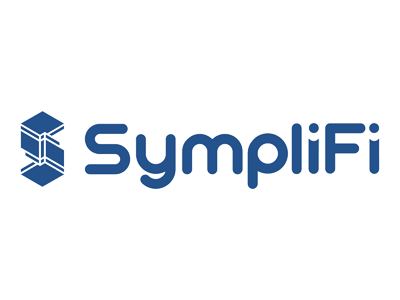 In the run up to our Financial Inclusion bootcamp, we will be sharing insight from the founders participating in this year's edition, continuing with Maurice Iwunze (left) & Gregoire Lecomte (right), Co-Founders of SympliFi:
"Our goal is to be a global marketplace for diaspora. We go beyond sending remittances to delivering impactful financial solutions such as credit, saving and insurance back home."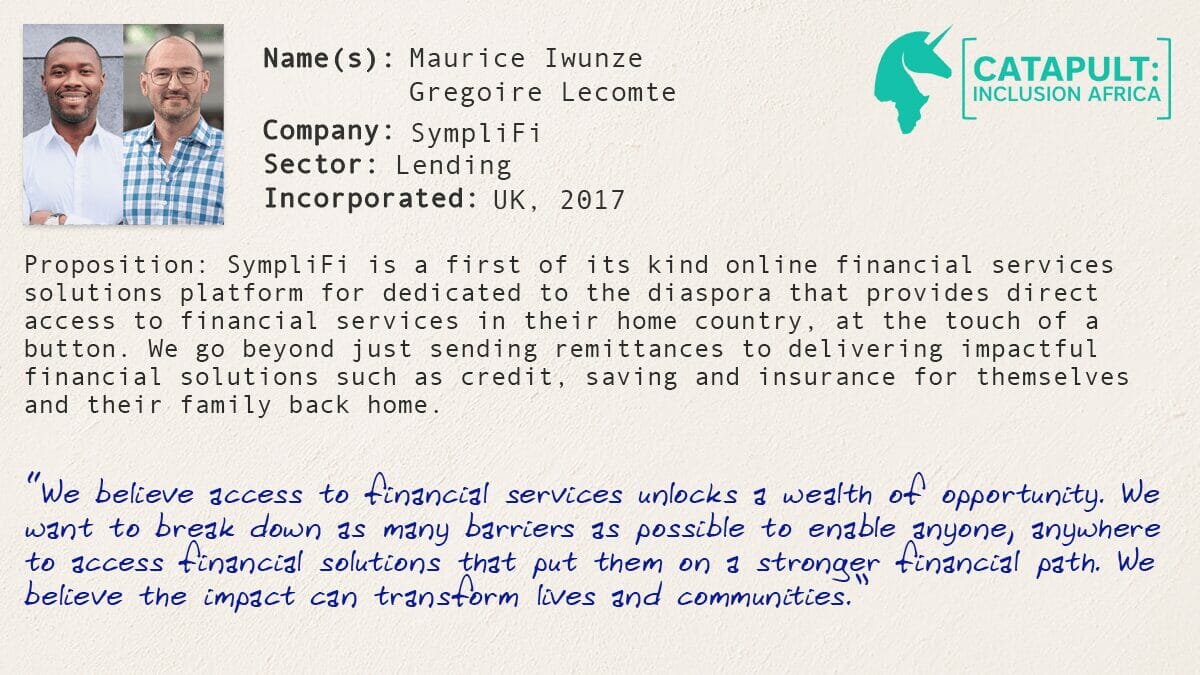 Can you tell us a little about yourself and your company?
We both worked in the financial services sector across the globe, in corporate finance and capital markets. We met 4 years ago while working together for a financial services company focused on advancing financial inclusion in Africa. Our time there helped spur the idea for SympliFi.
SympliFi is a first of its kind online financial services platform for diaspora that provides direct access to financial services in their home country, at the touch of a button. While most players in the market are focused on improving payments, we go beyond just sending remittances to delivering impactful financial solutions such as credit, saving and insurance for themselves and their family back home. We partner with financial institutions in their home country to deliver the solution as easy as sending money.
We believe diaspora can play a transformational role in advancing economic development in their home country. Our mission is to unlock that potential.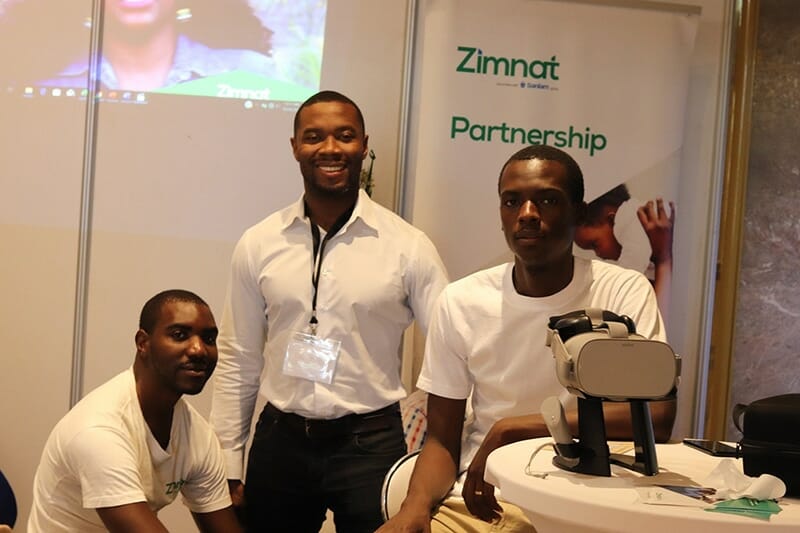 What were you involved in before SympliFi which led to the development of this idea?
We worked together for 4 years for Baobab Group (ex-Microcred), one of the largest microfinance groups in Africa and China. In our roles at the firm, we were in a unique position to learn first hand the challenges faced by financial institutions in trying to provide access to finance and the challenges individuals faced in accessing finance.
During a business trip in one of our countries of operation in Africa, we were watching a long line of people picking up money at a remittance shop and had a thought that would spark the idea for SympliFi – what if the money being sent could be used to guarantee a loan for the people in line? It could make it a lot easier for banks to lend to those individuals, which could create new economic opportunities. We believed this could be a more compelling proposition than just sending a remittance.
Identifying an important gap in the market, the idea then grew into a bigger mission – how can we enable the global diaspora to build prosperity for themselves and their family back home by providing easier access to financial services for productive uses. We believed the impact could be transformational to individuals, the financial services sector and their home countries.
What motivated you to focus on the global diaspora from day one, rather than a specific country?
Our goal is to be a global marketplace for the diaspora. According to research, more than 260 million people live in a country other than their country of birth.  they may be from different nationalities, their financial needs and aspirations are fairly similar. So we felt we had to be global in our offering from the start. It also makes it easier to roll out across geographies.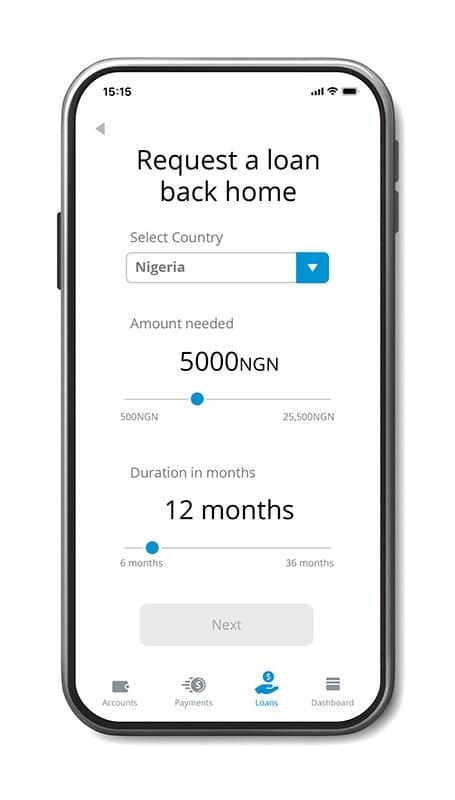 What advice would you offer to other founders looking to increase Financial Inclusion in Africa?
It is essential to focus on solutions and services that add value to users. When we looked at successful companies across industries, they have a common feature to have tailored a high quality product or solution that added significant value to existing client needs.
Understand your customers , provide value added products, use cultural differences as a strength to improve the user experience. This would be our advice.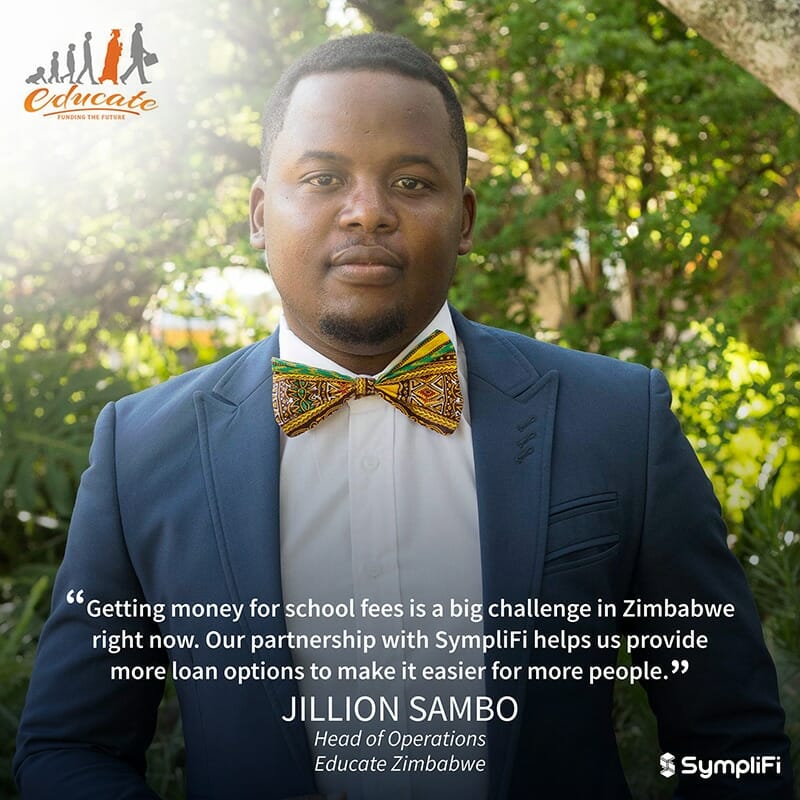 What are you hoping to get out of your experience at CATAPULT: Inclusion Africa?
We are excited to meet amazing startups that want to transform the African financial services market, and provide customers innovative and disruptive solutions. It is a unique opportunity for us to network and find potential partners to expand our footprint in different countries.
What's next for SympliFi? What do you see as the key challenges as you grow further?
We are expanding on multiple fronts: our home country coverage across Africa, and our diaspora coverage across Europe. On the product side, we are working on our mobile App launch, which will provide more comprehensive solutions for our clients, including payments, and access to savings and insurance in their home country.
Expanding the operations of a dual sided platform across multiple continents in parallel is obviously a challenge. But another key challenge we will face is changing mindset. Diaspora are used to a singular form of financial service – remittances. Our job will be to make sure we effectively convey the value proposition of our service and the products on our marketplace. It will be a bit of a challenge in the beginning, but we are excited by the opportunity to disrupt the status quo.
What does ​'financial inclusion' mean to you?
At SympliFi, Financial inclusion means economic empowerment and prosperity building. It means shifting people and countries away from dependence on remittances to leveraging those vast resources to transform access to financial services, at scale.