At the LHoFT, we strongly believe that financial technology is crucial to advancing financial inclusion, empowering groups that have been left behind by the traditional financial system. Whether it's financing for rural farmers, point of sale technology for underbanked merchants, or specialised insurance products, the positive impact being driven by entrepreneurship is improving lives around the world.
Building on the success of previous experience, CATAPULT: Inclusion Africa is a unique one week program of Fintech startup development built by the LHoFT Foundation, targeting African Fintech companies, focusing on creating bridges between Africa and Europe and aligned with the sustainability goals of Luxembourg's finance centre.
In the run up to our Financial Inclusion event we will be sharing insight from key figures in the Financial Inclusion world, beginning with Livingstone Mukasa, Founder of Four One Financial Services, who are building MAYICARD and Mazima:
"When you realize that your failure might mean someone living in poverty, perhaps for the rest of their lives, you have no choice but to succeed." – Livingstone Mukasa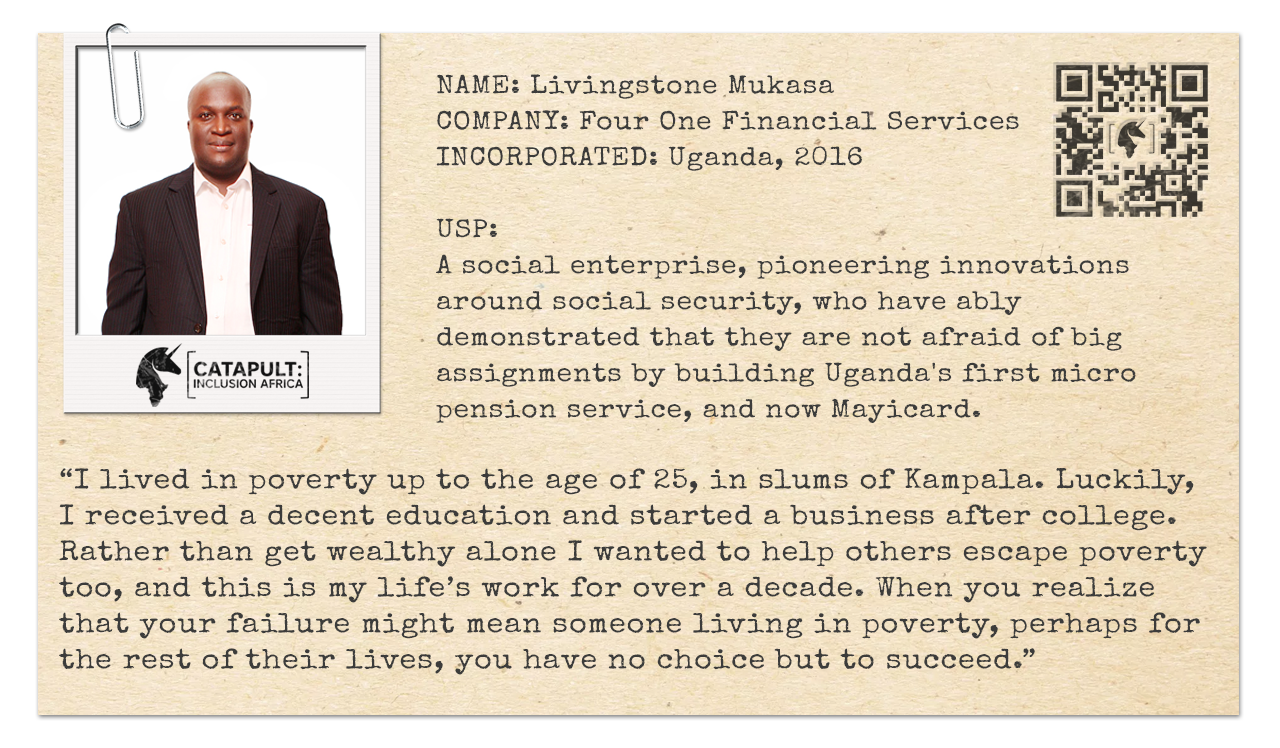 Can you tell us a little about yourself and your company?
My work experience for the last 18 years has been about helping people make economic progress. I have been involved in product designs, development and introductions to markets, in the manufacturing and service sectors. From managing other people's businesses to starting and managing my own I have learnt many lessons that am inspired to share. Having been born in poverty, I was lucky to escape through a combination of getting a decent education and starting a business. I motivated by the need to help as many as possible.
My company Four One Financial Services, based out of Kampala, Uganda, is innovating around issues of social security by providing a licensed and regulated retirement savings scheme (micro pension) targeting the informal sector that has been excluded in the pension industry yet it makes up 85% of the workforce. We also recently built a tech platform called MAYICARD to not only support Mazima but also provide adjacent products like affordable healthcare insurance.
What were you involved in before Four One Financial Services which led to the development of this idea?
I am a passionate believer in business as ministry. Before starting Four One Financial Services I ran (and still own) two other organisations: Clean Consult Limited a cleaning company employing more than 40 people in Kampala, and Living Business Education a micro business training, coaching and mentoring organisation that has reached more than 20,000 people creating thousands of jobs ad enterprises majorly in Uganda.
We observed that many people who go on to start or improve a business will stagnate because they don't think long term and hardly realise that time goes by, resulting in old age poverty. We approached this problem by building Uganda's first micro pension fund, Mazima Retirement Plan. Once we got it going, now with 1300 people and USD 300,000 in savings, the members begun asking for additional/adjacent services like affordable healthcare insurance. This then led us to develop Mayicard Platform so that we can curate social security solutions in retirement savings, healthcare insurance and access to assets on a dynamic platform built on a private blockchain encompassing payments and conditional mobile wallets.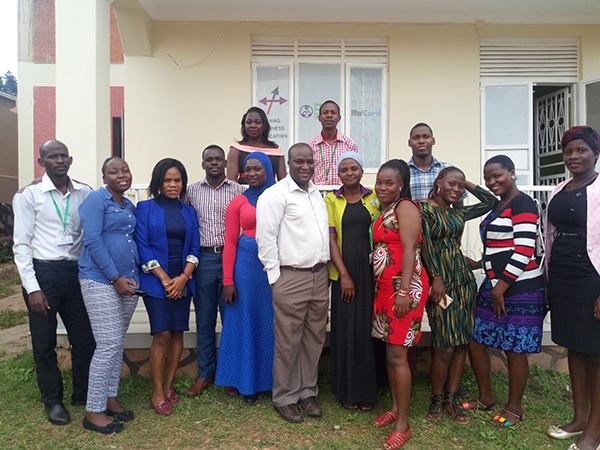 The Four One Financial Services team
With only 2 out of 15 million Ugandans having a retirement savings account, what are the challenges in customer acquisition for that sector – and how do you overcome them with the scheme you developed i.e. Mazima Retirement Plan?
We currently have a sales force of 6 that reach out to the community through one on one, social media, radio and events. We also partner with large ecosystem players like mobile money companies such as MTN Uganda, Airtel and Pride Micro Finance to reach out to their customer bases. We undertake sensitization clinics and reach out to relevant groups. Ultimately we are seeing a high referral rate for our services.
How to use the Mazima App
What advice would you offer to other founders looking to increase Financial Inclusion in Africa?
Follow your heart, the money (and fame) will come eventually. Ultimately every person reached counts.
What are you hoping to get out of your experience at CATAPULT?
We are hoping to use the platform graciously offered by CATAPULT: Inclusion Africa to put social security, especially in emerging markets like Africa, on the financial inclusion agenda. We hope this will not only help us raise the resources we need to execute on our plans, but also inspire others to start similar enterprises in other countries.
What's next for Four One Financial Services? What do you see as the key challenges as you grow further?
We are an ambitious lot. We angling for "Hockey Stick" growth on both platforms we curate. We are targeting 100,000 members on Mazima Retirement Plan and Mayicard by 2022 in Uganda alone. We also want to launch our MAYICARD and Mazima services in other emerging markets.
What does ​'financial inclusion' mean to you?
Financial inclusion to us is a means of creating bridges (digital or otherwise) for people to reach their dreams.
Top photo courtesy of Sarah Namulondo