At the LHoFT, we strongly believe that financial technology is crucial to advancing financial inclusion, empowering groups that have been left behind by the traditional financial system. Whether it's financing for entrepreneurs, pension products for the underbanked, specialised insurance plans or even financial education and literacy aids, the positive impact being driven by entrepreneurship is improving lives around the world.
Building on the success of the first edition of the program in 2018, CATAPULT: Inclusion Africa 2020 is a unique one week program of Fintech startup development built by the LHoFT Foundation, targeting African Fintech companies, focusing on creating bridges between Africa and Europe and aligned with the sustainability goals of Luxembourg's finance centre.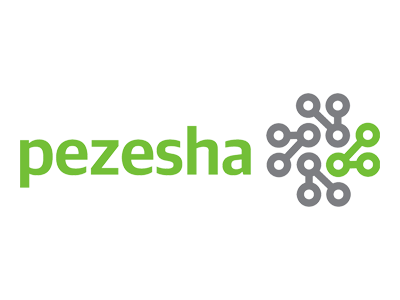 In the run up to our Financial Inclusion bootcamp, we will be sharing insight from the founders participating in this year's edition, continuing with Hilda Moraa Morara, Founder and CEO of Pezesha:
"Financial inclusion has to be meaningful, equal, contextual, purposeful and inclusive to those excluded and underserved." – Hilda Moraa Morara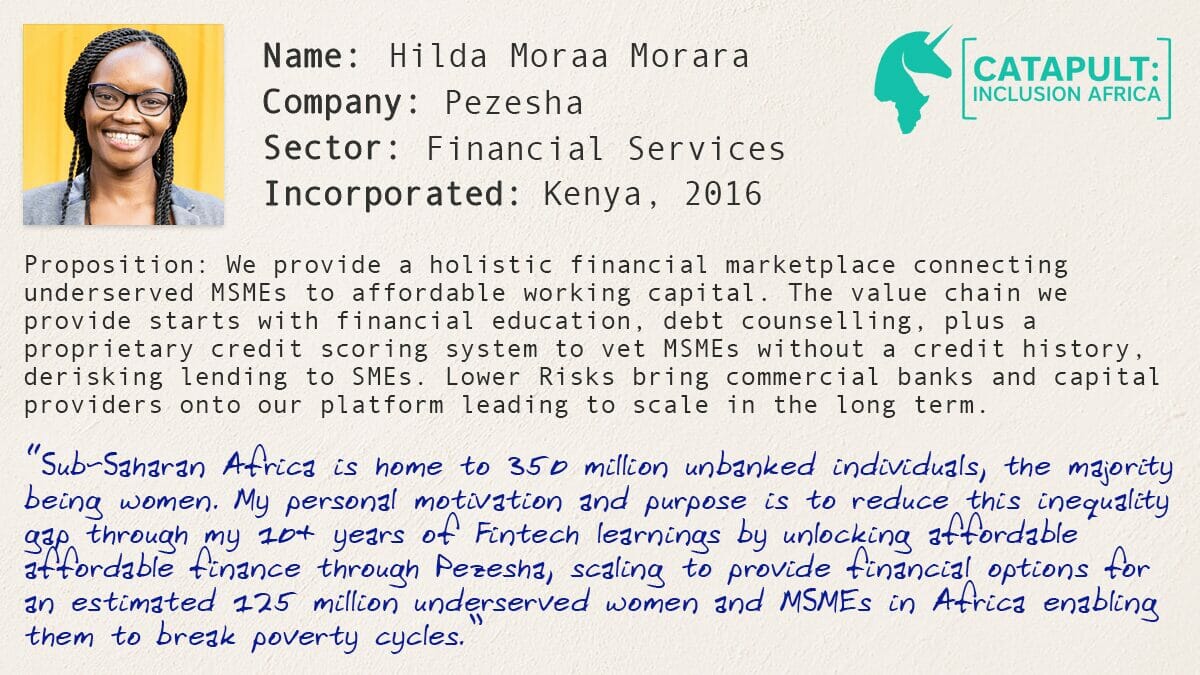 Can you tell us a little about yourself and your company?
I am a problem solver with more than 10+ combined years of experience in Fintech, entrepreneurship and building successful innovations in and for the African markets. I knew I wanted to be an entrepreneur back then in University when I saw how when I intentionally put my software engineering skills in action solved real life problems around me.
At Pezesha we are doing the hard things in Fintech as that is where we believe the most value and long term success will come from. We are building a scalable digital financial infrastructure for the underserved MSMEs. It's not easy building a scalable financial marketplace as we have to make all the pieces of the value chain work starting from origination layer, credit decisioning layer, Collection layer and liquidity optimisation. We believe we have the right team including strategic partners and investors to walk with us in doing it right and in the end achieve our mission of providing purposeful and productive lending to MSMEs through our digital financial infrastructure as a service platform.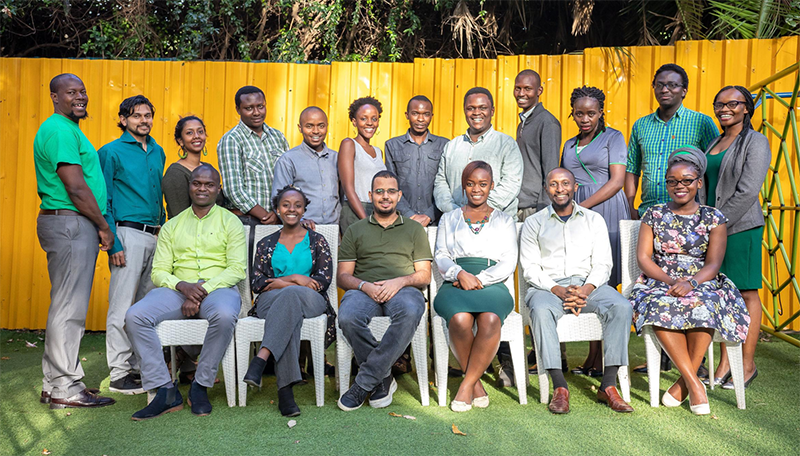 What were you involved in before Pezesha which led to the development of this idea? 
I have been in the Fintech & tech innovations space for the last 10 years. Prior to Pezesha, I founded WezaTele, a financial services VAS company that provided mobility solutions for the last mile of distribution. After 3 years of operating WezaTele from building a successful supply chain and data platform to a strong local tech team, WezaTele was acquired in 2015 generating 20x returns for its shareholders. After WezaTele acquisition, I was then involved in helping other African Fintech startups with talent development, setting up new product lines and credit scoring approaches as a consultant. From these past experiences that formed a mix of failures and successes I was able to gain a holistic view in Africa's Fintech landscape, where I saw the challenges, opportunities and gaps which led to the development of Pezesha in late 2016. The birth of Pezesha was a result of these learnings intersecting with my purpose to create more opportunities for the youth which is where I believe Fintech can vanguard. The key for Pezesha, was to do it differently from what I had seen in the market from my experiences and provide relevant value to our target segment of MSMEs that remains untapped despite being a $19B financing gap opportunity.
Financial education is an area of focus for Pezesha. How has that shaped how you deal with your customers, and potential customers?
In a report by Finaccess 2019, 83% of Kenyans are financially included but only 22% are financially healthy, indicating that uptake of mobile accounts alone does not deliver the dividends we seek for improved wellbeing. Financial education is therefore a very key component in our value chain to increase financial health that leads to long term wealth by addressing debt stress and fatigue, debt shocks and how credit can be a tool for wealth creation for our customers to invest in the future. Meaning when customers come to our platform to seek for credit we first educate them on the key tenets of borrowing responsibly, ensure they understand the terms and can be able to afford paying back the credit based on their income levels. Most important, how they can use credit for a purpose driven agenda to ensure it grows in value for them and the people around them.
We don't stop there, for the customers who get rejected by our robust credit scoring model because of having a low score then we educate them on what factors led to that and how they can improve their score by giving them the right tools and tips to get there. It's a process and not an instance solution. Technology has helped us to do financial education efficiently for our customers and now they can access automated personalised tips through our chatbots and SMS channels.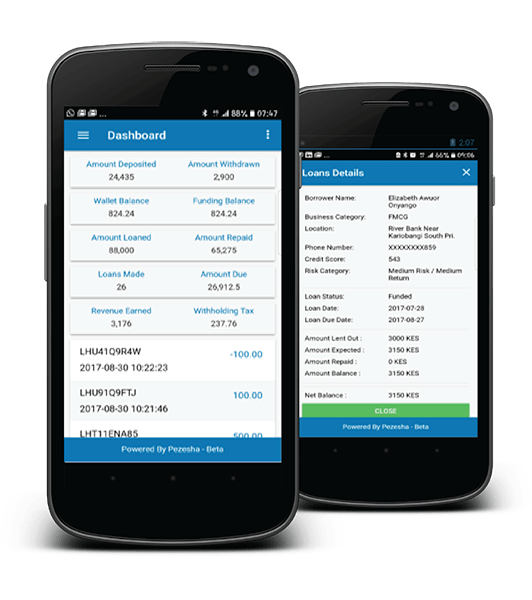 What advice would you offer to other founders looking to increase Financial Inclusion in Africa?
Focus on the long term holistic value and growth. Meaning building the right and strong financial systems to differentiate your value proposition as the rise of Fintech companies is only going up so lending is just one small piece in the system and not the end of the value chain.
What are you hoping to get out of your experience at CATAPULT: Inclusion Africa?
Learn from other Fintechs and financial institutions by identifying potential synergies as I believe it's only those who welcome collaboration that will crack financial inclusion at scale and for the long term impact.
What's next for Pezesha? What do you see as the key challenges as you grow further?
Growth and scale at a deeper and wider level in Kenya now that we have thousands of customers coming back for the value we offer. For us to get there we have aligned with regulation and now working with Capital Markets Authority in order to ensure no future barriers to continuing to innovate our lending infrastructure beyond borders as regulation is going to be a key barrier we see in the Fintech market to survive.
What does ​'financial inclusion' mean to you?
Financial inclusion has to be meaningful, equal, contextual, purposeful and inclusive to those excluded and underserved. This means collaboration will be key to achieve this ultimate definition in order to create long term impact when it comes to job creation and financial growth that drives wealth and sustainable economic growth .
Thank you for taking part!
If you want to keep up with what the LHoFT gets up to, follow us on Twitter and Instagram, and follow CATAPULT: Inclusion Africa on Twitter for program updates.