At the LHoFT, we strongly believe that financial technology is crucial to advancing financial inclusion, empowering groups that have been left behind by the traditional financial system. Whether it's financing for entrepreneurs, pension products for the underbanked, specialised insurance plans or even financial education and literacy aids, the positive impact being driven by entrepreneurship is improving lives around the world.
Building on the success of the first edition of the program in 2018, CATAPULT: Inclusion Africa 2020 is a unique one week program of Fintech startup development built by the LHoFT Foundation, targeting African Fintech companies, focusing on creating bridges between Africa and Europe and aligned with the sustainability goals of Luxembourg's finance centre.
In the run up to our Financial Inclusion bootcamp, we will be sharing insight from the founders participating in this year's edition, continuing with AbdulAzeez Oguntoyinbo, Co-Founder and Head of Business Development at Esusu Africa:
"Our mission is to revolutionize the informal savings scheme towards deepening financial inclusion to the last mile." – AbdulAzeez Oguntoyinbo
Can you tell us a little about yourself and your company?
I studied Business Administration with a proven track record in business management and operations. As a beneficiary of the Microfinance Certification Program with the Chartered Institute of Bankers of Nigeria, I have gathered influential experience working as Financial Service Agent Aggregator with several mobile money operators in Nigeria. I have a good experience of value-based product development using Agile and best practices around continuous integration and deployment of solutions within a large multi-disciplined team structure.
Considering the challenges of the informal savings schemes and its economic potential to Africa's growth, we founded Esusu Africa to digitize the informal thrift savings schemes towards enhancing financial and economic inclusion.
Our mission is to revolutionize the informal savings scheme towards deepening financial inclusion to the last mile.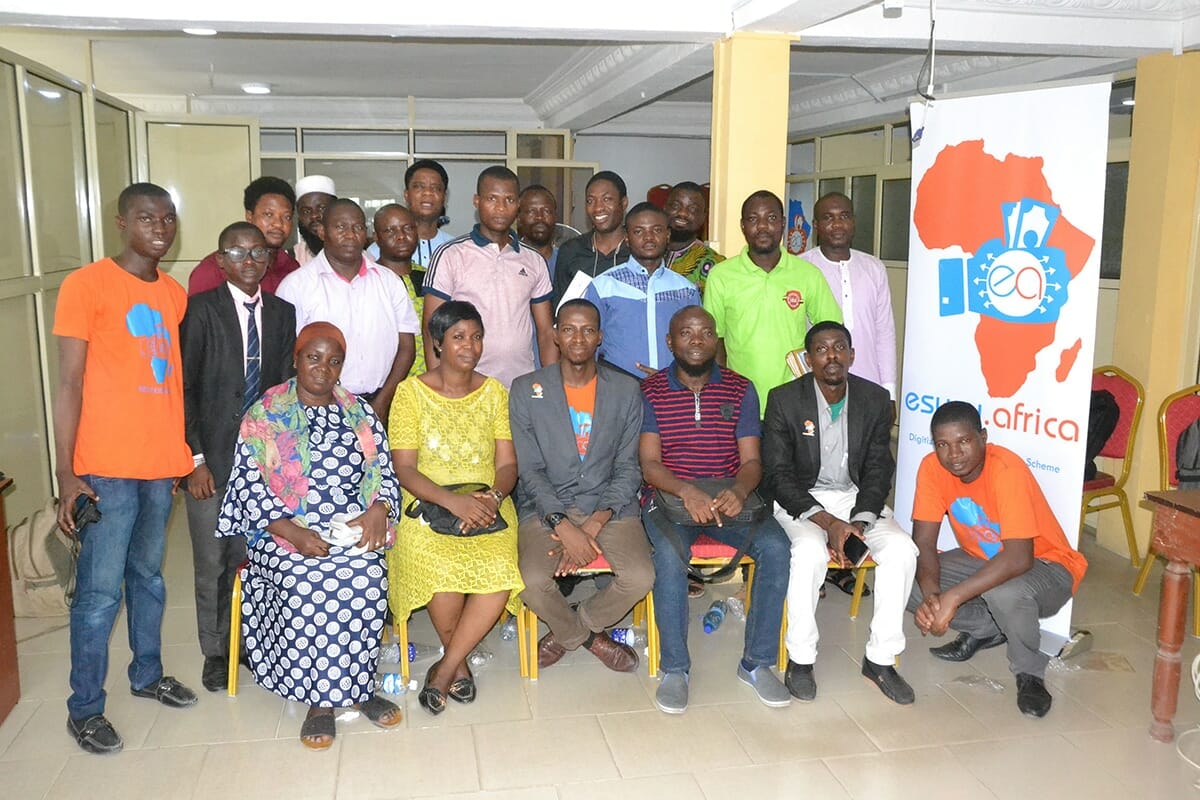 What were you involved in before Esusu Africa which led to the development of this idea? 
In the past years, I was involved in field supervision and collection of rent payments from several shop tenants at market based centres in Lagos, Nigeria. During my experience, I discovered the huge gap of digitization in the process of thrift savings and collections by thrift collectors posed with challenges of manual record keeping leading to data losses and errors, misappropriation of funds by thrift collectors and inaccessibility of formal financial services. In tackling this challenges was why I founded Electronic Esusu, a digital platform that automates thrift savings, collections and microcredit enhancing access to digital financial services to the last mile.
As a Microfinance Certified Professional, I have also gathered influential experience working as Agent Aggregator with several mobile money operators in Nigeria.
What are the challenges with digitising thrift savings schemes, which communities have relied on for generations as a way to grow wealth?​
36.8% of Nigeria's adult population are financially excluded. 42.7% of them engage in informal savings schemes. These are mainly petty traders, small scale enterprise owners, farmers and artisans who live in rural and urban areas. Most often, they indulge in daily contributions also known as esusu where a collector collects certain amount of money from customers and at the end of a month, the collector takes a fraction of the money for the services rendered. Esusu is a thrift savings concept where a substantial amount of money is saved before it is withdrawn. Although the traditional method still exists, the current method of esusu scheme makes it a profit yielding venture. It involves the managers of esusu schemes printing passbook and ledger books which they give to collectors (at times they collect by themselves) who visit customers in their respective shops and collect money from them. After collecting the money, the amount is entered into the passbook which the customer holds. The amount is later entered into a ledger book which is kept at the main office.
Challenges of the Informal Esusu System include:
Manual record keeping leading to data losses and errors
Inaccessibility of formal financial services
Inefficiency, as there could be delay in withdrawal as at times the collector requests for a day or two days notice before the withdrawal could be effected.
If the ledger and the passbook are stolen, every transaction of the business is lost.
There could be mistakes in record keeping, as the collector may enter an amount in the passbook but forget to enter it in the ledger.
There are instances of fraud. A collector may elope with the money after collecting money from customers.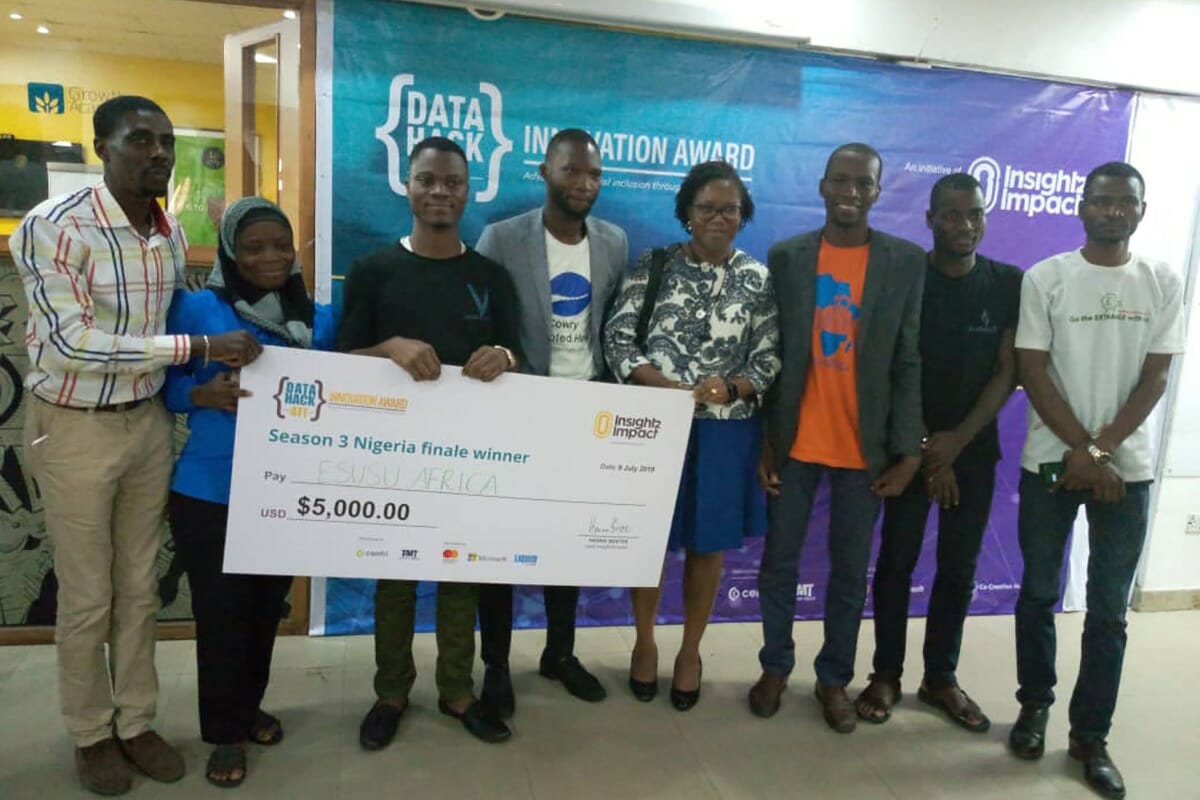 What advice would you offer to other founders looking to increase Financial Inclusion in Africa?
There are 3A's for a successful financial inclusiveness namely ACCESSIBILITY, AFFORDABILITY AND APPROPRIATENESS. Founders should ensure that these key performance indicators are well factored to ensure successful delivery of inclusive financial services.
What are you hoping to get out of your experience at CATAPULT: Inclusion Africa?
Considering our participation at CATAPULT: Inclusion Africa 2020, we are aimed at exploring the wealth of experienced professionals, network of corporate partners, investors and other ecosystem enablers towards enhancing our institutional capacity, technical assistance and access to funding towards scaling Electronic Esusu for more greater inclusive impacts.
What's next for Esusu Africa? What do you see as the key challenges as you grow further?
332 million African Adults are financially excluded. As we grow further, we are posed with inadequate working capital to increase digital financial services, enhancing our technology infrastructure, expanding our agent network and client base across other emerging markets. Progressively, we are focused on exploring strategic partnerships and funding to advance our technology infrastructure, increase our working capital, secure agent banking license and expand our agent network towards deepening sustainable, inclusive and socio-economic impact in Africa and beyond.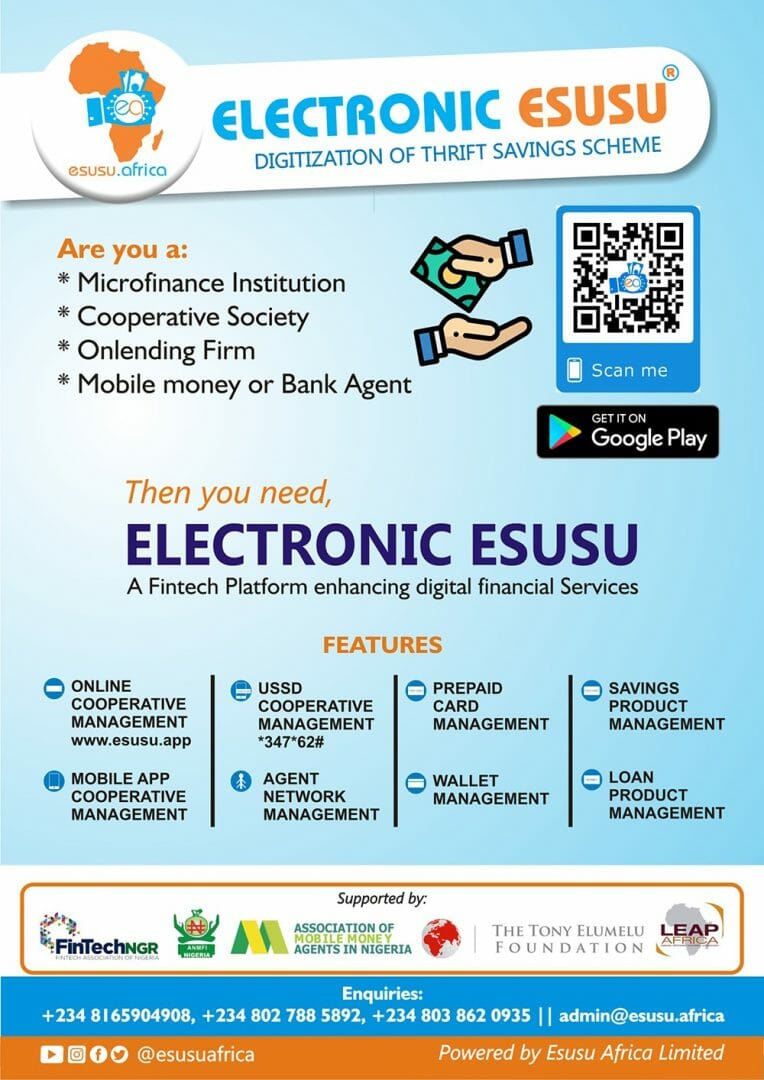 What does ​'financial inclusion' mean to you?
Financial Inclusion is an efforts to make every day financial services available to more of the world's population at a reasonable cost.
Esusu is a unique savings concept that is very peculiar to Africa's unbanked population. Digitizing Esusu would revolutionize the informal sector towards deepening financial and economic inclusion for everyone.