'Financial Inclusion' might be the most noble sector of financial technology, solving problems the traditional finance industry won't — servicing underbanked demographics in areas with poor financial infrastructure.
Tackling these challenges, the EFSE Fund and the SANAD Fund for MSME, advised by Finance in Motion, have partnered with Village Capital and the LHoFT to develop the Fincluders Bootcamp 2017, unique investment readiness program designed for entrepreneurs offering inclusive financial products.
In the run up to the event, we caught up with the founders behind the startups. This time, we spoke to Zeid Husban, CEO of POSRocket: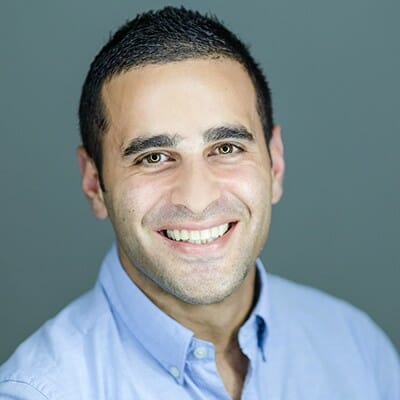 Zeid Husban, CEO of POSRocket
"Financial Inclusion, to me personally, is eliminating the borders and barriers that separate the financially educated from the not, those who have access to financial services from those who don't, and those who have business reach from those who do not." —  Zeid Husban
Could you introduce yourself, and tell us a bit about your background?
I obtained my bachelor's degree in Electronics and Communications Engineering from the University of Kent, UK, in 2008. I then moved back to Jordan and started my professional life as a technical support engineer. Together with a partner I founded ifood.jo in 2012, an online food ordering platform.
A year later ifood.jo attracted the eyes of investors from abroad, and the company sold a majority stake to the Turkish food ordering company Yemek Sepeti. Finally, in 2016 the company was acquired by Delivery Hero.
Since then, I started another venture with the vision to revolutionise the point of sale systems in the region with a cloud-base product called "POSRocket".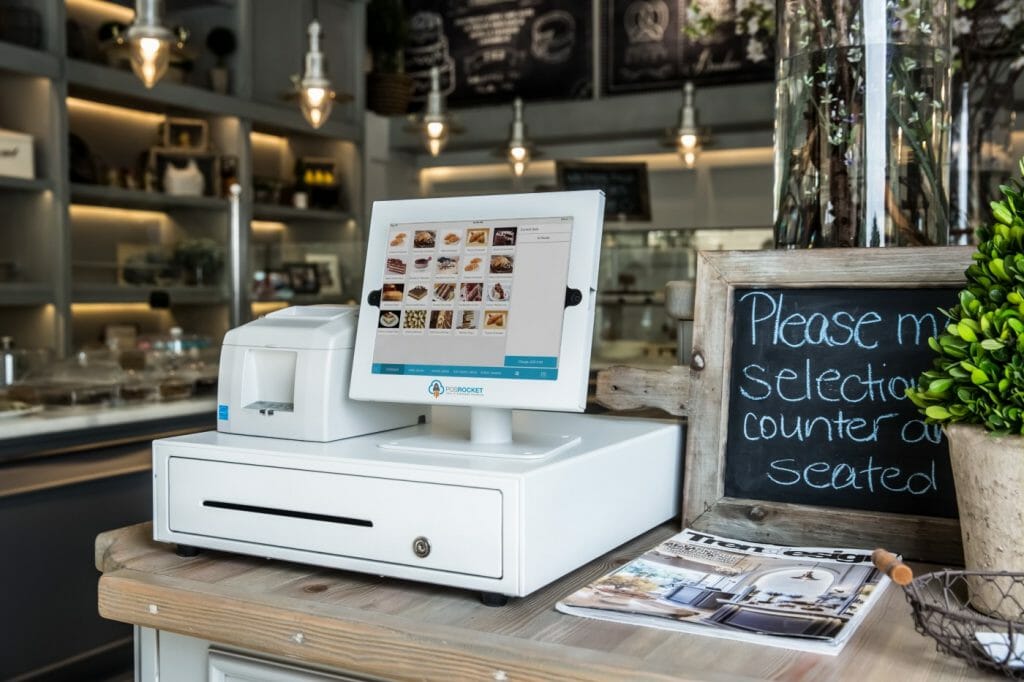 The POSRocket point of sale solution.
What does 'financial inclusion' mean to you?
Financial Inclusion to me personally is eliminating the borders and barriers that separate the financially educated from the not, those who have access to financial services from those who don't, and those who have business reach from those who do not.
We believe in providing high impact affordable and adoptable solutions that are open and available to all customers, merchants, businesses and financial institutions alike. Building a platform, rather than only a solution, is empowering internal innovation while opening the doors to outside innovation too. Ultimately, serving the greater goal of helping people grow – this is what we at POSRocket aim for and strive to achieve.
Could you describe the mission of POSRocket?
POSRocket brings merchants and customers together at any merchant-customer point of interaction and allows businesses to build their applications on top of its platform.
The merchant — whether home-based or serving in food & beverage, retail, services or entertainment — would fit POSRocket's point of sale on their front line. A customer would come into store to buy or order over the phone. The merchant takes the order by tapping the items on the screen or scanning using a wireless barcode scanner. An order receipt will be printed (for preparation or packing purposes) along with a sales receipt to be handed to the customer, all in a seamless manner. The merchant, whether in or out of his store, can always be on top of their business by logging in and accessing their dashboard from any web browser. The dashboard includes real-time daily insights, sales & inventory tracking, reports, analytics, customer directory in addition to trends & habits. The merchant can then use all sorts of invaluable information to take crucial decisions, moving their business forward in an easy, wise and educated manner. The merchant can also access an app store filled by third party apps and integrations, filtered by sector, that further expands their gained value from POSRocket and efficiently optimizes their operation.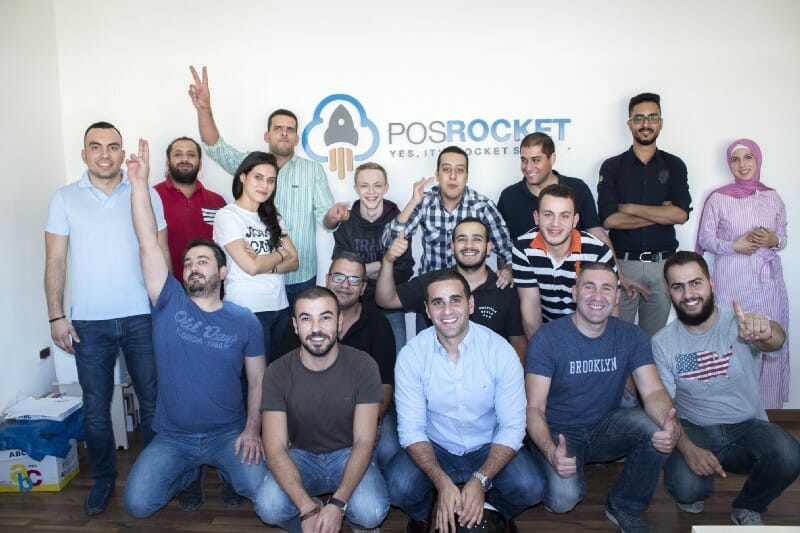 The POSRocket Team.
POSRocket is the only POS platform that envisions financial inclusion as part of its mission — being an affordable POS provides all the needed financial tracking, reporting and analysis tools that can be utilized by home & micro businesses. Having validated sales data means that these companies are better qualified to microfinance. Financial inclusion wallets for the unbanked can be built right into POSRocket, allowing Cash in / Cash out transactions effectively turning the retailer into a bank teller. POSRocket is also closer to the consumer end of the food chain, allowing merchants to analyse customer trends and behaviours and makes them able to forecast demands. An offline mode makes POSRocket perfectly suitable for rural area operation and allows NGOs to monitor and control beneficiary purchasing habits.
All of the aforementioned makes POSRocket much more than just a POS, but a business partner and a facilitator that aims not only to obtain, but grow the MENA region's $950 Million POS market.
What are the unique challenges and opportunities of your home market — geographically and culturally?
Since august 2016, we strive to revolutionise the point of sale industry in the region. we have witnessed, first hand, the lack of technological vision in the majority of the middle eastern food and beverage, retail, services and entertainment. The reasons for that stem from the following:
Lack of vision and tools utilisation:A tool to calculate the end of day summary is sufficient to most merchants, not a lot of interest in cash management and analytical tools.
Lack of awareness of new technologies: Cloud based technologies have been around for sometime now, however people are still concerned when it comes to the idea that their data does not reside on premise.
Strict tax regulations and and high tax rates: Merchants are wary of technology providers, as they do not want their sales data shared with governmental departments. The high tax rates only encourage merchants to evade instead of ensure regular tax payments.
Fear of change: Traditional merchants feel what they have is sufficient, and are not open to the idea of change. The "if it isn't broken, don't fix it" type of mentality.
Unusual business models: For most merchants, the subscription based model of a SaaS business is quite unusual, as it appears to be more expensive in the long run. Traditional merchants welcome the idea of a single payment over smaller ongoing payments, disregarding the advantages that come with SaaS models such as mobile accessibility, free support, free updates, unlimited storage and backup.
Lack of payment solutions and access to credit cards: The majority of people do not have access to credit cards, which makes it very difficult to digitise payment channels. According to the world bank, 70% of Adults in the middle east are unbanked.
Lack of logistical solutions: Addressing systems are not very efficient and delivery services are still expensive. The middle east is shattered by wars left right and centre, importing from abroad is subject to non-standardised and expensive import taxes and charges that make forecasting and revenues unpredictable and unstable.
These reasons, among many others, discourage traditional merchants from utilising new technologies. However, this does not mean that there is no opportunity. The rise of mobile apps, social media and entrepreneurship is changing that day by day. Social media has made people more aware of the benefits, mobile apps have increased reach dramatically, and entrepreneurs see opportunities that empower them to innovate, educate and lead change in the region.
SMEs have great opportunities to tap into the following:
E-commerce: Digital storefronts to enable retailers reach a bigger crowd and increase sales channels.
Digital Payments: Payment wallets will allow the unbanked access to the same facilities provided to the banked in the retail industry. Cashless payments will only enhance sales.
Financial tools and services: Financial tools that educate and allow the general public to better manage their finances will increase their purchasing power, bring more into all industries.
Cash Collection: Cash collection services allow seamless collection of cash from online purchasers as an alternative to payments made online as the majority of the public do not not have access to credit cards or even bank accounts.
Insurance tech: DInsurance technologies accessible to all retailers regardless of their sizes will enable merchants to take bigger risks at a lower cost, hence increasing their returns.
Logistics: Innovative, efficient and low cost logistics services will lower costs on the consumer or buyer at the end of the food chain, this will not only encourage people to buy more using apps, but will also open a wide range of possibilities for new startups and innovations.
Microfinance: Digital applications and access to micro loans will allow retailers to better serve, maintain quality and expand operations when needed.
Automation: Tools that allow retailers to save operational costs, decrease the amount of labour efforts and costs and streamline internal procedures. These tools will allow retailers to operate more efficiently and effectively, decreasing their initial capital investments and encouraging more retailers to open and serve the community.
All of the above: We at POSRocket, are also taking advantage of this opportunity. Instead of building only a POS system and competing solely on software features, we are building a platform that will offer integrations and allow businesses to build on top of it. This enables retailers access to a myriad of applications, giving them instant access to tools such as the ones mentioned above. For example:

E-commerce storefront directly connected to the POS and inventory.
Integrating payments, including digital and cryptographic currencies right into the POS, increasing accessibility and turning retailers into banking tellers for cash in / cash out transactions in digital wallet among other finclusion applications.
Providing intelligence reports and financial tools that allow retailers to take calculated decisions and minimise operational risks. This can also be utilized to send verified sales data to microfinance firms to provide remote approvals on loans.
All kinds of logistics and delivery service providers can be linked directly to the point of sale, and are ordered instantly at the time of sale ( whether online, or at the shop), this increases the response and delivery times of drivers and allows delivery companies to cut costs on call centres and provide more competitive pricing.
Automation is the basic core feature of the POS that allows merchants to track their sales, streamline process and keep an eye on stock levels and costs.
POSRocket is cloud based and operates in many countries which enables businesses be creative, build their apps, provide their services and gain access to a border-less network of merchants. This in-turn will allow merchants further reach into newer markets, provide better quality and services to their customers; hence, a win-win situation for all.
What is your relationship like with the regulator there?
We have a very good relationship with the regulators here in Jordan. We have submitted our solution for certification with the tax department in order to be provided as a certified solution to retailers. The central bank are also aware of our solution and are very supportive.
Fintech in general has just started to pick up pace and momentum recently. However the problem still resides in accepting deposits or providing financial switching services that oblige businesses to deposit a 2 million dollars deposit in order to get the license. What kind of startup has that amount of money?!
How does the regulatory landscape differ in developing countries and developed countries? How can we address these differences with Fintech?
Developing countries know very well and believe in the benefits of Fintech, therefore regulators have no problems in taking risks and experimenting in new solutions. That is why their success rates are much higher. The legal regulations are also more flexible to make room for such innovation. Emerging Fintech solutions have proven adoption which pushes regulators to further experiment and come up with newer solutions and innovations.
On the other hand, some regulators fear change and do not have the will nor the budgets to experiment. They will follow what has been proven in developed countries and will always remain behind.
Outside of the box thinking is the only way to address these issues. Fintech should be viewed from a different perspective and driven from a different angle. Easing regulations and providing some flexibility in addition to increasing the level of awareness of the advantages of Fintech will most definitely increase the chances of trial and success. New Cloud based and decentralised Fintech applications can also be a big player in keeping pace and revolutionising the current situation.
Any final thoughts on Fintech of entrepreneurship you wish to share?
The real success of Fintech comes from incentivising users and providers to take advantage and be part of such services. This has been proved in the rise of blockchain and similar applications. Innovations and creativity in providing a financial incentive is what helps the widespread adoption of new disruptive technologies that are not only there to make it more convenience, but have a direct impact on people's financial lives.