'Financial Inclusion' might be the most noble sector of financial technology, solving problems the traditional finance industry won't — servicing underbanked demographics in areas with poor financial infrastructure.
Tackling these challenges, the EFSE Fund and the SANAD Fund for MSME, advised by Finance in Motion, have partnered with Village Capital and the LHoFT to develop the Fincluders Bootcamp 2017, unique investment readiness program designed for entrepreneurs offering inclusive financial products.
In the run up to the event, we caught up with the founders behind the startups. This time, we spoke to Zühtü Esiyok (ZE) and Ömür Filiz (OF), Co-Founders of KiraPlus: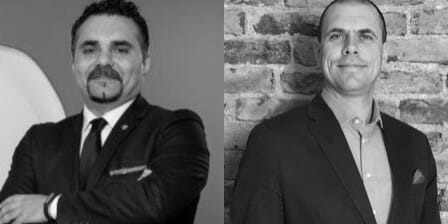 Zühtü Esiyok and Ömür Filiz, Co-Founders of KiraPlus
"Financial inclusion efforts seek to ensure that all households and businesses, regardless of income level, have access to and can effectively use the appropriate financial services they need to improve their lives." — Ömür Filiz
Could you introduce yourselves?
ZE: In 2014, my business partner Altmeur and I bought a Remax franchise and started working in the Real Estate sector. Right now, we have an office with 21 agents buying, selling and renting residential and commercial properties all around Istanbul and Turkey with the help of the Remax network. Our experience in real estate helped us identify a very important problem in the rental market. With KiraPlus, we are aiming to solve this problem.
OF: I'm a Venture Builder with a special focus on Fintech, Serial Entrepreneur, Seasoned Investment Banker & CFO. I have been founding member in both Private Equity and Venture Capital Funds with a concentration of both mature and early stage companies and their different strategies.
What does ​'financial inclusion' mean to you?
OF: An estimated 2 billion working-age adults — more than half of the world's total adult population — do not have an account at a formal financial institution. Financial inclusion efforts seek to ensure that all households and businesses, regardless of income level, have access to and can effectively use the appropriate financial services they need to improve their lives.
Could you describe the mission of KiraPlus?
ZE: KiraPlus aims to reduce the stress in renting for landlords, tenants and real estate professionals with tenant scoring, rent payment and insurance products.
OF: If you are a landlord, your biggest fear is to find a reliable tenant who will pay your rent on time and take good care of your property. Most of the time, that rent is your major monthly income and you cannot tolerate not being paid.
Property managers have the same problem too. This is where tenant scoring plays a major role to find the right tenant. Insurance products will also ease the stress levels.
If you are a tenant, your biggest fear is not being able to pay your rent on time. Not having enough cash in your account when your rent is due. With KiraPlus, you can pay your rent with a credit card and engineer your own finances and be more flexible. You can pay your rent in instalments if you really cannot afford to pay your rent in full that month. Unemployment insurance products will also play a major role to reduce stress for tenants.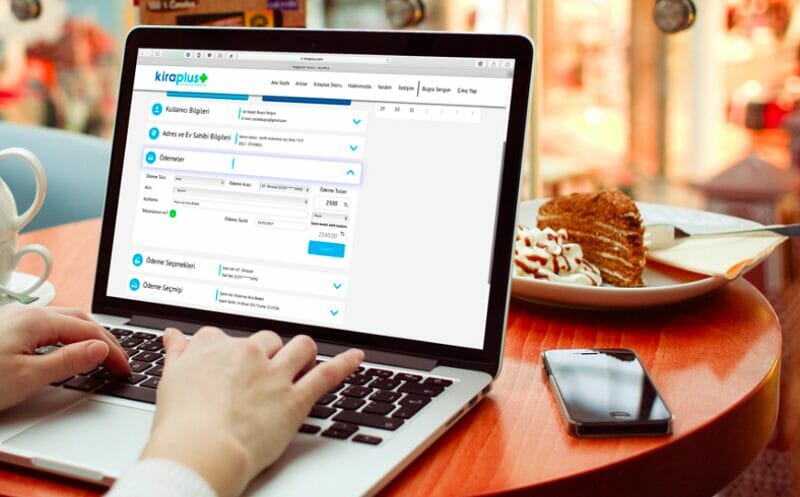 The KiraPlus solution
What are the unique challenges and opportunities of your home market?
ZE: The level of financial literacy is unfortunately very low in our country. Most people cannot understand a very simple financial chart or report.
People don't trust banks and financial institutions. We have had a few Banking crises in the country and people lost their life savings during these events. At one point, off-shore banking was very popular and that led to a huge loss at the very beginning of the year 2000. Now, most of the savings are kept as gold and foreign currency and everything is kept at home, "under the pillow". The government is trying to persuade its citizens to trust banks and deposit their gold and cash, in foreign currency.
OF: Another challenge for us is access to data, therefore data analysis is mostly based assumptions. There are certain restrictions on court files, eviction reports cannot be accessed through a certain source. Criminal records are not accessible either.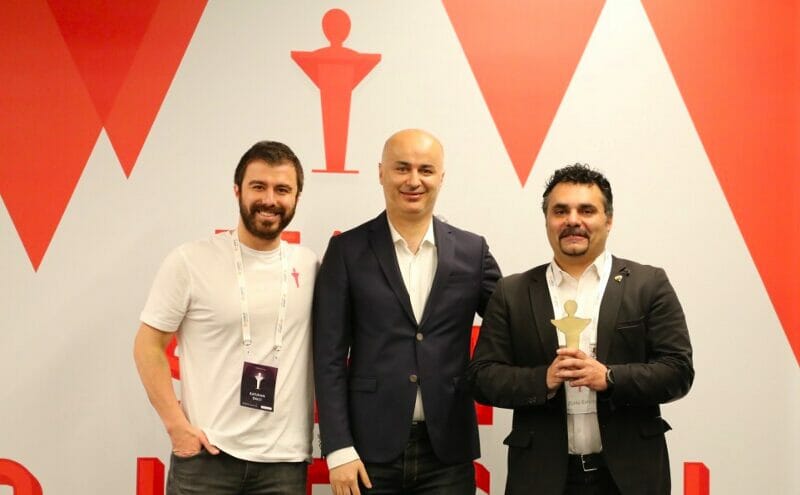 KiraPlus, picking up 3rd prize at "The Pitcher 2017"
What is your relationship like with the regulator there?
OF: At first the regulator was skeptical about innovation in the Fintech scene. In time, as new companies and startups started their projects and helped the ministry of finance and economics to regulate e-trade and e-commerce, they decided to support Fintech projects.
ZE:There are techno-cities that offer tax exemptions on certain areas and these hubs are supported by the regulator. There is definitely a positive approach at the moment but these are just baby steps. They need to be more supportive if they want us to survive.
We, as KiraPlus, are lucky in some way. The rent payment law is very strict, if your rent is more than 500 TL (130 Euros) per month, you need to pay it through official channels e.g banks, post offices. The only downside right now, is that this law is not being exercised and regulated. Most people still pay their rent in cash and this causes a problem in rent income tax collection. KiraPlus offers the option to pay rent by credit card that will help government collect more tax, and of course they love this idea.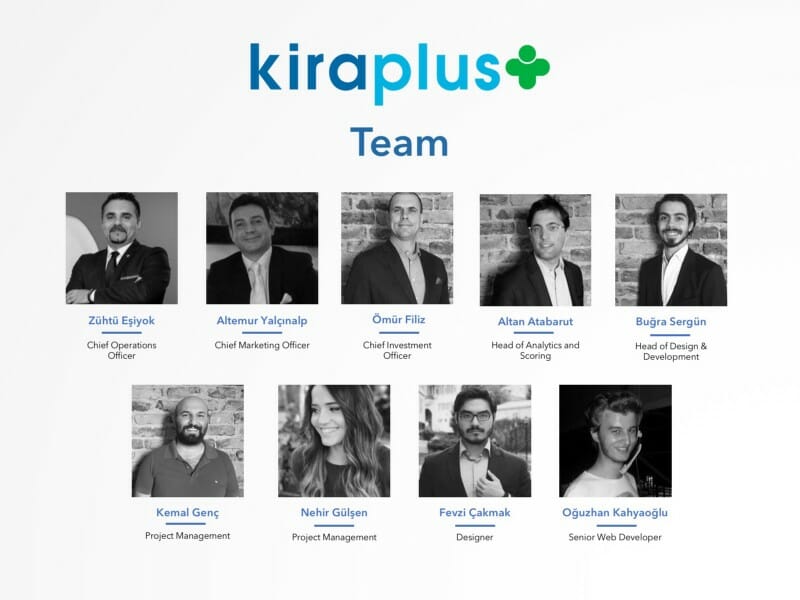 The KiraPlus team
How does the regulatory landscape differ in developing countries and developed countries? How can we address these differences with Fintech?
OF: I believe the biggest difference is the way that the rules and regulations are exercised. We have the rules and regulations that we need, but as Zühtü mentioned before, most of them are not exercised or regulated.
ZE: The main difference that I see between the developed and developing countries, Turkey in our case, is the public access to data. This is where we need to take some serious action. In developed countries, the 'big data' is there and you have access to it. You can analyse it and you can use it the way you want to.
We don't have this level of data in Turkey. Not everything has been digitalised yet. Even if they are, access is restricted.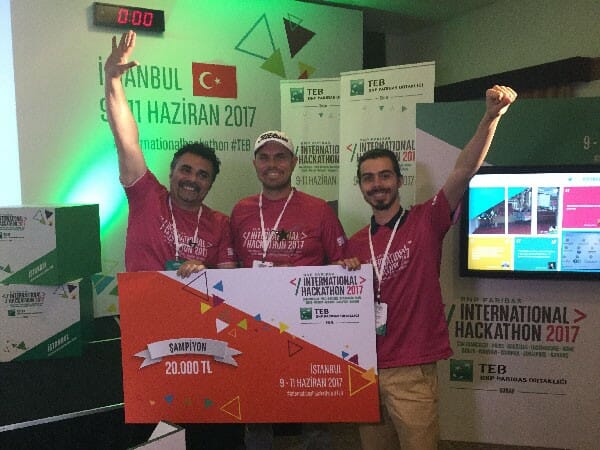 Winners of the 2017 BNP Paribas International Hackathon, Turkey
Any final thoughts on Fintech of entrepreneurship you wish to share?
ZE: It hasn't been a very easy period for us. We have had our ups and downs. Credit bureau integration took much longer than we anticipated but now we feel very determined and strong.