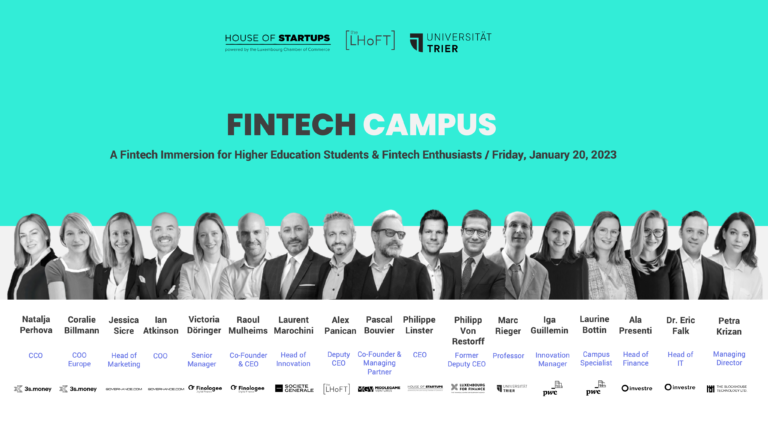 On Friday, January 20, Fintech Campus welcomes students from the Trier University for an immersive learning experience on Fintech & Corporate Entrepreneurship.
Welcome to the Program
9:30 – 10:00 Field Visit by The LHoFT and Welcome Note by Philippe Linster, CEO of The House of Startups
Introduction to the ecosystem & a brief history of Fintech
Blockchain Decoded
12:40 – 1:40: Lunch Break
1:40 – 2:10 Insights into how to solve the Asset & Fund Industry's most pressing issues with process automation and to create a digital culture of Innovation with Ian Atkinson, COO of governance.com
Payments & Digital Finance Reinvented
2:10 – 2:40 Reinventing Digital Finance with Raoul Mulheims, CEO & Co-Founder of Finologee
2:40 – 3:10 Empowering Business Owners globally with Coralie Billmann COO & Natalja Perhova, BusDev Director at 3S Money
Driving Corporate Entrepreneurship
Closing Words & Networking
4:40 – 5:30 Closing words & Networking
About the Program:
Welcome to Fintech Campus, a Fintech immersion program introducing students and Fintech enthusiasts to key innovation players shaping and enhancing Financial Services. The interactive sessions with our Fintech & Ecosystem Leaders provide knowledge on trends, shared experiences and use-cases to explore.