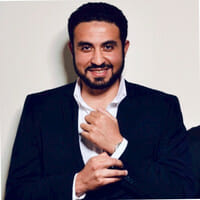 Ahmed El Barky, CEO & Co-founder of Blocks Investment is taking part to NadiFin 2019, an acceleration program powered by MiddleGame Ventures and Farvest in partnership with the LHoFT, focusing exclusively on cutting edge Fintech startups that are using AI/ML, Big Data analytics, Blockchain and other "deeptech" tools to create seamless solutions and businesses for the European financial services market.
Ten of the most promising Fintech companies from around the world have convened at NadiFin on May 20th in Luxembourg, adjacent to the ICT Spring global technology conference, before reconvening in Dublin from June 10-14.
The NadiFin program engages a broad network of investors and strategic partners to facilitate real-world progress outside the classroom. The cohort competes in a trademarked peer-voting startup accelerator curriculum (powered by Village Capital) leading to a €100,000 investment from MiddleGame Ventures.
Blocks Investment
Ahmed El Barky, CEO & Co-founder
Blocks Investment connects investors to real estate opportunities around the world.
Located: England // Czech Republic
Sector: Blockchain / Real Estate
Website: blocks.eu.com
Please introduce yourself, and tell us a little bit about your journey with Blocks Investment?
My name is Ahmed El Barky and I am the Cofounder and CEO of Blocks. I have successfully founded EU Dynamics Uganda, Avenue Industries Egypt and Blocks fund Prague. Worked in Hewlett Packard Paris/Prague, Expedia, Socialbakers and more. I have founded Blocks with my partner Marek Jaluvka after working in the real estate industry for several years. Helping investors to find the right real estate opportunities according to their budgets and risk tolerance is a game that I believe I have mastered.
I belong to an entrepreneurial family were everyone has their own business. I was so lucky to grow up around people who have been creating awesome things in different industries. I learned how to work in teams and drive creativity and innovation during the most complicated times.
Demand for transparency in the global economy has spurred innovation in real estate industry. Can you explain where Blocks fits into that ecosystem?
Real Estate Securities Distribution process is very complex. Duo to the high number of intermediaries and complex operational processes. KYC & AML , Settlements, Bookkeeping, Payments and Issuance of securities are just a few items on the long list of complex actions needed from different organizations for a complete valid transaction. So we built a a plugin solution that allows you to build your own online securities market. With Blocks you can issue securities and distribute it immediately upon your network of investors.
Your Investors will be able to experience a seamless online KYC & AML, Payments, and settlement process. Blocks allows fund managers and fund distributors to focus on what matters. By automating all the complex processes around Issuance, on-boarding, subscription, Bookkeeping and redemption.
We are currently in the phase of onboarding Real Estate Funds to digitize the way they do their business, once we build the right ecosystem with the right number of stakeholders, funds, investors, asset managers and Re developers we will launch a secondary market Exchange where Real Estate digitized assets will be traded. That the way how to seamlessly connect investors with Real Estate opportunities but that's another 2years from now.
What does the Blocks platform allow you to deliver to users that may not have been possible previously?
In the times when immutable database solutions were not available, we could not have real time settlements and title transfers. Nowdays the technology enables us to do transactions in the matter of seconds, near to instant, KYC/AML process takes much less time and money and overall the tech that we have on shelf if used in the right way can do actions that took days within seconds.
Who is your target market, and how does your product compared to traditional investment products sharing that market?
Our target market are Investment and Real Estate funds, Asset Managers and Real Estate Developers. Our goal is to provide a seamless, frictionless experience for fund managers to deal with their pool of investors, on-boarding new investors, plugging in KYC/AML, Settlements and Transaction, Investor communications including Real Estate opportunities evaluations. All this in a unique, secure and user-friendly environment.
We will be offering a white label platform that will be deployed a tour customers site and they will be able to fully brand it and use it on their own. Its a kind of SaaS business model. We are using a unique Blockchain solution that differentiates us from the others.
What are you hoping to get out of the 2019 NadiFin Fintech Acceleration Program?
NadiFin is a unique and extremely intense program, I hope to fine tune our value proposition, rehearse and get reviews from our peers and come out with a diamond polished product offering. We are currently finalizing our MVP and we are shooting for July to be ready to launch.
The aim is to get the highest score from my peers among the pre revenue companies and learn a lot. I hope to meet the right angel investors or VCs who understand the potential in what we are doing.
Our platform will be able to scale, it has a modular architecture, we can add different plug ins for semantic risk assessment, artificial intelligence, there are so many ways to enhance it and make the lives of fund managers, investors and real estate developers easier. It is about speed, security and standardization linked to cost savings. That is what we provide.