"We will use this opportunity to make the most of a highly collaborative environment, where we can get unbelievably valuable feedback on our solution from entrepreneurs across Fintech fields."
Tiphaine Saltini is the  CEO of Neuroprofiler, who will be taking part in the 2018 edition of Fintech Europe, a unique investment readiness program created by Village Capital  in conjunction with PayPal, Middlegame Ventures and the LHoFT.
The program will be held in Berlin, April 16 -19, and Luxembourg May 14 – 17 & June 11 – 14. The program will provide three months of venture development training for 12 Fintech and Regtech entrepreneurs creating financial health and compliance solutions for the EU. The ventures are all backable, and represent a high degree of both innovation and impact in the financial space. Up to two companies will be eligible for funding of up to € 200,000  from MiddleGame Ventures.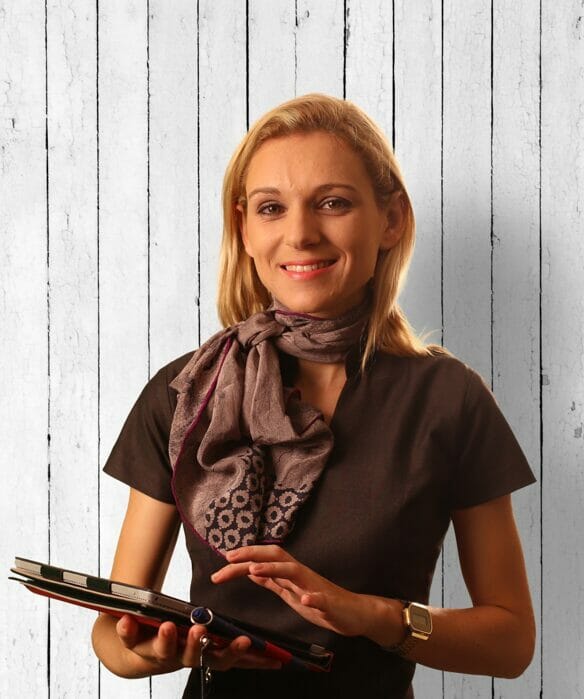 Neuroprofiler CEO, Tiphaine Saltini
Neuroprofiler is a behavioral finance game assessing investor's profile to improve sales and compliance.
Please introduce yourself, and tell us a little bit about your journey with Neuroprofiler:
I am Tiphaine Saltini, CEO and Co-founder of Neuroprofiler.
I have been passionate about behavioral economics since high school. I graduated both in cognitive science (ENS Ulm/Harvard University) and management (HEC Paris) before completing a PhD in behavioral finance.
Working as a consultant for different financial institutions, I realized that behavioral finance could help financial advisors better understand the needs of their clients and deliver better services. This is how Neuroprofiler was born. Later, my co-founder Julien Revelle joined me with a strong background in machine learning and quantitative finance. He is ranked among the 20 best Machine Learning experts in France.
We started by an incubation program at KPMG in Luxembourg and, from there, we developed in Europe (Switzerland, France, UK, Belgium) working with large financial institutions Independent Financial Advisors.
What are the main differences between your product and other investor profiling tools on the market?
Today, based on a PwC report, 85% of investor profiling tools are designed in-house by financial institutions that rarely have an internal expertise in psychometrics or behavioral finance. Competition is thus still limited on our market.
Our solution offers key added values for financial institutions:
MiFIDII compliance while, today, 50% of investor profiling tools are not compliant based on AMF and FCA reports
80% accuracy in the evaluation of investor profiles thanks to our powerful machine-learning and behavioral finance algorithm (vs. 10% for traditional questionnaires). More than one million different profiles can be assessed.
Great user experience thanks to our gamified and adaptive interface.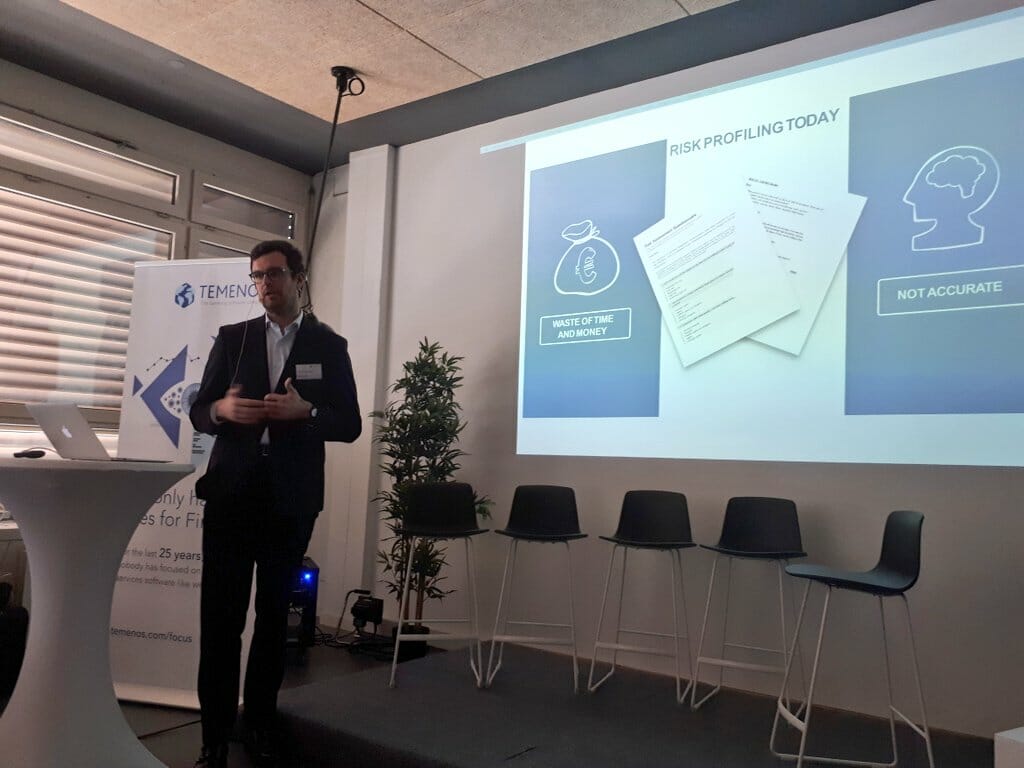 Neuroprofiler's Etienne Mallengier, presenting at Temenos Innovation Jam Geneva
You talk about your product being based on scientific research – are there any key findings that have really shaped the direction of Neuroprofiler?
Yes, completely! As I previously mentioned, Neuroprofiler was built elaborating on both Machine Learning and Behavioral Finance. This field mainly encompasses the findings of Daniel Kahneman & Richard Thaler, who are both Nobel Prize Winners in Economics (2002 and 2017).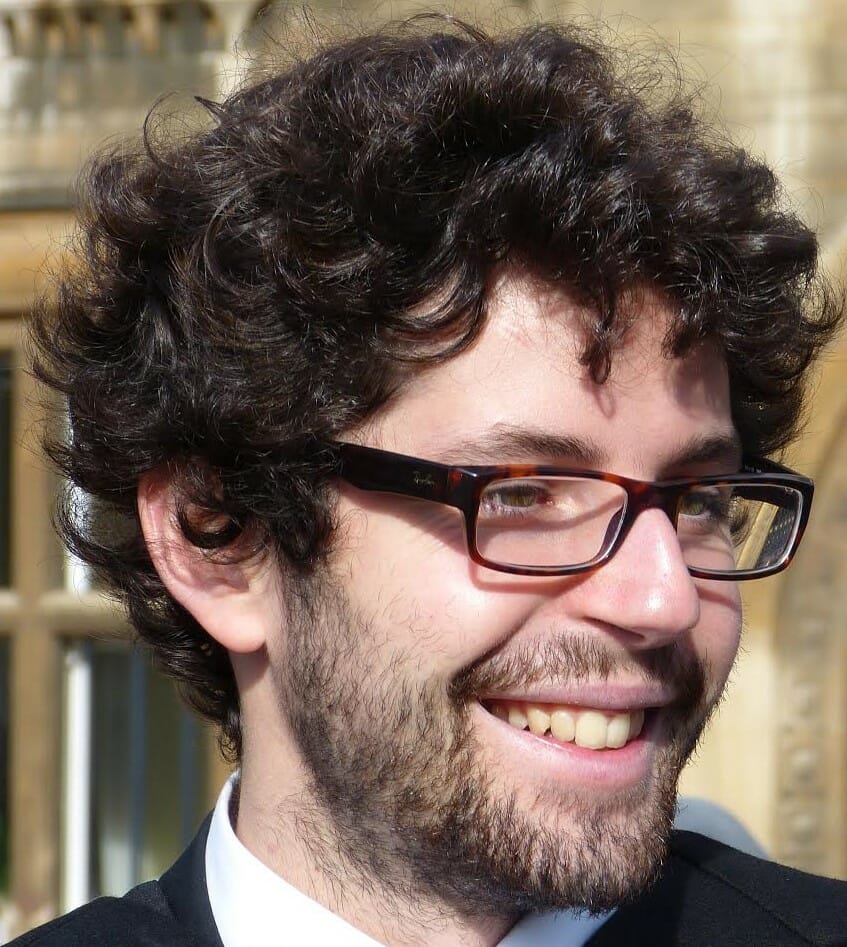 Neuroprofiler CTO, Julien Revelle 
Can you give an example of an insight a financial advisor might get from your product, which would be hard to find otherwise?
Advisors are provided with an in-depth analysis of their client's investor personality and tips to better serve them. They also get tailor-made financial recommendations which take into account client's cognitive biases and preferences.
Our tool is thus not only a MIFIDII compliant tool but also a powerful marketing tool to increase client retention and acquisition.
What have the advantages of having a base in Luxembourg been for the growth of your business?
We started to develop our activity in Luxembourg through an incubation program at KPMG. The small but dynamic Luxembourg market allowed us to quickly get a couple of clients and prospects there, including Société Générale. By the way, we are currently looking for a full-time business developer there, so please send us your applications if interested!
What are you hoping to get out of the Fintech Europe 2018 program?
We are very excited to take part in this year's edition of the Fintech Europe program. We really look forward to meeting all the great people who will be there: PayPal and MiddleGame Ventures teams, but also the other startup participants and mentors.
We will use this opportunity to make the most of a highly collaborative environment, where we can get unbelievably valuable feedback on our solution from entrepreneurs across Fintech fields. Participants should come back with a clear framework in mind of how to shape their strategic development in the following year and tips to help their team secure funding.