"In 2007, I was Director of a global client services team within a major international investment house when the financial markets simultaneously crashed world-wide. The need for immediate communication to clients in their respective native languages was business-critical."
At this year's Fintech Awards Luxembourg we recognised leading Fintech startups from around the world. In an effort to get to know these startups and their representatives better, we asked them a few questions as a part of our series of interviews: The Innovators.
This time we caught up with Olivier Debeugny, Founder and CEO at Lingua Custodia who took home the second prize (3 months hosting at the Technoport in Luxembourg) for their smart translation service for the financial domain.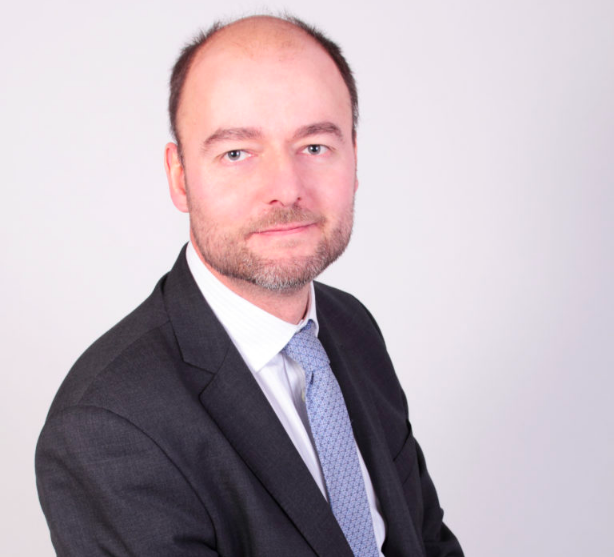 Olivier Debeugny, Founder and CEO at Lingua Custodia
Can you tell us a little about yourself and your company?
I founded Lingua Custodia 7 years ago, after 18 years as a finance professional.
I realised during my corporate career that finance professionals could usually master English on top of their native language, and this meant they were often asked to perform urgent or very technical translations themselves. Lingua Custodia was created to develop specialised translation tools to help finance professional reduce the time and resources spent in technical financial translations. The idea was to set up an automatic translation solution (also called machine translation engines) specialised not only in the financial domain but for specific type of linguistic domains within the financial world (because the same expression will not be translated in the same way if it is in a fund prospectus or if it is in a fund marketing brochure). At inception, Lingua Custodia was only about Research & Development to design and shape specialised machine translation engines through a machine learning approach. We developed an expertise and an important linguistic database from scratch to feed our machine learning frameworks.
We have started to actively promote our products 3 years ago: Off the shelf and customised translation engines (dedicated to one company and self-learning its specific vocabulary) to help our clients reduce their translation costs and be more agile in their communication.
We are now a team of 15 people serving 50+ clients, all financial institutions, and we are very proud to receive the second prize of the Fintech Awards Luxembourg!
What have you observed in terms of global shifts in financial business transactions, and how does that shape your roadmap?
I usually start my pitch with the same self-explanatory demo: "How many of you speak English as well as another language?" Whatever the country, usually more than 90 % of the audience raise their hands. I then ask "How many of you have to translate financial documents yourselves, because it's quicker, cheaper and even sometimes better than getting it done by an external provider?" You won't be surprised to hear that the same 90 % usually raise their hands again.
This is exactly the reason why Lingua Custodia exists and grows. The translation market in the financial sector represents approx. 5 to 10 Bn €, and this is expanding every year because investment houses need to be more and more transparent towards their clients and communicate in multiple languages. We therefore remain very faithful to our initial vision: offering smart solutions to solve a paint point that all players in the industry are facing.
Luxembourg's fund industry is the largest in the EU – what are the key applications of your solution has in that market?
Make financial translations faster, cheaper and better through the combination of Artificial and Human Intelligence!
One example that will talk to all finance professionals:
We are in Luxemburg, it's Friday 6.00 pm. An urgent client request, based on several documents in German language, requires immediate collaboration with the team based in the UK. It has to be discussed and resolved by Monday 6.00 pm.
External translation providers will either not be available, or will work over the weekend at (very high) emergency costs, and the documents will still need to be reviewed internally on Monday.
Internal teams will either have to spend their Friday night and part of the weekend working on it, or will be unable to do it.
Our machine translation engines are available through a secured SaaS Interface 24/7 from anywhere, and are built to perform translation and formatting restitution in a few minutes.
And it saves money: Pure automated translation (to share understandable content) proves to be 10 times less expensive than working with externalised human translation providers. Automated translation coupled with proof-reading and revision by a human translator (the human intelligence added to the artificial intelligence part) designed for external communication (100% quality) represents 2/3rds of the external provider cost. When it comes to a dedicated engine customised to the company's needs, quality of the immediate outputs can reach 90% before human review.
How was the concept of Lingua Custodia shaped by your extensive career in finance?
In 2007, I was Director of a global client services team within a major international investment house when the financial markets simultaneously crashed world-wide. The need for immediate communication to clients in their respective native languages was business-critical. We had no other solution than finding and asking native speakers within the teams to work over night to deliver 100% accurate and qualitative communication + spent a significant amount of the yearly budget with external translation providers to address the languages that were not covered internally. I then realised that this type of urgent translation work was also regularly performed by other departments to answer urgent request for proposals, to perform credit analysis etc…
There lay the inception of what would become Lingua Custodia.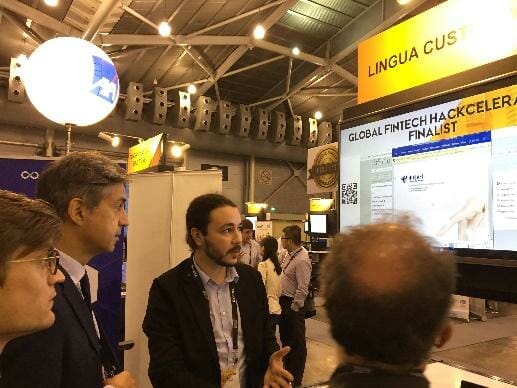 Lingua Custodia team with the French Ambassador at the 2017 Singapore Fintech Festival
Could you explain the key differentiators between your solution Lingua Custodia and other NLP / translation solutions?
100% of financial expertise and market practice knowledge, meaning that the engines will accurately translate specific financial wording by taking the context into account.
Let's take an example : you need to translate "Le responsable veut une couverture" from French to English.
A standard generic translation engine available for free on internet will propose "the person in charge wants a blanket"
A Lingua Custodia specialised translation engine will propose "the manager wants to hedge"
A customised translation engine developed by Lingua Custodia will take into account how the client wants to translate "le responsable" and will propose "the business unit manager wants to hedge"
Furthermore, as former finance professionals, it is easy for our team to understand our clients and propose smart automation solutions that will fix their translation process issues.
What possibilities lie in the future, as you continue to develop your machine learning model and grow Lingua Custodia?
Open an office in Luxemburg! We are delighted with the opportunity to locate at the Technoport for 3 months as a first step towards what we hope will become a major part of our international operations.
We do have business ambitions in Asia as a second step. Our translation engines for Japanese and Chinese are showing good results. We were among the 20 finalists from 600 applicants selected at the last Fintech Hackcelerator held by the Monetary Authority of Singapore in November 2017.
Lingua Custodia team with Christine Lagarde, MD of the International Monetary Fund 
What motivated you to apply to the Fintech Awards Luxembourg?
First of all, learn about the Luxembourg Fintech ecosystem and share with the other Fintech companies our experience during the contest. There are always valuable insights to be gleaned through discussion with our peers. And second, to build up notoriety in Luxembourg, which represents a very natural market for Lingua Custodia as two of our Managing Directors have spent many years in the Fund Industry. We also have a strong and historical partnership with Wordbee, a Luxembourg technology company. The Fintech Awards Luxembourg fully matched our expectations and I would like to thank KMPG Luxembourg who organised a first-class event which created a learning, networking and very positively challenging environment!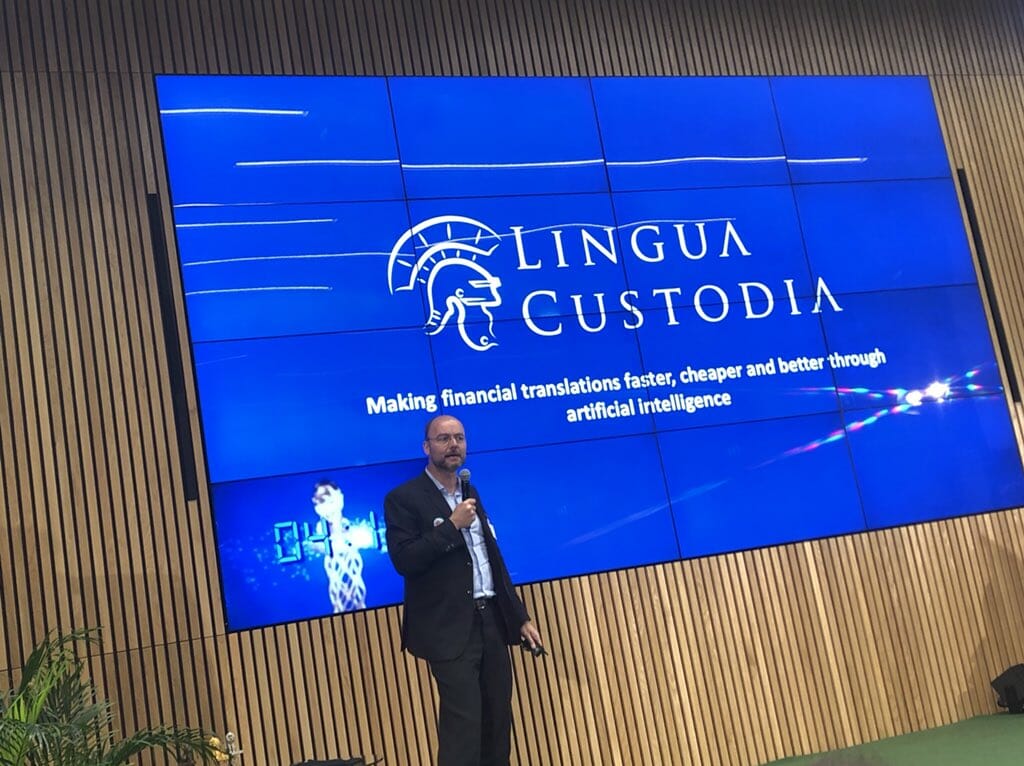 Olivier Debeugny pitching at Fintech Awards Luxembourg 2018
What do you find attractive about Luxembourg as a potential destination for Fintech companies?
Luxembourg fund's industry is second to none in the world. This industry is facing many challenges that impacts its margins and it is therefore vital for Investment houses, transfer agents, custodians and other players to collaborate with innovative Fintech companies to remain ahead of the curve.
For the Fintech companies who develop B2B solutions, and innovative new technologies there is a requirement to attract brilliant talent with an international and vibrant working environment and a strong commercial traction. Luxembourg is therefore the key destination to consider for Fintech companies. The local market is massive, and it is also a great place to develop internationally because there are not many asset management companies in the world who do not have a branch in Luxembourg.
We are now starting the process to set up operations in Luxembourg and what we have seen a strong support from the local ecosystem which is another distinctive and attractive aspect of Luxembourg. Let's meet again in a few months to debrief our first steps in the Grand Duchy!