5 Luxembourg startups focusing on Artificial Intelligence (AI) and big data have been selected by Luxinnovation together with the LHoFT, Paul Wurth Incub, Lux Future Lab, Technoport and Nyuko to embark on a trip to the Silicon Valley and attend the BootstrapLabs summer BootCamp.
BootstrapLabs summer BootCamp: Building the future by investing in Applied AI Startups
BootstrapLabs is a Venture Capital firm focused on 'Applied Artificial Intelligence', at the forefront of technological development, venture investment trends, and startup ecosystem evolution. Starting June 20th, their one-week summer BootCamp includes master classes and workshops with various VCs and corporates such as Intel and IBM as well as with renowned authors, mentors and product designers. In addition to the intense summer school programme, the start-ups will have the opportunity to participate in events at the Nasdaq Entrepreneurial Center, Impact USA, the Female Founders Pitch at Google and the Luxembourg national day reception at the Luxembourg Trade and Investment Office (LTIO) San Francisco.
5 Selected Startups:
The five selected AI and big data focused start-ups are
Algoreg
Travelsify
Yotako
Nomoko
Tetrao
Discover their profiles in the latest article of the Trade&Invest.lu website
A Closer Look at LHoFT Member Tetrao
What is Tetrao?
Tetrao is a technology startup company specialised in internet intelligent process automation. It is built around technology that simulates the human behavior to collect, read and understand information from web sites or PDF documents. It is utterly reliable, adaptable and very useful for finance. It belongs to the broader sphere of Robotic Cognitive Automation.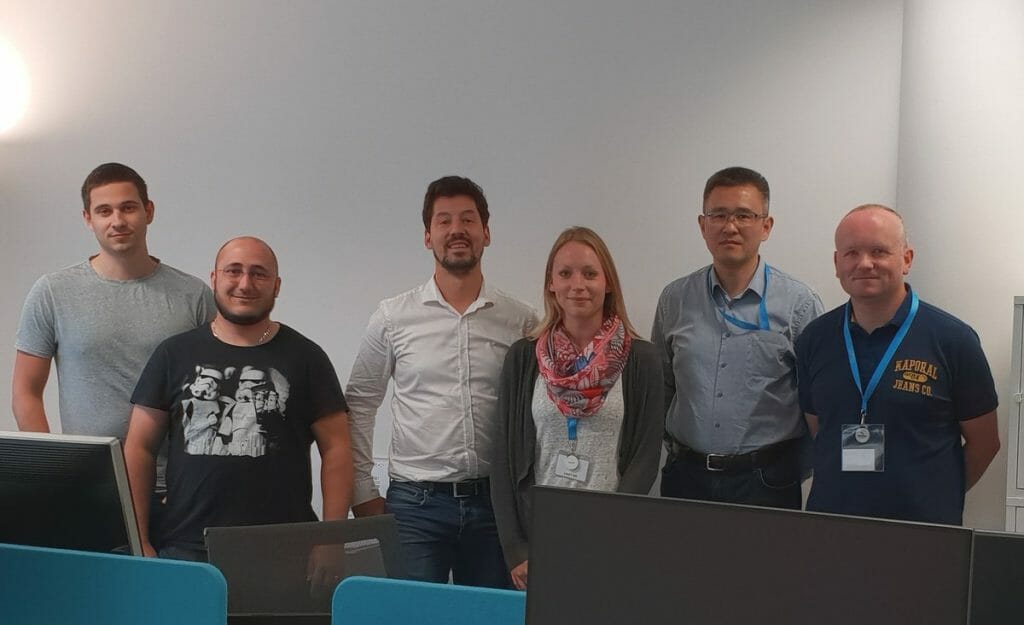 Tetrao Team in their offices at the LHoFT
A Luxembourg Success Story
Participating in the BootstrapLabs summer BootCamp is a logical continuation of Tetrao's path to success. Back in december Tetrao scored first place at the largest international Fintech hackathon hosted by BGL BNP Paribas. After winning the regional heats in Luxembourg during the summer, the team's solution came out ahead of competitors representing the best from nine other cities (San Francisco, Rome, Paris, Brussels, Berlin, Warsaw, Nanjing, Istanbul, Singapore) at the finals in Paris.
Luxembourg startup @Tetrao_eu wins international #fintech hackathon, addressing "a massive pain point" in corporate account opening. https://t.co/sIAoa5tTzV #fintech #banking pic.twitter.com/DrAakVgepQ

— Luxembourg House of Financial Technology (@The_LHoFT) December 1, 2017
It is always exciting to witness Luxembourg Fintech achieving great success on an international scale, and Tetrao is no exception. Artificial Intelligence technology has the capacity to dramatically reduce the effort involved from customers and financial service providers in the process of accessing products.
Gillot also proposed that the great challenge that lies ahead for Europe is to conciliate regulation and customer protection with technological innovation and progress. There is a real possibility of losing business to financial centers that are out of the European Union. Fortunately, Artificial Intelligence can mitigate the cost and energy necessary to implement regulation.
"We will see Artificial Intelligence startups enabling scenarios that people in the financial industry thought would never be possible." – Christian Gillot, CEO of Tetrao, on AI in 2018
Spurred by their recent success, Christian Gillot and the Tetrao team will continue their US journey after the BootCamp by onboarding their first US client – one of the largest banks in the country. Stay tuned for more insights….
As with all of our members, Tetrao adds huge value to the LHoFT ecosystem by contributing unique technical knowledge and perspective. Their success in driving artificially intelligent change in the financial world will hopefully help many other startups find their way. Thank you to Christian and the Tetrao team for being a part of LHoFT's growth!
Big milestone today: @Tetrao_eu has just moved in new and great @The_LHoFT, we are so excited! pic.twitter.com/2UY8hKCqcC
— Tetrao.eu (@Tetrao_eu) April 27, 2018
If you want to keep up with what the LHoFT gets up to, follow us on Twitter and Instagram!